Focus on France
Samir Nasri's battle with the press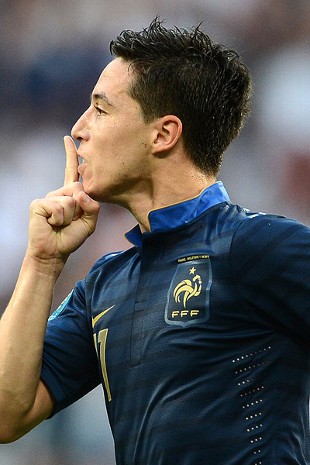 A finger raised to the lips. Eyes set firmly on the press box. Samir Nasri sent a message. "Ferme ta gueule." Shut your mouth. Moments earlier, he'd flashed a shot from outside the box past England goalkeeper Joe Hart to get France a precious equalizer in its Euro 2012 opener at the Donbass Arena in Donetsk.
The goal itself, one of the finest of the competition so far, ought to have been the focus of postmatch discussion. Instead, the celebration became the principal talking point. It had the exact opposite effect of what Nasri intended.
Obliged to make a brief appearance at a postmatch press conference after UEFA named him its Man of the Match, Nasri was asked by a journalist from L'Équipe to reveal who the gesture was aimed at. "It was directed at you," Nasri snapped.
Curious enough to hang around in the mixed zone while Nasri underwent a routine anti-doping test, the French press corps was again given short shrift when he re-emerged. "Samir, a quick question. We've waited two hours." Hardly breaking stride, Nasri scowled: "I've got nothing to say to you. I didn't ask you to wait." Classy, eh?
Later that night, Nasri did at least have the courtesy to explain himself further on the French TV channel TF 1. Still with a lot to get off his chest, he revealed a deeply preoccupied state of mind. "I expressed my frustration," he admitted. He claimed that rather than let him prepare for Euro 2012, L'Équipe was unsettling him by reporting that his future at Manchester City is uncertain. Yet his grievances went deeper than that and had a longer history.
"I have been shot down in flames," Nasri sighed. For much of the last year L'Équipe has found fault with his performances for France. But these journalists are not the only ones. If anything, the paper has taken its cue from France coach Laurent Blanc. "Samir must do better. I expect a lot more from him," Blanc said after a friendly with Chile on Aug. 10, 2011. Nasri didn't appreciate Blanc's voicing any concerns that he might have in public. "I'd like it if the coach said certain things to me face to face," he told France Football. Blanc instead replied through L'Équipe. "If I were in his place, I know where I'd respond: on the pitch."
Ineffective in France's next match, a qualifier with Albania a month later, Nasri was dropped to the bench for the following trip to Romania. It was a low point. Nasri was criticized for slowing down France's buildup play. He was seen to dwell on the ball too much, and the minimal positional discipline he showed by wandering into areas of the pitch and "stepping on the toes" of his teammates also brought disapproval.
But a reminder of his class came when France needed it most. Down 1-0 to Bosnia and risking the possibility of needing to go through the playoffs to reach Euro 2012, Nasri won his team a late penalty and then showed the courage to step up to the spot and put it away. That draw ensured that France booked its place in Poland and Ukraine. Nasri had demonstrated, as he would against England, that maybe he was a man for the big occasion.
Even so, when the same bad habits materialized again in France's warm-up matches, the critics who had been hushed began to make a noise once more. The surprising thing about it was how sensitive Nasri was to it all. Parallels were drawn with Christophe Dugarry. He had famously stuck his tongue out at the press after scoring for France against South Africa in its opening game at the 1998 World Cup.
Included in Aimé Jacquet's squad at the expense of rising star Nicolas Anelka despite an underwhelming campaign, Dugarry was subjected to all kinds of abuse. The press labeled him Du gâchis -- a waste -- while the fans whistled at him wherever he went. Nasri, by contrast, has had it easy.
"I don't think what he's been through is comparable with what I went through," Dugarry said. "With me it was tough. I was the guy who shouldn't be there. With Samir, they only wrote that his performances weren't very good and that his place in the starting XI was under review. It's my opinion that Samir hasn't been through 10 percent of what I went through."
Maybe. But it's not as though this is the first controversy of his international career. Recall, for instance, how Nasri and Karim Benzema were left out of France's squad for the 2010 World Cup because they were adjudged to personify a disrespectful new generation of players. Portrayed as a troublemaker by William Gallas principally because Nasri disregarded the hierarchy by taking Thierry Henry's place on the bus at Euro 2008 and initially refusing to budge, Nasri was made a scapegoat.
After the furor that followed that incident, one would imagine Nasri's skin would be thicker. So why does he still seem so touchy? Unlike four years ago, the articles aren't personal, but technical in nature. Any criticism has been mostly constructive and the hope was that the negative press might be used as motivation to bring a positive reaction. There's no agenda against Nasri, just a desire to see him realize his considerable potential and take the national team by storm.
Under the thunder and lightning that provided the backdrop to France's impressive 2-0 win over co-host Ukraine on Friday night, Nasri was a bit of a damp squib. And yet, the firework display he put on against England indicates that he is capable of lighting up this competition. A fire roars within Nasri. A dummy here, a dribble there, he can burn the opposition. The only question is whether the flames gradually engulf him instead.
James Horncastle is a freelance soccer writer