Focus on Italy
Is Mario Balotelli misunderstood?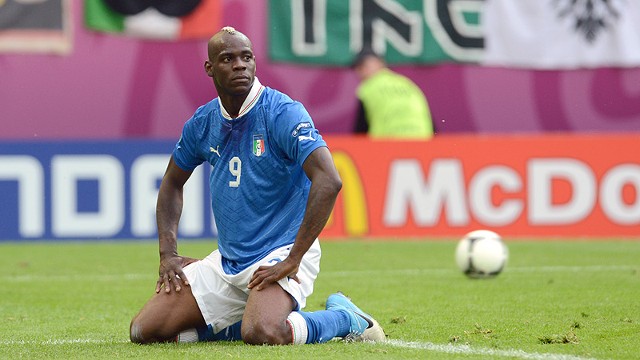 The first time I met Mario Balotelli was in the summer of 2010, when he was part of an Inter Milan squad that had just won the Champions League. The team was on a preseason tour of the States, and Inter Milan was about to do an in-store appearance at Niketown in New York City. The majority of the players were loose and giddy, elated to be in a major city where they could roam the streets unnoticed. But not Mario. He stood apart, simmering in the corner of every room we entered. Sporting an enormous pair of headphones to cover his ears, he glared at anyone who had the temerity to catch his eye.
Marco Materazzi, a player who in his own career knew a thing or two about controversy, caught me staring at the spectacle. He pointed at his teammate and proceeded to rotate his finger in a circular movement beside his temple, the international sign for crazy, before walking away laughing.
Balotelli has turned out to be a connoisseur of crazy. The world now knows Balotelli by his indoor firework experimentation, cryptic celebratory T-shirt messaging and grass allergy to football fields. And thanks to his shape-shifting Mohawk hairstyle, he's recognized as a man who treats his own head like an Etch-a-Sketch. So packed with incident was the 21-year-old's last season at Manchester City, journalists were compelled to rush through adjectives to describe him like designers shuffling shades of a Pantone color book. Balotelli was deemed charismatic, a maverick, quirky, volatile, vulnerable, unstable, destructive and enigmatic.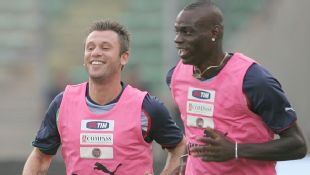 He is Italy's enigma, as we saw in its opening Euro 2012 match against defending champion Spain. In the 53rd minute of a then-goalless game, Balotelli had the power to muscle Sergio Ramos off the ball and break the Spanish defensive line, leaving himself one-on-one with goalkeeper Iker Casillas, a scenario at which he has trained his whole adult life to excel.

As three Spanish defenders desperately scrambled to cover, Casillas braced himself on the goal line and Balotelli drove forward to deliver his coup de grace. It never came. Incomprehensibly, the Italian elected to slow down, taking three cumbersome steps as though inviting Ramos to recover. The grateful Spaniard, who had tracked back, extended his right foot, knocked the ball out of bounds and deposited the striker onto his hands and knees as a startled viewing audience sought to comprehend what it had just witnessed.

Three minutes later, Balotelli was substituted and forced to watch from the bench as his replacement, Antonio Di Natale, scored with his first touch. Balotelli's agent later complained to UEFA about alleged monkey chants that rang out whenever his client touched the ball, a claim that Italy coach Cesare Prandelli was forced to reject.

The Italians have a word for the kind of bewildering, destabilizing effect Balotelli has on a team: Cassanata -- literally meaning Cassano-ism. It's a term coined by Fabio Capello to honor Antonio Cassano's spectacular tantrums while at Roma. Like Cassano (who's embroiled in his own scandal after delivering a stream of homophobic comments at an Italian team news conference), Balotelli has an uncanny ability to unsettle a side by grabbing the spotlight for the worst reason at the most inopportune moment. That trait led former manager Jose Mourinho to label him "uncoachable" and current club boss Roberto Mancini to admit, "Every day I fight against Mario, and sometimes I would like to give him a punch."

The question, to echo Balotelli's infamous "Why Always Me" statement, is why do his coaches back themselves into a position in which they are forced to rely on him? A player who, although physically gifted and blessed with power, pace and technique, insists on making the difficult appear routine and the routine appear too boring to bother about?
Every game in which he is imperious -- for example, the first two goals he netted to put title pretender Manchester City on the road to a legendary 6-1 win over archrival Manchester United -- can be matched with one in which he appears impotent. Few City fans will forget the late-season debacle against Arsenal in which Balotelli appeared to be on a mission to single-handedly sabotage City's title hopes.
Balotelli's behavior that day, after he scythed through Arsenal midfielder Alex Song with a knee-high tackle, then battered Bacary Sagna to earn a red card, caused his manager to say: "I saw in my life a lot of players like Mario that are fantastic, arrogant guys. But, after, they lose all their talent like this, and they finish in two or three years. Mario is this way."
For most players, that kind of self-destructive display would earn them permanent exile to the reserves. But Balotelli is not most players. Just more than a month later on the last day of the season, when City was faced with disaster against Queens Park Rangers, Mancini turned to Mario in the 76th minute and was rewarded when his off-balance substitute exchanged passes with Kun Aguero on the edge of the area to set up the grandstanding, 94th-minute title winner.
Part of the answer for this Italian side certainly lies in its lack of options. Giuseppe Rossi, a striker who was widely considered to be the tactical best fit, is recuperating from a long-term injury and forced to watch along with the rest of us in New Jersey. The mercurial Cassano has provoked the ire of his tolerant yet value-driven coach with his recent homophobic diatribe. Di Natale, at 5-foot-7, offers none of Balotelli's power and has a chronic knee injury that means his appearances must be rationed strategically. The other two squad members, the impish Sebastian Giovinco and Roma's Fabio Borini, are inexperienced, having just 10 caps between them.
But Balotelli's endless supply of second chances is caused by something more: his ability to score as a form of virtuoso self-expression. For an extreme example, see the goal he intentionally flicked across the line with his shoulder against Norwich City. Super Mario is a lottery ticket for a multimillion-dollar jackpot that, although high-risk, is deemed so high-reward that coach after coach is willing to play along.
Mancini has said that Balotelli "just needs to make his brain work -- that is his only problem." To "make Balotelli's brain work" demands plumbing the torment of the striker's early days that have been well-documented.
Born Mario Barwuah, the son of Ghanaian immigrant parents in Palermo, Sicily, Balotelli suffered from a near-fatal intestinal illness as an infant, necessitating a series of operations that caused the family to struggle. In search of work, the family moved to the affluent, traditional northern city of Brescia, but its standard of living failed to improve. With Mario dogged by illness, local authorities arranged for him to be fostered to Francesco and Silvia Balotelli, a white, Italian couple who lived in a nearby middle-class suburb.
The relative comfort provided by the Balotellis caused its own problems. Because of its wealth, Brescia, a traditionally conservative town, had attracted one of the fastest-growing immigrant populations in Italy, an issue that became a political hot button for the far-right Northern League party during election cycles. As a talented high school athlete playing in a white, suburban setting, Balotelli became an easy target for sideline invective, abuse that only increased as he worked his way into the elite levels of the game. While playing for Inter Milan, fans of rival Juventus delighted in chanting something rather unsavvory.This even after Balotelli had represented Italy at the under-21 level. The BBC wrote at the time, "He symbolises a vision of a new, multicultural and diverse Italy. The incessant abuse shows just how far the country still is from reaching that point."
Prandelli has a sense of Balotelli's struggle, which is why he backed his sensitive star as Balotelli publicly fretted about the prospect of racism before Euro 2012. "If someone throws a banana at me in the street, I will go to jail because I will kill them," Balotelli said.
In February, the coach said, "I have infinite patience with Balotelli. It doesn't take much to be a great player and a very sensitive person. Lads like him should be understood."
Italians will hope their paternalistic manager can fathom a way to do just that: to understand their troubled striker and help him find a way to manufacture goals as well as he can make headlines.
Roger Bennett is a contributing writer for ESPN The Magazine and ESPN.com. Follow him on Twitter @rogbennett.