Portugal 3-2 Denmark
Ronaldo struggles, but Portugal wins
In this, the Group of Death, Portugal avoided a premature discovery of the afterlife. Unheralded substitute Silvestre Varela's late goal earned the squad a 3-2 victory against a resilient Denmark. The game was an enormously entertaining affair, not least because of the fascinating clash of styles it presented as the wet, hair-gel look of Portugal, all "Night At The Roxbury," was pitted against Denmark's Motorhead full-arm sleeve tattoos.
Portugal played the first half as if hell-bent on avoiding "morte de repente," a quick and sudden death. In going winless in the previous four games it had played in 2012, Cristiano Ronaldo's team had mustered only a solitary goal. Within 40 minutes, that output had been doubled.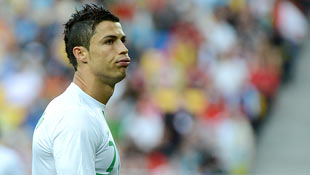 First, Portugal took the lead through central defender Pepe. The naturalized Brazilian sent a glancing header from an acute angle past a vulnerable Stephan Andersen in the Danish goal. In the 36th minute, Portugal added a second. The Danish defense was twisted inside out as veteran striker Hélder Postiga answered his critics by making an intelligent run to clinically finish a slide pass from Nani.
Positga's goal shocked Denmark into life as it summoned the ambition, which had served the Danes so well against the Dutch, to drive Portugal back into its own half. The reward was immediate with a goal from its first clear-cut chance. Michael Krohn-Dehli selflessly looped a header toward Nicklas Bendtner at the far post, and the Arsenal striker was provided with an open net he could not miss. If the much derided center-forward played against Portugal only, he would be a world beater. This was his fifth goal in five games against this opponent.
All of the pregame talk revolved around Ronaldo and his inability to conjure his legendary menace in a Portuguese jersey. This talk will increase after a clumsy performance. The Real Madrid superstar found more space and ability to influence the game by vacating his wing and drifting into the center running at the Danish defense like a wind-up toy, but his finishing was wayward.
Hands were first placed petulantly on his hips after just two-and-a-half minutes when a long ball driven in CR7's general direction was lofted out of bounds. About 15 minutes later, Ronaldo received a golden opportunity when a loose ball dropped to his feet on the edge of the area. This was exactly the kind of distance from which he has thrived this season in scoring 60 goals for Real. But he swung his foot back and scuffed his shot wide, covering his frustration by glaring at the turf.
In the second half, the game degenerated into a scrappy affair as Portugal's passing game, so admirably led by Miguel Veloso in the first half-hour, broke down. On the two occasions the Danish defense was breached, Daniel Agger was able to cover magnificently.
Ronaldo's woes continued. In the 49th minute, he chased down a long ball and closed in on goal, one on one, only to have his strike parried by Andersen. This time, he had no one but himself to blame. Half an hour later, the Portuguese captain failed to hit the target when parallel with the penalty spot. With his mechanics all wrong, the ball was sent bobbling past the right post.
Portugal was quickly punished, and yet again Bendtner was the executioner. This time he had a lot more to do, drilling the ball with his head off both keeper and post with power after some excellent work by Lars Jacobsen.
The game was now wide open, and Portugal discovered an unlikely hero in Varela, who ambled onto the field in the 84th minute. Within 120 seconds, the Porto striker had restored Portugal's lead, freezing the Danish defense by whiffing at his initial strike before recovering to spank the ball into the corner.
Portugal averted disaster and will face the Netherlands knowing it can emerge from Group B if it can restore Ronaldo's confidence. Portugal gained an important victory, but its star left the field a frustrated figure, resembling Michael Douglas in "Falling Down."
THE POSTMAN DELIVERS
Postiga's ability to hold up the ball had been under scrutiny ahead of the game, but his first-half goal made him one of only six players to score at three different Euros, the others being Thierry Henry, Vladimír Smicer, Nuno Gomes, Jurgen Klinsmann and Zlatan Ibrahimovic.
PLAYER OF THE TOURNAMENT? HEADED GOAL
Of the 30 Euro 2012 goals thus far, 12 have been scored on headers.
WHAT'S NEXT?
Denmark's joy in the wake of its surprising opening-game victory will have diminished somewhat. It must now grind out a result against Germany on Sunday. Portugal will have a game to relish against the Netherlands. Both matches are simultaneous, and all of four teams have a chance of progressing. Group of Death? Group of Life.