Group C
Spain must take Ireland seriously
Spain began its defense of its Euro 2008 title with an entertaining 1-1 draw against Italy. Up next for La Furia Roja is Ireland in a game that has mismatch written all over it after Giovanni Trapattoni's side lost 3-1 to Croatia. That said, the Irish have a history of making things difficult for more fancied opponents, so Spain should remain wary.
What's on the line?
With its most difficult game out of the way, now is the time for Spain to rack up the points against what's looking like the group's weakest team. The last thing the champs want is to go into their final game against Croatia needing help from other teams. After getting nothing out of its opening match, Ireland needs to find some way to snag a result. Otherwise, the Irish could find themselves eliminated after just two matches.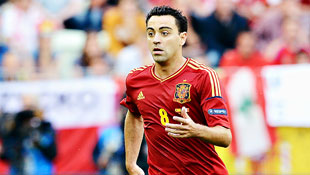 Style and tactics:
Spain enjoys the vast majority of possession even under the toughest of circumstances, with Xavi, Xabi Alonso and Andres Iniesta using short passes to flummox the opposition. It remains to be seen if manager Vicente Del Bosque returns to using a true forward like Fernando Torres or if he'll persist with Cesc Fabregas in the "false nine" role as he did against Italy. Either way, Spain will own the ball.
"We will have to patient," said Spain midfielder Xabi Alonso. "We will have to score an early goal, because that makes everything [easier] after that. But it's going to be a very difficult match. We will have to fight from the beginning."
This will be exacerbated by the fact that Ireland is all about defensive organization and hitting teams on the break, so the aim will be to frustrate Spain by getting nine men behind the ball. This could morph into ten if, as rumored, Trapattoni brings in an extra midfielder in the form of Darron Gibson or Paul Green. This would result in Robbie Keane playing as a lone striker.
"I've certainly done it plenty of times before," said Keane of playing alone up top. "It's different than what I'm used to, but it's something I enjoy doing also. You have to play more on the shoulder and try to get in behind defenders. That's something I'd be happy to do for the team."
In attack, Ireland tends to be very direct, the better to use the individual ability of wide men Aiden McGeady and Damien Duff as well as Keane. For this tactic to work against Spain, the Irish will need to pass the ball much better than they did against Croatia. Their attack is heavily reliant on set pieces, which is precisely how they got their lone goal in the first match.
Players to watch:
For Spain: Gerard Pique, Xavi, Andres Iniesta
Spain is at a disadvantage in terms of height, so the 6-foot-3 Pique will need to be among those ready to help fend off Ireland's aerial threat. For Spain, the best defense is a possession-based attack, which is where Xavi and Iniesta come in. Their radar-guided passing should ensure that Spain sets the tempo that will deny Ireland any chance of nicking a goal.
For Ireland: Shay Given, Glenn Whelan, Aiden McGeady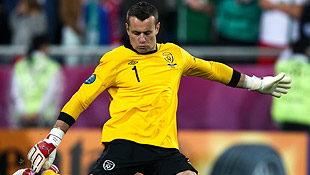 Given will need to deliver the performance of a lifetime if Ireland is to have a chance. He needs to organize a defense that has a tendency to cede too much space. Whelan will need to do what he can to harass Spain's midfield and disrupt its rhythm. He'll also need to be cleaner on the ball in a bid to get Duff, McGeady and Robbie Keane the ball in more dangerous spots. McGeady was a nonfactor against Croatia, but he's one of the few Irish players who are dynamic on the ball, and he'll need to be much more effective if his team is to have any hope of pulling off an upset.
What we can expect?
This is a game that Spain should win easily, provided it avoids a repeat of the first half against Italy, when La Roja seemed oddly reluctant to strike at goal. Ireland will make Spain work, and Trapattoni's side needs to make sure that its desire to stay organized doesn't morph into dropping too deep, which helped hand the initiative to Croatia in its opener. He's certainly expecting a better performance from his side, even as they go up against the World Cup holders.
"I think psychologically, we have overcome the defeat against Croatia," he said. "Yesterday in training, I saw the same commitment, enthusiasm in the team. We are back to believing in our quality."
That said, the vast majority of this match will be played in Ireland's half, and if Spain can get a goal early, the game could get ugly.
Intangibles:
Ireland's fighting spirit is unquestioned, and the team's history is littered with examples of using this mentality as a platform to spring an upset. Spain will be well aware of its need to take care of business and have control of its own destiny heading into the group finale against Croatia.
"We have to be very careful," said Del Bosque. "We now what strengths [Ireland] have. They are very good on set pieces and have strong players. They know how to play the long ball. That's what we have to count on, that's the basics."
Who'll win?
Ireland has the will, but Spain has the talent, motivation and experience to claim a victory. Expect La Roja to cruise 3-0.
Jeff Carlisle covers MLS and the U.S. national team for ESPN.com. He is also the author of "Soccer's Most Wanted II: The Top 10 Book of More Glorious Goals, Superb Saves and Fantastic Free-Kicks." He can be reached at eljefe1@yahoo.com.