Group B
Pivotal for Portugal
With Denmark holding an upper hand in Group B, Portugal must produce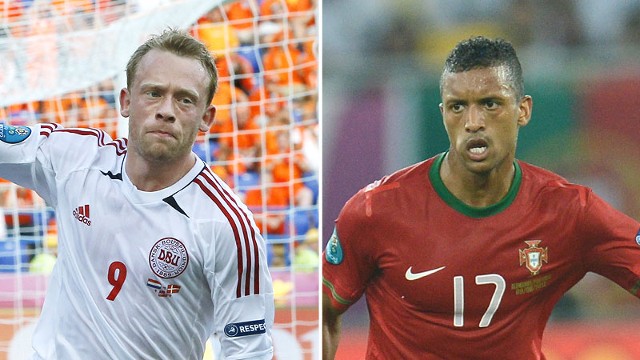 The star-wattage of Portugal clashes with the white-label organization of Denmark in a game both sides will want to win.
What's on the line:
After stunning the Dutch 1-0 in a performance that blended organization and ambition, an emboldened and empowered Denmark side must be all too aware that another win would heighten its chances of qualification ahead of the final Group B game with Germany.
Meanwhile, Portugal will hope to build on the defensive solidity it displayed against Germany while also managing to involve Cristiano Ronaldo more. The Real Madrid superstar was a nonfactor in its hard-fought opening-game loss to Die Mannschaft.
The teams are familiar adversaries as they were drawn together in qualifying for both the 2010 World Cup and Euro 2012. Portugal knows of the danger posed by the Danes; in their most recent head-to-head, a Euro 2012 qualifier in Copenhagen, Portugal lost 2-1 and had to fight through a two-leg playoff with Bosnia and Herzegovina in order to make it to the tournament.
Style and tactics:
Despite the fact that Denmark has scored in every game on the road to qualifying and also netted against the Dutch, the Danes play an organized system that soaks up pressure and primes Michael Krohn-Dehli to maraud at pace from the left wing.
Portugal is also defensively robust yet understands it must score goals; lucky that it is set up to do so from the flanks through Ronaldo and Nani. A Seleccao das Quinas should draw strength from the last 15 minutes of the German game where it played with more abandon and crafted three clear-cut chances to level the score.
Players to watch:
For Portugal: Cristiano Ronaldo, whose national team woes continued in the opening game: He touched the ball 10th-least on the Portugual team that started against Germany. Portugal created three chances late but none fell to his feet and as such, the Real Madrid star will feel tremendous pressure to deliver. João Moutinho and Miguel Veloso will have to support him by driving the ball with pace and creativity from the midfield if Portugal is to pick its way through a well-drilled Danish defense.
For Denmark: Second-string goalkeeper Stephan Andersen, who plays club football for Evian in the French League, will have to be sharp if he hope to record a second clean sheet. Coveted young midfielder Christian Eriksen must use his movement and vision to impose himself at the heart of the game. Nicklas Bendtner needs to excel at holding the ball in attacking positions long enough for his teammates to provide support in the final third.
What we can expect:
A hard-fought game between two motivated teams who both feel they should win. Denmark will revel in the underdog role and know victory here will establish it as a bona-fide dark horse in the tournament. Ronaldo's performance will be globally scrutinized. He will have to step up or else risk becoming one of Euro 2012's biggest busts.
Intangibles:
Portugal holds a handsome 7-2-2 lead in the all-time head-to-head record but has won only once in the past five matchups.
Who will win:
The heart says Denmark but the brain says Portugal. Much will rest on its ability to involve Ronaldo in deep positions. If it happens, look for Paulo Bento's side to win by more than one goal. If the megastar spends much of the game hand on hips, shaking his head with frustration, then Denmark will win by one. As striker Nicklas Bendtner admitted: "Portugal may have better players but which is the greater side we will have to wait and see."
Roger Bennett is a contributing writer for ESPN The Magazine and ESPN.com.