Group A
Czechs up against it vs. Greece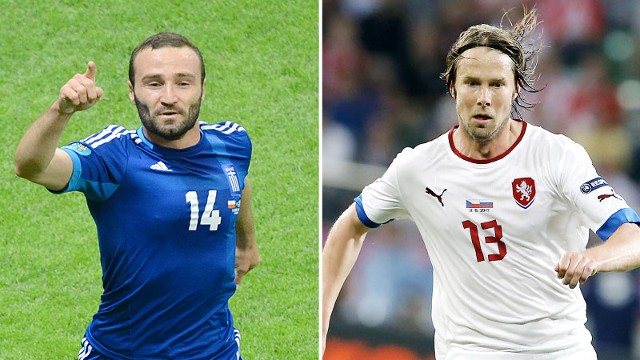 After being comprehensively outplayed in a 4-1 loss to Russia, the Czech Republic must avoid losing to a depleted Greek team if its hopes of advancing are to remain alive. Greece is crippled by injuries and suspension, but its never-say-die opening game performance, a 1-1 tie with Poland, suggests it will be hard to break down.
What's on the line: Greece enters the game on an 11-match unbeaten run, but it will be tested on match Day 2, less by the Czechs, mind, and more by its mounting injury list. Midfielder Giorgos Fotakis damaged his right thigh in training. Key defenders Sokratis Papastathopoulos (suspended) and Avraam Papadopoulos (knee injury) will be missing. So it remains unclear who will anchor the backline. The Greeks will hope that adversity brings out the best in them once again.
The Czech Republic faces a fight for survival to avoid the embarrassment of being the first team to be eliminated. They must avoid a loss here and hope the Greeks then lose to Russia. The 4-1 defeat in its opener was the worst it has experienced since the 1970 World Cup. The Russians' movement cut the Czech's backline apart at will, but coach Michael Bilek has demanded his team not panic. Michal Kadlec is poised to return to center half after looking out of place at left back.
Style and tactics:
The 2004 European champions gritty game is built around solid defense. Greece conceded just five goals in qualifying and considered itself unlucky not to pull off an improbable win after being unjustly reduced to 10 men. However, it will feel pressure to win this game as victory, coupled with a draw against Russia, is its most likely way of ensuring progress. So expect Greece to counter at every opportunity.
The Czechs were tactically unhinged in their opener and will hope to write off that result and start over. Arsenal's Tomas Rosicky is the most gifted player on the field and his team will try and give him the ball closer to Milan Baros, the imprecise striker who has netted just three international goals in the last two years.
Players to watch:
Greece: Charismatic goal-scoring hero Dimitris Salpingidis is tipped to be rewarded for his effervescent performance with a starting berth. Midfielder Costas Katsouranis might fill in at the center of defense in the wake of Papastathopoulos' red card in last Friday's game.
Czech Republic: Rosicky will have to impose his will on the game if the Czechs are to stand a chance. David Limbersky is expected to step in at left back and will seek to cut down on the space and sloppy defending that gifted the Russians their victory. Czech defender Theodor Gebre Selassie was reportedly the target of racist chanting during the opening game and his performance will be closely monitored.
What we can expect?
The Czechs will start strong and Greece will be willing to soak up their initial pressure, seeking to keep the game close while working to nick a goal from a set piece or a counter attack.
Intangibles:
History will not be lost on the Czechs. They last loss to Greece in the Euros at the 2004 semifinals when they lost to a "Silver Goal" scored in extra time. Rosicky calls the loss his worst in international football. The Greeks remember the game more fondly as they proceeded to win the tournament.
Who'll win?
If the Czech Republic give their opponents the space they offered Russia in the attacking third, the Greeks will net the one goal they need to earn three points.
Roger Bennett is a contributing writer for ESPN The Magazine and ESPN.com.