Group A
Russia should defeat Poland
The opening matches are now in the books, and the tempo of Euro 2012 has begun to be established. Russia looked devastating in blowing away the Czech Republic 4-1 in its opener, but now faces a tricky encounter against host -- and longtime sporting and political adversary -- Poland.
What's on the line?
For Russia, a win over Poland could clinch the top spot in Group A if the result of the Greece-Czech Republic match goes its way, and the benefits of taking care of business early are considerable. Not only would it mean avoiding likely Group B winner Germany in the quarterfinals, but manager Dick Advocaat would be able to give playing time to nominal reserves in the group finale against Greece, the better to allow injured players to recover as well as shield those in danger of being suspended due to yellow card accumulation. Not that the Russia coach is taking anything for granted.
"The first game was important to win of course, but we'll see what happens, if we get nine points at the end," Advocaat said. "We've got three points, but we've got to make sure we play well [Tuesday]. The first result we'll forget about."
After a disappointing draw against Greece, the match against Russia isn't necessarily a must-win for Poland, but any kind of result would make the goal of progressing to the knockout stages more attainable, setting up a grandstand finish in its last group game against the Czechs.
"We don't want to lose. Right now, we are aware we have one point [in the standings]," said Poland head coach Franciszek Smuda at Monday's news conference. "And thanks to this point, we still have chances to the very end."
Style and tactics: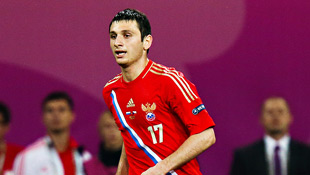 Russia's lightning-quick counterattacks were on display for all to see against the Czechs, with Andrey Arshavin the primary orchestrator. Russia ostensibly lines up in a 4-3-3, but there is plenty of interchanging of roles among Arshavin and front-line mates Alexsandr Kerzhakov and Alan Dzagoev. Russia is capable of maintaining possession in midfield as well, where the understated play of holding midfielder Igor Denisov helps set the tempo for more attack-minded teammates like Roman Shirokov.
The good and the bad were on display in Poland's opener against Greece. For the first 25 minutes, the host's 4-2-3-1 looked fluid and incisive. But as the game progressed, the influence of attacking midfielder Ludovic Obraniak waned and the link between defense and attack became more disjointed. As a consequence, striker Robert Lewandowski was starved of quality service.
Right-sided players Jakub Blaszczykowski and Lukasz Piszczek remain two of the team's main attacking options, but are still reliant on the other elements of Poland's midfield to get them the ball in dangerous spots.
Players to watch:
For Poland: Lukasz Piszczek, Jakub Blaszczykowski, Robert Lewandowski
Piszczek is best known for his marauding runs down the right flank, but his defense will need to be at its best in order to help contain Arshavin, who will line up primarily on his side. Blaszczykowski is Piszczek's partner in crime down the right wing, and his crossing ability and goal scoring will be needed to take the pressure off Lewandowski. The Borussia Dortmund forward scored with a bullet header against Greece, but his influence lessened as the game progressed and he'll need to stay more engaged against Russia.
For Russia: Alan Dzagoev, Andrey Arshavin, Yuri Zhirkov
Dzagoev showed off his razor-sharp finishing ability and creativity against the Czechs, and his movement off the ball is a joy to behold, as well. Arshavin's killer passes in the opener not only set up goals, but broke pressure in his own half and helped launch Russian attacks. Given Poland's right-sided tendencies, Zhirkov may have to curb some of his attacking instincts and stay home, the better to blunt the influence of Piszczek and Blaszczykowski.
What we can expect?
As breathtaking as Russia's counterattacks were in its first match, it seems highly unlikely that Poland's central midfield duo of Rafal Murawski and Eugen Polanski will allow the same amount of space that the Czechs did. Granted, Poland's opener was a bit more wide open than expected, but look for the host to try and frustrate Russia at every turn. That will put Poland in prime position to nick a goal via its own very effective counterattack, especially if Smuda opts to bolster his midfield with more attack-minded players like Kamil Grosicki or Adrian Mierzejewski.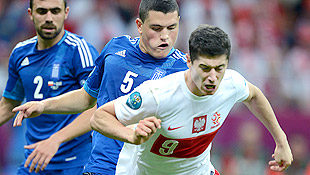 Russia, meanwhile, will again rely on the brilliance of Arshavin and Dzagoev while Sergei Ignashevich will be counted on to keep Lewandowski in check.
"There's no reason to make big changes," Advocaat said.
Intangibles:
Given the political domination Poland suffered at the hands of the old Soviet Union and later Russia, suffice it to say that there is little love lost between the two sides. In a bid to defuse tensions ahead of the match, Advocaat, Russian Football Association (RFS) president Sergei Fursenko and Russia's ambassador to Warsaw together laid a wreath at the Presidential Palace in Warsaw to commemorate the death of President Lech Kaczynski, who was killed in a 2010 plane crash in the Russian city of Smolensk. But news has emerged that Russian fans plan a provocative march through the city to celebrate "Russia Day," when Russia broke off from the Soviet Union.
"We don't think about this," Smuda said. "We try to focus only on the game, only on football, only on our plans. What will happen on the streets, in the stands, I can't say it's not our business, but we can't focus on that, because we wouldn't be able to focus on the game."
Smuda spoke of how the pressure in the first game "paralyzed" some of his players, but he'll no doubt be hoping that the opportunity for his side to put one over on its old rival will allow his team to rise above such tension.
The ability to possibly clinch the group with a win will provide Russia with all the motivation it needs.
Who'll win?
Poland has its share of talented players, but Russia's stronger midfield, as well as a more varied attack, should tip the balance in its favor. Look for Advocaat's side to prevail 2-1.
Jeff Carlisle covers MLS and the U.S. national team for ESPN.com. He is also the author of "Soccer's Most Wanted II: The Top 10 Book of More Glorious Goals, Superb Saves and Fantastic Free-Kicks." He can be reached at eljefe1@yahoo.com.