England 1-1 France
Not a bad start for England, France
DONETSK, Ukraine – Not a win for England, but not a bad start.
A team devoid of four regulars, including Wayne Rooney, showed grit, organization and calm to earn a 1-1 draw with tournament dark horse France, which extended its unbeaten streak to 22 games. Les Bleus won't be disappointed, either. Neither team wanted to lose.
Had Gary Cahill been fit, Joleon Lescott wouldn't have featured in the starting lineup for England. But in this case, Cahill's omission didn't hurt. Lescott scored the opening goal in the 30th minute and forged a solid partnership with John Terry in the center of defense. The splendid Samir Nasri leveled in the 39th minute.
Nasri in the mood: Nasri often cuts a frustrating figure for Manchester City fans. Some games he shows up, others he drifts. The consistency isn't there. In a France shirt, the story isn't much different.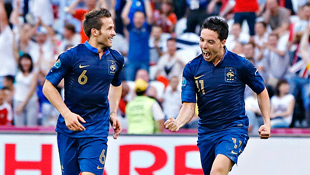 But when in the mood, Nasri is one of the top midfielders in Europe. He was in the mood against England, not a surprise given that he competes in the Premier League. Nasri's goal was a beauty, nestled past bodies and into the near post to give City teammate Joe Hart little chance. Nasri's set-piece deliveries impressed, too, and what a ball he struck to release Mathieu Debuchy in the 83rd minute.
You sensed he was pumped when he tracked back to harangue Ashley Cole in the opening minutes. Yes, he was in England's half – defending.
For all his pretty touches, Franck Ribery failed to extend his goal-scoring streak, and Karim Benzema was a nonfactor aside from delivering a dangerous cross in the eighth minute. Ribery and Benzema had been clicking in pre-Euro friendlies.
The Ox in, Theo out: Jetro Willems became the youngest player in Euro history when he started for the Dutch on Saturday night. Another 18-year-old, Alex Oxlade-Chamberlain, got the nod from manager Roy Hodgson against France.
Oxlade-Chamberlain made a fine start, stealing the ball from Adil Rami and making a driving run into the box. Later, he weaved his way past Yohan Cabaye and Alou Diarra to almost slip in Ashley Young (who was offside). The signs were good.
But from the middle of the first half onward, he was nearly invisible – except when he earned a yellow for sliding in late on Debuchy. A promising-looking run for Ox in the second half ended when the ball got stuck in his feet.
So, an up-and-down evening, which is what you might expect from a teen. Much better is to come.
Theo Walcott, on the other hand, wouldn't have been happy. Unless Walcott, Oxlade-Chamberlain's teammate at Arsenal, wasn't match-fit (he missed the end of the season with a hamstring injury), it was a brave call from the normally conservative Hodgson to sit Walcott. When Oxlade-Chamberlain exited, Jermain Defoe, not Walcott, replaced him.
Oh, Philippe: French manager Laurent Blanc admitted in the weeks leading up to the game that the center of defense was a concern. He didn't have to elaborate. Blanc had to be speaking particularly of Philippe Mexes, who looks all pretty with his ponytail but is anything but a pretty defender.
Within five minutes, he was misaligned twice with his back four. Then in the second half, when an England cross fell his way – with no pace and no one around – he still couldn't make a proper clearance, sending the ball out for a corner. He remains an accident waiting to happen. When other teams press more than England, watch out.
Hugo not so huge: Heading into the game, France's Hugo Lloris and England's Hart were considered a pair of safe hands. But Lloris, linked for a while with bigger clubs than Lyon, should have done better on England's opener.
He was in that dreaded position, no-man's-land, for a goalkeeper on Lescott's goal. Had he stuck to his line, he probably would have made the save. Had he come out for the cross, he could have punched it away. Indecision cost him.
England's keepers have struggled at major tournaments recently (think Robert Green and David Seaman), and when Hart flapped at a corner in the 11th minute, you thought, Here we go again. But Hart is a strong character and he recovered, making a nice save to deny Diarra, the French holding midfielder who was also culpable on Lescott's header.
Let's not take away from Steven Gerrard's free kick on the goal, though. He can still deliver beauties, as he did in the second half to find Glen Johnson. Conversely, Ribery blew past him with ease making a run in the first half. Those legs are past 30.
Don't blame James: There should have been a third Manchester City goal scorer in James Milner. Very much an offensive threat when he played for Aston Villa, he's largely been relegated to a role of defensive midfielder at City (when he's in the lineup).
It showed when he wasted a glorious chance to open the scoring in the 15th minute. He did the hard part by keeping the ball in rounding Lloris, but his left-foot shot went wide.
With Hodgson starting wild card Oxlade-Chamberlain, there was no way he couldn't also insert Milner into the first 11.
Hodgson's choice of Danny Welbeck up top didn't quite work. The supply line wasn't there, and he was always bound to struggle against two defenders. Yet Welbeck stopped what might have been a French winner when he deflected Cabaye's sweetly struck volley in the 81st minute.
London-based Ravi Ubha covers soccer and tennis for ESPN.com.