Focus on Spain
Torres' downward spiral continues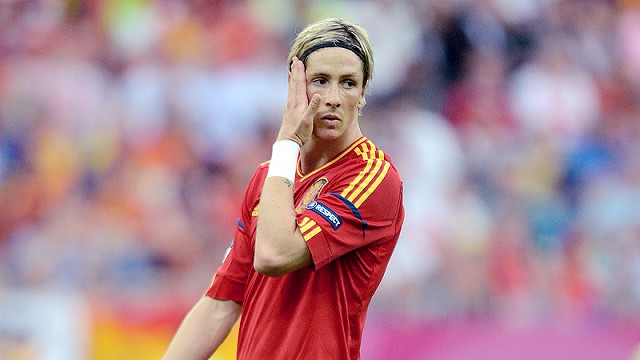 GDANSK, Poland – Fernando Torres' death spiral shows no signs of abating, and on Sunday it cost Spain two points in its 1-1 tie against Italy at Euro 2012.
Ever since joining EPL side Chelsea, Torres' form has suffered, even as the club claimed this year's UEFA Champions League. As a consequence, his spot on the Spain squad had come under threat.
But in the past few days, there were rumblings that the old Torres was back, and that his confidence was beginning to return. It was clear that Spain manager Vicente Del Bosque had other ideas, however. When he announced his starting lineup, not only was Torres on the bench, but his presumed spot was taken by Cesc Fabregas, who has spent the vast majority of his career as a midfielder. Given the rest of the players in La Roja's lineup, it was as if Del Bosque had opted for a 4-6-0 formation.
Yet Torres was ultimately given a glittering opportunity to make a difference, coming on as a 74th minute substitute in the middle of a tie game against a tiring Italian defense.
"This was the ideal moment to put Fernando Torres in because it was an open match."

Vincente Del Bosque
"This was the ideal moment to put Fernando Torres in because it was an open match," said Del Bosque during the post-match news conference with the help of a translator. "His play is very well suited for that."
Was it ever. His ability to occupy the Italian defense allowed the likes of Andres Iniesta and Xavi to have more space to operate than they had in the first half.
"When we changed the system we were superior in the middle, which helped us find some spaces behind their back line," said Torres with the help of a translator. "It's just a shame we weren't able to take advantage of the chances."
And in that aspect, Torres was the guiltiest party. He was sprung on a clear breakaway just a minute after coming on, but his first touch took him too close to Italy keeper Gianluigi Buffon, who dispossessed Torres with a tackle that would have made a central defender proud. He later was released in space again yet made a hash of his layoff. His day was made complete in the 85th minute when he worked a neat one-two with Xavi only to see his attempted chip sail over the bar.
"It's a shame the chip didn't go in," he said. "It came close but just missed, but that's football. I hope the next one goes in."
Whether he gets that chance is uncertain. At present, Del Bosque finds himself no closer to solving his current forward crisis, one created by the broken leg suffered by Spain's all-time leading scorer, David Villa, last December. On the one hand, the Spanish manager was criticized during the news conference for stacking his attack with only midfielders, even though it was Fabregas who scored Spain's goal. Yet on the other he doesn't have a forward who he trusts to start a match.
Spain will be able to cope with this problem during the group stage. The team is too talented and possesses the ball far too well. The concern is that the knockout stages will bring similar struggles to the Italy match, which could ultimately derail La Roja's hope of winning three major tournaments in a row. In the meantime, Spain will be hoping that Torres somehow manages to avoid his impending crash.
Jeff Carlisle covers MLS and the U.S. national team for ESPN.com. He is also the author of "Soccer's Most Wanted II: The Top 10 Book of More Glorious Goals, Superb Saves and Fantastic Free-Kicks." He can be reached at eljefe1@yahoo.com.