Analysis
Group of Death has come to life
The Group of Death has come to life. Denmark stunned the favored Dutch before the Germans slipped past the Portuguese in a highly anticipated yet plodding affair. In doing so, these squads proved a truth about international football that is easy to forget: While the players we are blessed to see might be among the world's best, the team play often is not.
In contrast to elite Premier League or La Liga squads that forge their rhythm and understanding over the course of a nine-month season, national teams are fragile, ephemeral entities. Three weeks' practice is insufficient for players to establish a cohesive rapport and for coaches to think through the slew of knotty tactical challenges they face.
In some cases, this might be a weakness that cannot be prevented (England's lack of a world-class striker in Wayne Rooney's absence), or, as in the case of the Netherlands, it might be an embarrassment of riches.
Dutch coach Bert Van Marwijk is able to call upon the offensive pyrotechnics of Robin van Persie, Arjen Robben, Wesley Sneijder, Klaas-Jan Huntelaar and Rafael van der Vaart. But the indisputably world-class gifts they offer also bear a dark side. All five are used to being the focal point of any club team on which they play. The challenge for Van Marwijk is created less by the opposition and more by his own team. In other words, how does he infuse a common tactical vision and sense of purpose among the superstars he could field?
Van Marwijk tried in vain to get ahead of his critics before the game by stating a simple truth. All five of his stars simply could not play together. They then proceeded to validate that theoretical point with their actions. Over the course of 90 minutes Saturday, they mustered 28 shots but managed to fire only eight on target.
Football theorist Simon Kuper, who came of age in the Netherlands, pinpointed team disharmony as the core reason for the impotence of the Dutch display. Over Twitter, Kuper suggested, "My theory: Van Persie is psyched out by presence of his enemy Sneijder. He feels Sneijder half-hoping he will fail and that upsets him." The two Dutch stars have indeed been rivals since their teens. At this past World Cup, they feuded pettily over free kicks and substitutions.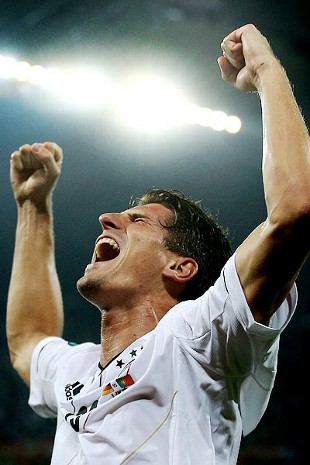 In contrast, Morten Olsen's Denmark displayed a relentless ambition and creativity alongside its typical application to torment the mediocre Dutch back line. Olsen, whose countenance is more like that of a man who would heal Smurfs than that of an elite soccer coach, reminded his opponents that in international football, organization and tactical guile trump individual skill and flair.
Cristiano Ronaldo and his Portuguese teammates will have to adjust their collective vision before they face the Danes in a must-win game Wednesday in Lviv. Their disappointing performance was possibly of interest only to hairstylists, manufacturers of wet-gel products and purveyors of spray-on tans. Coach Paulo Bento kept his men behind the ball, content to deprive their opponents of the opportunity to create clear-cut chances, while praying either of their explosive wingers, Ronaldo and Nani, could conjure some spontaneous magic. The team came alive only after conceding a goal, creating a flurry of opportunities in the last 15 minute. Substitute Silvestre Varela struck the best chance at the onrushing Manuel Neuer from point-blank range. None fell to Ronaldo.
The Portuguese have a maxim, "Antes só do que mal acompanhado" (it is better to be alone than in bad company). It's a saying Ronaldo will no doubt dwell on after finishing the game with just 38 touches, ranking 10th on Portugal, and crucially fewer than he enjoyed in any Euro qualifier. As one Portuguese counter attack after another came undone, he cut a frustrated figure, punching the air, looking skyward, hands on hips, before lambasting his teammates for their failure.
The Germans were rational and organized, as expected, but they lacked pace moving the ball forward in transition, dumping cross after cross harmlessly into the Portuguese box. Coach Joachim Low's big tactical decision ahead of the game was to prefer Bayern Munich striker Mario Gomez over tournament goal-machine Miroslav Klose. For 72 minutes, Gomez lolloped around the Portuguese box with little menace before rising up to nod home the ball, roaring before the relieved German fans like a skinnier Jose Canseco. On the German team, every player has a role, and Gomez was quickly substituted, having performed his.
Germany rolled on and now will be considered to have the upper hand in the group. It plays the Netherlands on Wednesday in a game the Dutch will want to win. The unfashionable Danes will be eager to unleash their flexible, bold team play on the uninspired Portuguese.
It would be a mistake to write off any of the teams just yet. The opening game of a tournament is always played under a crushing weight of expectation as the favorites seek to translate their vaunted theoretical reputations into reality. Match rhythm often suffers. The Dutch have four days to find theirs and rebound from the shock of Saturday's performance. As they will know, for now, the four teams in the Group of Death remain very much alive.
Roger Bennett is a contributing writer for ESPN The Magazine and ESPN.com.