Denmark 1-0 Netherlands
Dutch face uphill battle in Group B
KHARKIV, Ukraine – All week long the Dutch have said that nothing less than winning the European Championships will do. If they're to end a 24-year drought at major tournaments, a drought that belies their immense talent, it'll have to happen the hard way.
After losing 1-0 to Denmark in Kharkiv, Ukraine on Saturday, simply advancing from the Group of Death will take some doing. The mighty Germans are up next and Dutch manager Bert van Marwijk knows it's a must-win game.
Mirroring Russia's encounter with the Czech Republic on Friday, the Dutch created chance after chance. But unlike Russia, which scored four goals, the Netherlands failed to bulge the back of the net. Arjen Robben and Robin van Persie were particularly at fault. Van Marwijk was a "1,000 percent" convinced his side should have been awarded a late penalty for a Lars Jacobsen hand ball.
Robben knew the defeat left the Dutch in intensive care. When the final whistle blew, he lay flat on his back as if his team had been knocked out of the competition.
"The Dutch have a lot of pressure versus Germany," Danish manager Morten Olsen said.
Robben still struggling: The word 'arrogant' was thrown around Friday at the pre-match press conferences, referring to, of course, the Dutch. But Robben's swagger has gone AWOL.
It appears Robben is still thinking about the Champions League final, when he blew a penalty and generally couldn't find the target as the double-decker bus that was Chelsea beat Bayern Munich on penalties.
In the first half, put through by van Persie on the right, the angle was perfect to test keeper Stephan Andersen with his preferred left foot. Instead, he chose the cutback and Denmark cleared. Later, with van Persie in acres of space, he elected to shoot, clattering the post. Capping the hat-trick of errors was an errant free header.
For the Dutch to overcome Saturday's loss and progress, Robben, one would think, needs to be in top form.
Van Persie entered the tournament as one of the hottest properties in world football, but on this display, his value dipped. Sure there was pretty interplay with Robben, and he set up Wesley Sneijder, but van Persie is meant to score, and he didn't. On one chance, it begged for a first time strike with his right foot. He took one touch too many.
"It wasn't only Robin van Persie," van Marwijk said. "There were maybe four, five, six players who had chances. And the ref also had a chance to give us a penalty."
The Dutch ended the game with every attacker in the lineup, yet it amounted to nothing.
The right move: Danish manager Morten Olsen had a choice to make on the left side of midfield. It was either the more experienced international Thomas Kahlenberg or Michael Krohn-Dehli. Olsen picked the latter, and the decision paid dividends.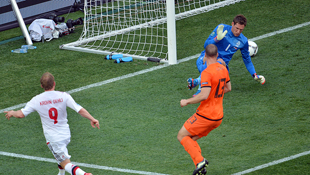 He scored the opener for Denmark with a great finish – giving himself a belated birthday present – forced a good save from Maarten Stekelenburg and tracked back to aid left-back Simon Poulsen cope with Robben. Krohn-Dehli's two-year spell at Ajax was unsuccessful, partly down to injuries.
"It's not like I'm giving payback, but it's nice because I played in Holland for a long time and know a lot of people," he said.
The entire Danish midfield, in truth, didn't shirk its defensive responsibilities. For long spells it was 10 men behind the ball.
Olsen was forced to swap keepers when the century-capped Thomas Sorensen succumbed to injury, and replacement Andersen acquitted himself well. He showed good presence in the box when catching a Danish corner and thwarted Klaas-Jan Huntelaar – but almost cost Denmark a goal when his goal kick went straight to Robben. As anticipated, Olsen stuck with Simon Kjaer in the middle of the defense, despite his poor form for Roma, and Kjaer couldn't be faulted, apart from the defense being split twice by perfectly weighted Sneijder passes.
"We had good positional play," Olsen said. "The most important thing was that we trusted our own way of playing , which was important especially against the Dutch. I thought also you saw a Danish team who were overall a better team and in the last 10 minutes had a better physical (shape), which was important."
The Dutch defense: Two regulars from the Netherlands' back four were absent due to injury, central midfielder Joris Mathijsen and left-back Erik Pieters. In came Ron Vlaar and 18-year-old Jetro Willems, who became the youngest player in tournament history. "I think he played a very good match," van Marwijk said. Willems dealt with speedster Dennis Rommedahl and went error free, which is all you could ask for. Vlaar looked on as Krohn-Dehli went past him for the goal but it was fellow central defender John Heitinga who was at fault.
The good type: There were loud chants from a section of the crowd ... but thankfully not the ones making the wrong type of headlines this week.
With UEFA holding its breath, the racist abuse aimed at Dutch players in practice in Poland on Wednesday didn't surface in Kharkiv.
Star man: Simon Poulsen, Denmark. One of several Danes who play in the Eredevisie, Poulsen created Krohn-Dehli's goal with his run down the left. He made two more sparkling runs in the second half and tracked back to tackle Robben when he was in a promising position.
London-based Ravi Ubha covers soccer and tennis for ESPN.com.