Off the Pitch
Racism fears headlining Euro 2012
KHARKIV, Ukraine – Approaching kickoff at the European Championships, Dutch captain Mark van Bommel and manager Bert van Marwijk should have been talking solely about on-field matters. It's what all of us fans of the Beautiful Game want to hear.
They did a fair bit of that Friday evening before Poland and Greece kicked off the tournament, but also touched on a less pleasurable subject: racism.
Van Bommel told a Dutch newspaper that his team heard monkey chants at an open practice session in the Polish city of Krakow, also England's base, on Wednesday – this time Ukraine was spared – and he elaborated on the matter at the mandatory prematch press conference ahead of the Netherlands' clash with Denmark.
Van Bommel and teammates heard the sounds as they jogged around the pitch, and when it failed to die down he directed the squad to another area of the stadium. Only hours earlier, the Dutch visited Auschwitz.
"We did hear something and were very close to where the sounds were coming from," van Bommel said. "The whole group heard it. We were just happy we were going to the other side of the stadium and I think that was the right thing to do."
Van Marwijk aligned himself with his players when he told Dutch media that his troops now know what to expect. "Very attractive," he said sarcastically.
On Friday, though, van Marwijk appeared to be fed up discussing the matter. "I didn't hear anything that was racist in nature, but in the whole group, certain players did hear something," he said.
When pressed later, he added tersely, "I didn't hear it. I just said that. I'm trying to be as nice as possible, but I'm not going to say the same thing 10 times."
UEFA spokesman Thomas Giordano didn't return a phone call seeking comment about Wednesday's events, but the governing body released a statement.
"UEFA has now been made aware that there were some isolated incidents of racist chanting that occurred at the open training session of the Dutch team on Wednesday in Krakow," it stated. "Should such behavior happen at further training sessions, UEFA would evaluate the operational measures to be taken to protect the players."
Italy's Mario Balotelli, who has African roots, has already said he'll leave the pitch if targeted, leading UEFA boss Michel Platini to retort he would be given a yellow card. Van Bommel said his team would do the same if such behavior were to occur in games. Referees have the power to stop games if, as Platini put it, "this racism keeps rearing its head."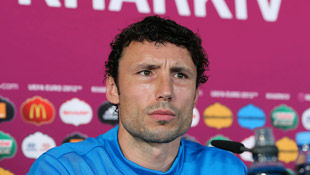 As for the inaugural game in the Group of Death itself, Danish manager Morten Olsen predictably labeled his side an underdog, an assessment that van Marwijk didn't disagree with. When they met in the group stage of the World Cup two years ago, the Dutch left as 2-0 winners. It was a fine start to what would turn out to be a fine tournament. The Netherlands and its arsenal of offensive geniuses progressed to the final, only to lose in extra time to Spain. Nothing less than the title will do this summer in Poland and Ukraine, as players have been saying this week.
"Two years ago it was new for me and most of the players," van Marwijk said. "Now I have the experience from two years ago, but that just means you might be more complacent because you've done it before. The art is to be as sharp as two years ago."
Already without starting left back Erik Pieters, van Marwijk will be devoid of the services of another member of the back four, starting central defender Joris Mathijsen, because of a hamstring injury. Van Marwijk hoped Mathijsen, who has amassed 80 caps, would be available in ensuing games, and thus kept him in the tournament squad.
Venerable Danish manager Morten Olsen was successful in his attempt at humor when asked if he knew who would replace Pieters.
"I don't know who plays there," he said to the Dutch questioner. "Maybe you do."
"We don't know yet," came the reply.
"OK, so you'll be playing with 10 men, then," Olsen quipped. "That's good for us."
Olsen declared himself content with Denmark's preparation for the tournament. No injuries surfaced, and this is a side capable of upsetting teams with heftier reputations, as last year's scalp of Portugal proved.
He did, however, acknowledge that rising Ajax star Christian Eriksen, linked with Manchester City and Arsenal, could do better. Eriksen's form in recent friendlies has flattered to deceive.
"There's no reason to lie," Olsen said. "We know he can perform better. If he's the one playing tomorrow, I'm sure he can do better."
Lasse Schone, seated beside Olsen, didn't take the bait when asked who should fill the attacking role in midfield, he or Eriksen. Schone had an impressive season with NEC in the Netherlands, earning a move to none other than Ajax.
"We are both quite good," he said with a smile.
If the tournament can end without further incident off the pitch, UEFA will be smiling, too.
London-based Ravi Ubha covers soccer and tennis for ESPN.com.