Let The Battle Begin
What To Watch At Euro 2012
All you need to know ahead of the European Championships
Most soccer fans believe that the World Cup is The Greatest Show On Earth, and if you judge solely by the all-important category of "Smoking Hot Brazilian Supporters In Bikinis," there's no contest. But on almost every other level -- quality of play, penchant for drama, intensity of blood feuds and preponderance of hair gel -- the European Championship is the superior tournament.
For one thing, it's harder to win than the World Cup. In the 13 tournaments since its inception in 1956, nine different teams have hoisted the Euro trophy with Germany having managed the trick a Teutonic three times. France and Spain are the only two other multiple winners and when Les Bleus captured the title in 2000, they had to go through Denmark, Czech Republic, Netherlands, Spain, Portugal and Italy to win. (Five of those teams were former European champions, by the way.) On the other hand, England has managed to win the trophy as many times as the U.S.
While the World Cup has a field of 32, only 16 do battle in the Euros (although this is the last time we will see this undiluted of a field as it's regrettably expanding to 24 sides in 2016). In this year's showcase, unlike the World Cup, there's no Zaire, Saudi Arabia or any CONCACAF team south of Mexico to curl up in a fetal position and beg not to be beaten by double digits (for the record, in the 1974 World Cup, Yugoslavia beat Zaire only 9-0 and in 1982 El Salvador nicked a goal to barely drop a 10-1 squeaker to Hungary).

Meanwhile, 10 of FIFA's top 15 teams will play in "Polkraine," which might mean something until you realize that the unimpeachable FIFA list puts England at No. 6.
Beyond that, the World Cup is achingly predictable in its winner (a host nation, Italy, Germany, Brazil or another South American outfit has won every WC except the most recent) while the Euro can throw off a ridiculous shocker. It happened in 1992 when Denmark, which hadn't even qualified for the tournament and was only there because war had broken out in Yugoslavia, confounded the experts by beating heavily favored, Jurgen Klinsmann-led Germany in the final.
But that was nothing compared to the seismic upset that occurred in 2004 when Greece, a rank 100-1 outsider, rode its luck (and what was essentially a 9-0-1 formation) to the title, defeating the home side Portugal in both the opening and closing matches. Greece, for Zach Galifianakis' sake! (Seriously, name two of the players on the championship side -- without Googling -- and win a lifetime supply of ouzo.)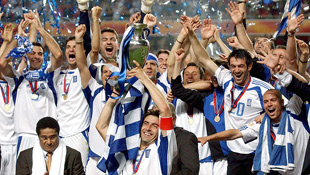 That aberration notwithstanding, there's also a much better chance that you'll get a final worthy of the grand occasion. Take away Zizou's head-butt in 2006 and how many memorable World Cup-deciding games have we witnessed since 1986? The Euros can lay claim to a glittering array over the past four decades: Antonin Panenka's penalty chip for the Czechs against West Germany in 1976, the genius of Michel Platini in 1984, the majesty of Marco Van Basten and Ruud Gullit in '88, Brian Laudrup guiding the Danes in '92, France versus Italy in 2000. Even Fernando Torres' classy finish in 2008 quickened the pulse.
Finally (and most importantly), the Euros are Sepp Blatter-free. FIFA's ineptitude, brilliantly manifested in president Blatter's spectacular lack of self-awareness, often detracts from the soccer on display at the World Cup. At the Euros, the great Platini is Le Grand Fromage and his less megalomaniacal style means we can focus on the games rather than a Swiss septuagenarian blathering on about the merits of golden goals, penalty shootouts, goal-line technology and skimpier shorts for women.
So if you're a fan of world-class soccer or just someone who likes a good old-fashioned tribal feud, you'd be well advised to inform your boss that you have a medical emergency that can only be cured by spending the next three weeks in a pub drinking beer and watching the Euros.
Three not-for-the-fainthearted matchups
European soccer is filled with more intolerance and aggression than a "Jersey Shore" marathon. And while every nation in the tournament has some sort of communal angst to work out on the field, these three group stage showdowns bring jingoism to its proper hysterical pitch.
England vs. France (June 11, 12 p.m. ET) -- These two can't even agree upon a common currency, so you know their soccer rivalry has been anything but a lovefest. England won 3-1 at the 1982 World Cup though Les Bleus exacted a measure of revenge in Euro 2004, when a delicious pass from Steven Gerrard set up Thierry Henry for the winning goal -- arguably Stevie G's last assist in an England shirt. What fills us with a nasty combination of hope and dread is that each side was so spectacularly awful and mutinous in South Africa that they bring years of pent-up frustration to this first group match. Let the soggy pies and pretentious berets fly.
Germany vs. Netherlands (June 13, 2:45 p.m. ET) -- No matter how much swagger and skill the Dutch have brought to the game over the years, they have long played second clog to the Germans, who stunned a heavily-favored Johan Cruyff side in the 1974 World Cup final. So when the Oranje eliminated the hosts in the semifinals of Euro 88, Ronald Koeman made sure Germany understood the depth of animus between the teams. When the game was over, the Dutch defender pretended to wipe his butt with Olaf Thon's jersey right in front of the German fans. Two years later during Italia 90, Holland's Frank Rijkaard further escalated the hostilities by famously moisturizing German striker Rudi Voller's perm with a huge gob of phlegm for which he was suspended for three games.
While no spit takes are expected this time around, the prospect of another Germany-Holland showdown -- and one that will likely decide Group B -- has the soccer world salivating.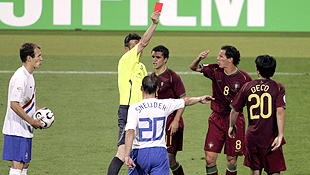 Netherlands vs. Portugal (June 17, 2:45 p.m. ET) -- While their respective levels of excessive nationalism are fairly low (Dutch enmity toward the Germans notwithstanding), the soccer grudge-o-meter is tastily high after the 2006 Battle of Nuremberg during which the two sides crunched and thugged to a World Cup-record four red cards and 16 yellows in a single 90-minute game. Though the whistle-happy ref, Valentin Ivanov, bears a large part of the blame, the likelihood of both sides fighting for second place means we could see similar mayhem as each scrambles to book a quarterfinal spot. Look for Mark van Bommel and Nigel de Jong to make a sandwich of Ronaldo's spleen and eat it raw.
EURO MAD MEN
How well do you know the lovable "characters" of the tournament? Match these acts of temporary insanity to the player. (Hint: none of them is John Terry, who's in a sanitarium by himself.)
A. Photographed stumbling out of a bar with his pants around his ankles and claimed he had been "drugged." Arrested for damaging parked cars after a night out; wrote public apology because he "allowed himself to get involved in things that are interpreted in such dramatic fashion." Famously scored a 10 on a self-esteem test -- the results were measured from one to nine.
B. Swore at a female reporter ("What the f--- are you looking at?") and flicked his headband at her during pitchside interview. Wrote in his autobiography that Barcelona's Pep Guardiola "has no balls" and "s--- himself in front of Mourinho."
C. Vowed to walk off the field if racially abused and threatened to kill anyone who throws a banana at him.
D. Punched teammate in the eye after argument over who should take a free kick spilled over into the locker room at halftime.
E. Stepped on Lionel Messi's hand during a game. Kicked another opponent twice -- shin and lower back -- after conceding a penalty before kicking another in the face, earning a 10-game ban. Doesn't understand his reputation: "The Press portrays me as some kind of murderer."
F. Went to a BBQ and disappeared for two months; when he returned to his club, he tried to explain his absence saying he'd broken his leg (he hadn't). Was sent to serve in the army. Has a Joey Barton-esque reputation on Twitter.
1. Franck Ribery
2. Pepe
3. Mario Balotelli
4. Roman Shirokov
5. Nicklas Bendtner
6. Zlatan Ibrahimovic
(Answer key at bottom)
IS THAT A VUVUZELA IN YOUR POCKET OR ARE YOU JUST GLAD TO BE IN EASTERN EUROPE?
Neither, it's a Zozulica, a 7,000-year-old Slavic cousin of the South African torture device that sounded like Kenny G (no relation to Stevie G) was being shot out of a cannon while blowing a giant trumpet made of saxophones. The Eastern European version is slightly less annoying -- its cuckoo-like chirping is more Renaissance Fair than jazz combo from hell -- but, trust us, after listening to it for three weeks, you'll definitely want to shove a hot poker through your aural canal. Fortunately, just like Zozulicas, hot pokers are also cheap and plentiful in Poland and Ukraine.
THERE'S A TEAM FOR EVERYONE
If you're looking to choose a country to get behind and are unburdened by any ethnic loyalties, there's a simple way to do it: select one that's like a team you root for in another sport.
Follow our Adopt-a-Team-o-Matic and before you know it, you'll be chanting "Hup, Holland, Hup."
If you love the New York Knicks: ENGLAND. Living exclusively off faded memories of past glory, can't accept the fact the world has passed it by, hampered by profound lack of creativity, riddled with injuries, will not win again in our lifetime.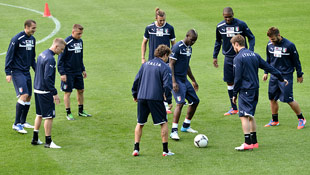 If you love the New Orleans Saints: ITALY. Superstar squad brought to its knees by scandal, although its hometown cooking is delicious.
If you love the Miami Heat: THE NETHERLANDS. Young, athletic and sexy as hell, the Dutch have game-changers throughout the squad. Brash and cocky, they are capable of blowing out opponents -- except when it counts and they fall fabulously short.
If you love the New York Jets: FRANCE. Desperate to change their image after recent public humiliations, Les Bleus are now managed by a charismatic leader who vows to keep the reins on his hotheaded stars this time around. Bonne chance with that.
If you love the Cleveland Browns: GREECE. They're hard-working, nose-to-the-grindstone, blue-collar ragamuffins from an economically depressed homeland. They seemingly never have a chance to win, yet lightning has struck for each (Browns in 1964, Greece in 2004). Don't count on it striking twice.
If you love the Los Angeles Dodgers: GERMANY. They used to be boring, but now they're a thrill-a-minute. They used to be predictable, but now they're full of surprises. They used to win; now they win with style.
If you love the New York Mets: PORTUGAL. They've got one of the best players in the world on their side, but he always seems to choke in big spots. Constantly playing second fiddle to their richer, more successful neighbors. Run by a dysfunctional organization on the brink of financial ruin.
If you love the New England Patriots: SPAIN. Classy and cool they'll pass you to death, win the title and then go home to their ultra-hot girlfriends and wives.
AND NOW FOR SOME PREDICTIONS ...
Group A
Greece: Cured insomniacs around the globe in 2004 and won the tournament. Will repeat its version of soccer Xanax but will, mercifully, go home early.
Russia: Traded one Dutch coach (Guus Hiddink to Dick Advocaat) for another and by allowing only four goals in qualifying showed a decent defensive spine. There's always the chance that Andrei Arshavin will torture Arsenal fans and be brilliant again but, like the whining diva himself, it's a small one.
Czech Republic: Will live and die by Petr Cech's gloves and the midfield scheming of Tomas Rosicky, who will continue his run of not being on a trophy-winning side.
Poland: Home soil, soft group and blessed with a young Dortmund core (Jakub Blaszczykowski, Robert Lewandowski and Lukasz Piszczek) plus Wojciech Szczesny, ace goalkeeper for some Champions League North London club. Expect the Poles to feast on their home cooking and drive journalists batty with all those annoying consonants.
MOVING ON: Poland, Czech Republic
Group B
Netherlands: Boasts the leading scorers in the EPL and Bundesliga respectively (Robin van Persie and Klaas-Jan Huntelaar) but it's still Arjen Robben who everyone fears -- unless he's taking an important penalty. While the Dutch are as famous for infighting as the English are for brave losses, Team Netherlands still has enough weapons to get to the Final Four.
Germany: Loaded with young attacking talent (Marco Reus, Mario Gotze, Mesut Ozil and Toni Kroos) and led by the Bayern duo of Philipp Lahm and Bastian Schweinsteiger, the Germans are everyone's favorite to usurp Spain. Still, any defense that even thinks about rolling out Per Mertesacker is a self-destruct button waiting to happen.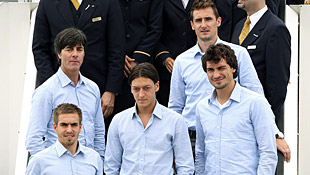 Denmark: Future star in Christian Eriksen yet surrounded by a fading firmament (Nicklas Bendtner, Dennis Rommedahl). Euro 1992 has never seemed further away.
Portugal: The extraordinarily gifted but preeningly obnoxious Cristiano Ronaldo teamed with 10 others who are nowhere nearly as talented but are almost as unlikeable. Barely qualified and has looked abject in recent exhibitions, but with CRon you can't count Portugal out. At least until it plays Germany and Netherlands. A lock for most unsympathetic team in the tourney.
MOVING ON: Germany, Netherlands
Group C
Spain: Is it good enough to win three major tournaments in a row and enter the pantheon of legendary teams? Si. Will it? Depends on whether the fatigue of La Liga and Champions League catches up to it, and whether the Barcelona versus Real Madrid club schism finally fractures team unity.
Italy: It is always tempting to write off the Azzurri due to outside distractions (this time it's yet another match-fixing scandal) but then you remember the 2006 World Cup. Difference is, they had a much more gifted and deeper team six years ago, yet if Mario Balotelli The Good turns up, they could claw their way into quarters.
Ireland: Has overcome the trauma of Thierry Henry's handball to make its first appearance in a major tournament in a decade. Still has to overcome the presence of Robbie Keane in the team but will fight to the death. And if anyone knows how to beat Italy, it's idiosyncratic coach Giovanni Trapattoni.
Croatia: Luka Modric will dazzle in midfield as he entertains offers to play for a Champions League team, while players such as Nikica Jelavic and Ivan Rakitic hope to reproduce their impressive club form this past season. But there's little chance that Slaven Bilic's band will rock the Euros like they did in 2008.
MOVING ON: Spain, Italy
Group D
England: Why even bother? Fleet Street will kick the hype into stratospheric levels as Roy Hodgson figures out entirely new ways to deploy four holding midfielders. Next to Greece and Ireland, the Three Lions will play the least eye-catching soccer and, with any luck, will be bounced out on PKs in the quarters.
France: As talented and mercurial a team as exists in Europe, one that has recently rediscovered its mojo under Laurent Blanc. Certainly a dark horse to reach the semis, and the likely group winner.
Ukraine: Bye-bye and thanks for co-hosting.
Sweden: Almost always plays an attractive brand of soccer and has been known to give England fits over the years. But it is overly reliant on Zlatan Ibrahimovic, a man who is in turn overly reliant on great clubs to service him and tolerate his greasy mullet.
MOVING ON: France, England (with one goal in three matches combined)
Quarterfinals
Netherlands over Poland, Spain over England, Germany over Czech Republic, France over Italy
Semifinals
Spain over Holland, Germany over France
Final
Germany over Spain to usher in new Euro soccer hegemony
(Answer Key for the Mad Men quiz: A5, B6, C3, D1, E2, F4)
David Hirshey has been covering soccer for more than 30 years and has written about the sport for The New York Times, Time, ESPN The Magazine and Deadspin. He is the co-author of "The ESPN World Cup Companion" and played himself (almost convincingly) in the acclaimed soccer documentary "Once in a Lifetime."
James Tyler is an assistant editor for ESPN.com's soccer coverage.