Player Profile
What Will Zlatan Do?
Zlatan Ibrahimovic is a decisive force. But will he lead -- or limit -- Sweden?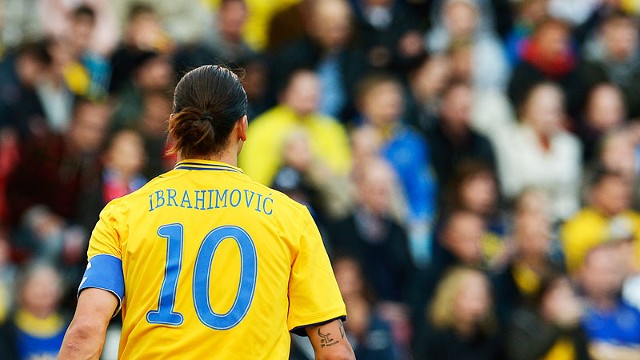 What does a man like Zlatan Ibrahimovic see in a tournament like Euro 2012? Looking at the bookies, it's clear that his native Sweden is a rank outsider to win, but that won't unduly bother Zlatan. For all the disappointments that Sweden suffers in international soccer, it offers the brilliant forward the one thing he seems to crave above all else: the biggest stage the sport can possibly offer. It's one upon which he has shone before -- witness this astonishing backheel flick against Italy at Euro 2004 -- and we should expect him to do so again this summer.
But there's an incongruence with Ibrahimovic. At first sight, Zlatan and soccer don't seem to belong together. Indeed, there are times when you might even wonder what he's doing in this century, or this side of reality; I can easily imagine him in a battle scene in Game of Thrones, a marauding warrior from the House of Targaryen, howling through the streets of some unlucky medieval town. Or I picture a soldier in ancient Greece, sitting and glowering in the dark shadows of that wooden horse, ready to unleash himself upon Troy.
No: Zlatan doesn't look like a soccer player. Far from it. He's 6-foot-5, weighing comfortably clear of 200 pounds. Those are almost NBA dimensions, and given that most of his chosen sport's protagonists are currently about a foot shorter, his presence in the game seems wholly anomalous. Yet present in the game he is, and thriving at its very peak.
Though still only 30, the Swedish striker, born in Malmo to a Bosnian father and Croatian mother, has starred for many of the world's leading clubs -- Ajax, Juventus, Internazionale, FC Barcelona and now AC Milan. Most remarkably, from 2004 to 2011 he won eight consecutive league titles with these teams, a streak during which he was a decisive element every time.
If asked to describe Zlatan's winning formula in four words, the answer would be: "half brawn, half ballet." Ibra is unique among footballers in that he can vacillate in a heartbeat between raw aggression and rare finesse: to wit, a breathtaking goal for Ajax Amsterdam, one of many, a perfect example of his giddy swagger.
This season he has continued his spectacular play in Serie A (as if, indeed, he knew any other way). Perhaps the pick of his goals was a goal that he fashioned against Siena, an elegant pivot on the ball in front of his marker before releasing a powerful left-footed strike. Most forwards would be happy with such a strike in their entire careers; Zlatan does it almost weekly.
Of course, such party pieces are nothing if they do not bear fruit, and Zlatan has the medals to prove it. What's more, he's got plenty of goals to boast about, too. In Serie A, a league notorious for tight defending, he has scored over a hundred goals at more than one every two games. In Italy he also excels as a playmaking trequartista and has assisted over sixty goals with his inventive and incisive passing, a position he's recently assumed for Sweden to great effect.
Zlatan scores, makes assists and routinely performs magic with the ball, so much so that his adoring supporters have nicknamed him "Ibracadabra." He's even the captain of his national side. What's not to like?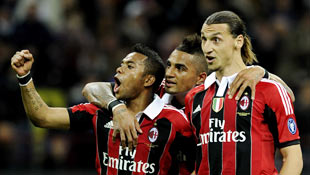 Well, there are a couple of things. For one, when the battle is at its most critical, Zlatan is a warrior without a battlefield: that is, he fails to score in the biggest games. Due to his relatively poor scoring record in European competition whilst at Juventus and Internazionale – where he scored only nine times in 41 matches – this accusation has followed him persistently, but in recent years he's managed to shift the paradigm.
For example, in November 2009, he scored the only goal in Barcelona's 1-0 victory over Real Madrid in El Clasico; in 2012, in the second round of the UEFA Champions League, he scored once and notched two assists in AC Milan's 4-0 dismissal of Arsenal.
Moreover, Zlatan's numbers continued to rise this past season. According to OPTA, Ibrahimovic scored the opening goal in nine Serie A matches in 2011-12 -- the second-highest total, behind Udinese's Antonio Di Natale, who had 10. Moreover, he scored the winning goal in 10 Serie A matches, three ahead of di Natale in second place, proving that he's becoming a big game barbarian.
But then there's the other thing about Zlatan: his ego. In November 2011, Zlatan published a very frank autobiography – "I am Zlatan Ibrahimovic" (Jag ar Zlatan Ibrahimovic) – in which he invited the world to peer about within the vast hilltop mansion of his psyche, only what they found in there wasn't pretty.
Reading his prose reveals a man still bitter about the one year of his career that was considered a failure -- the 2010-11 season at Barcelona, signed as he was by Pep Guardiola to be a young and powerful presence at the apex of the Blaugrana's forward line.
Angered by what he felt were the excessive physical demands of Guardiola's regime, he (or his ghostwriter) set these vengeances to paper. "I haven't got the physique of someone who can work back and then sprint up front again throughout a match!" he wrote. "If this is what you want, then you've got a Ferrari and you are using it like a Fiat! I'd rather be on the bench than play." As if anyone doubted Zlatan's non-conformist streak, he confirmed it by stating: "I am a guy who likes those who drive through red lights."
Unsurprisingly, given Guardiola's fierce commitment to a collective ethos -- Barcelona devised as a utopian team above the individual -- Zlatan was quickly shown the door and thus returned to Italy where Massimiliano Allegri, despite being far from a soft touch, has been more indulgent of the Swede's mercurial nature. To his credit Zlatan has repaid that faith, winning a Serie A title in his first season and scoring 28 goals the next year, good for the league's top scorer as AC Milan finished second to Juventus in the Scudetto.
The good news for Sweden as it enters Euro 2012 is that Zlatan is in excellent form; more importantly, he is someone who has consistently proven that he can take the responsibility that comes with being given center stage. His nation's hopes rightly rest in him as he continues to build a legacy like those warriors of old that he so closely resembles: a man loved and loathed, feared and revered in equal measure.
Musa Okwonga is a football author, blogger, poet and musician of Ugandan descent, who writes, among others, for
The Blizzard
and
The Independent
. In 2008 his first football book,
A Cultured Left Foot
, was nominated for the William Hill Sports Book of the Year Award; his second book,
Will You Manage?
, was published by Serpent's Tail in 2010. He is one half of
The King's Will
, an electronica outfit that blends spoken word, dubstep, and animated videos.