Group D Preview
Group D: The Unpredictables
England, France, Sweden or Ukraine? This group is anyone's guess
All four groups in the European Championships have their share of drama and tension, but the babbling brook of nerves and panic roars loudest where the English are concerned.
For the Three Lions, it's a vintage assortment of opponents: easily beatable, yet easily underestimated. Much as the Algeria/Slovenia/USA triumvirate was sneered at and dismissed before the World Cup even began, it doesn't take much to jolt Steven Gerrard and Co. back to reality. A traditional rival in the French (themselves with a litany of lingering ills from the Raymond Domenech regime), a compact, middle-of-the-road competitor in Sweden and a Ukraine side so unpredictable that I'd wager not a single English fan could pluck from a lineup (save for Chelsea washout, Andriy Shevchenko).
Will big names (Zlatan Ibrahimovic! Franck Ribery! Andy Carroll!) dominate and inspire? Or is this a group for the fates to decide?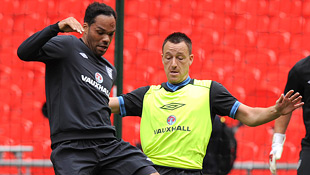 ENGLAND
Core story: Qualifying is what the English do best. Except for the Steve "Wally With A Brolly" McClaren failure to reach Euro 2008, the Three Lions love nothing more than grappling past second-tier nations en route to the main event (better known as where the stage fright kicks in). This time around, Group G pitted them against a tricky quartet: Switzerland had shocked Spain in the 2010 World Cup group stages, Wales had Gareth Bale (and national pride), Bulgaria was a threat in the 1990s yet lost all three games at Euro 2004 (only its second Euro appearance) and, well, Montenegro.
So five wins and three draws pushed then-boss Fabio Capello's side onward without too much trouble (though the 2-2 draw in Montenegro, scene of Wayne Rooney's infamous suspension-worthy kick-out, was bizarre). Like in any good pulp novel, things felt like they were finally clicking: Darren Bent, Jermain Defoe, Rooney and Ashley Young all scored three goals. The defense appeared robust while any obvious lack of wizardry in midfield didn't matter.
And yet, all of those good vibes have been rendered irrelevant by the turmoil and strife since Roy Hodgson took over: A pair of grimly functional 1-0 wins, more injuries (Gary Cahill, Frank Lampard, Gareth Barry) than a death metal mosh-pit, "The Footballing Reasons" surrounding Rio Ferdinand's controversial exile and a slew of debatably second-rate Liverpool players padding out the squad.
English Premier League fans will enjoy ... that mostly LFC players were picked and could get hurt. After all, it's all about the 2012-13 Prem campaign, right?
Player to savor: Is there one? At the very least, one hopes Alex Oxlade-Chamberlain will get the chance to swing a game or two with his youthful exuberance on the wing. May he blossom more than Theo Walcott has to date.
Intangibles: Roy Hodgson. He'll either galvanize the beleaguered stars into an effective/unwatchable heap that gets results, or he'll go down with the ship as player egos reign and individual attempts at panache replace the ex-West Brom manager's meticulous game plans. Roy is no stranger to egos and big situations -- though he washed out at Liverpool, he handled a tricky rebuild at Inter Milan in the 1990s -- and his handling of a precarious news cycle will be elemental if the team is to rise above whatever John Terry does to haul it down.
Glass half-full scenario: The overpaid rabble clicks! After a defeat to the younger, hungrier French, the Three Lions consume Ukraine and Sweden en route to a quarterfinal date with Spain. Defeat to the world's best is an acceptable pill to swallow.
Glass half-empty scenario: Defeats to France and a draw with the obdurate Swedes renders Rooney's return a moot point. A humiliating early exit, which in turn cues the finger-pointing. And the tell-all player memoirs.
FRANCE
Core story: Like England, the French have no clue which side will turn up at the Euros. Form doesn't matter; it's all about mood and mindset, and this Les Bleus incarnation could be anything from tormented washouts to potential finalists.
Qualifying was surprisingly tricky. Despite drawing the softest group (all five opponents were ranked 38th or lower at the time of the draw), it took a nervy, come-from-behind draw at home to Bosnia-Herzegovina to secure top spot and an automatic ticket to the Euros. The French struggled for goals -- a pair of 2-0 wins against sieve-like Luxembourg was disappointing -- and that will be a concern again this summer, but coach Laurent Blanc has bigger issues.
For one, the defense: Can the inexperienced Adil Rami and error-prone Philippe Mexes hold firm? Then there's the midfield, with several players in the mix. Yann M'Vila is expected to anchor, but who will lead the line with Ribery and Samir Nasri? Will Blanc deploy Newcastle pair Yohan Cabaye and Hatem Ben Arfa? Veteran Florent Malouda? Jeremy Menez? Figuring out the alchemy of who will furnish Karim Benzema with regular goal-scoring opportunities will be Blanc's trickiest task.
English Premier League fans will enjoy ... Hatem Ben Arfa. Assuming the Magpies winger gets plenty of minutes, he's the more dazzling draw than Man City's Nasri or Chelsea's Malouda in midfield.
Player to savor: Marvin Martin. The Sochaux box-to-box midfielder spent 2011-12 trying to ensure his club side survived relegation, but the added stress only served to amplify his considerable talent. Dubbed "little Xavi" by teammates, his stellar season saw him make the four-man short list for the French Players' Union Young Player of the Year. Let's hope he gets some time in Les Bleus' midfield.
Intangibles: Drawing the English provides an immediate barometer as to where Les Bleus stand in shedding the demons of the 2010 World Cup, an unwelcome and painful embarrassment to national pride that even required Presidential intervention to set French soccer back on track. And yet, there's simply no guarantee that when the chips are down, Patrice Evra and Ribery don't reprise the shameful actions of exiled striker Nicolas Anelka and drag the squad back into the mire.
Glass half-full scenario: A surprisingly comfortable win over England propels Les Bleus into the knockouts en route to a creditable semifinal exit.
Glass half-empty scenario: Ineptitude against England, lack of inspiration against host Ukraine and a draw against Sweden denote a spiritual step back.
SWEDEN
Core Story: It took a while for Erik Hamren to get the balance right: The Swedes had their stodgy, hard-working style down to an boring art and though it worked initially in qualifying, it was clear that "10 men plus Zlatan" wasn't a sustainable approach.
So Hamren pulled Ibra back into an attacking playmaker position -- it would be ex-Bolton frontman Johan Elmander leading up front -- and the shift (and surge in confidence) propelled Sweden to a strong second-place group finish and automatic spot by virtue of being best runners-up. (The perils of being drawn in a group with the unstoppable Netherlands.) Capping the Swedes' run was a 3-2 home win over the Dutch, affirmation that Hamren's shift had plenty of merit. Now that Ibrahimovic is no longer marooned in the attacking third and starved of service, his incandescent skill can have more influence over games.
The starting side is fairly easy to envision: longtime servant Andreas Isaksson in net, Kim Kallstrom and young dynamo Rasmus Elm in midfield and Ibra as trequartista, supporting either Ola Toivonen or Elmander as the lone striker. But will this predictability be a boon or a burden?
English Premier League fans will enjoy ... Sebastian Larsson. Despite an average season with Sunderland, the right-sided midfielder is absolutely lethal from a set piece. Assuming the great Ibrahimovic allows anyone else near the ball.
Player to savor: Elm. The driving force in central midfield has been called the biggest Swedish talent since Ibrahimovic emerged more than a decade ago. He's been a star in the Eredivisie for AZ Alkmaar, but will he eventually join his brother David (at Fulham) in the Premier League?
Intangibles: Which Zlatan Ibrahimovic shows up to compete? The preening, self-interested egomaniac, or the focused, goal-scoring menace?
Glass half-full scenario: The favorable match schedule means an opening win over host Ukraine gives the Swedes a leg up on second place (assuming a decisive result between France-England). A draw against England cements a place in the quarterfinals.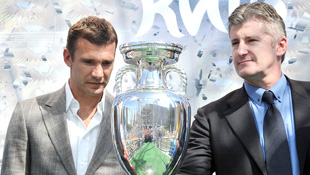 Glass half-empty scenario: Ibrahimovic can't flex his muscle and draws against England and France doom Sweden to a third group stage exit in its past four European Championships.
UKRAINE

Core story: Qualifying as joint-host with neighboring Poland was a blessing, though the nation that boasts the dynamic occasional Champions League shock merchant, Shakhtar Donetsk, is not here to make up the numbers.
That said, recent results only serve to affirm Ukraine's obvious underdog status: Group D foes France and Sweden both beat coach Oleg Blokhin's side last summer and though a 3-3 home draw against an experimental German side looked like forward progress, the last week has seen defeats to Austria and Turkey (two sides that failed to qualify for Euro 2012) and a claim of squad-wide food poisoning from Blokhin in response.
But it's not all bad. The future on the flanks is bright -- Andriy Yarmolenko and Evhen Konoplyanka are tipped to shine -- as are Artem Milevskiy's chances of assuming Andriy Shevchenko's lone forward role for years to come. However, question marks on defense, particularly in goal -- Andriy Pyatov is arguably the No. 4 choice between the posts -- augur a difficult tournament for the hosts.
English Premier League fans will enjoy ... One last chance to wolf-whistle at the great Shevchenko?
Player to savor: Yarmolenko. The 22-year-old from Dynamo Kiev is blessed with bags of pace and attacking intent. It won't be long before the left winger is operating in a much bigger league.
Intangibles: How much will the home crowds in Kiev and Donetsk rally behind the Yellow-Blues? And will that inspire the hosts to stun their distracted opponents?
Glass half-full scenario: A home win over Sweden to start sends the nation into a frenzy. From there, Sheva rediscovers his vintage Milan verve and Yarmolenko runs rings around fullbacks to send the host into the knockout stages.
Glass half-empty scenario: One point from three games. Shevchenko retires. Blokhin goes entertainingly apoplectic.
PREDICTION
England could finish anywhere from first to fourth. Same for the French. It's that kind of party. That said, the absurd wealth of talent should push the big boys on to the quarterfinals.
1. France
2. England
3. Sweden
4. Ukraine
James Tyler is an assistant editor for ESPN.com's soccer coverage.