Leaving the sport early
Saenko symbolizes harsh realities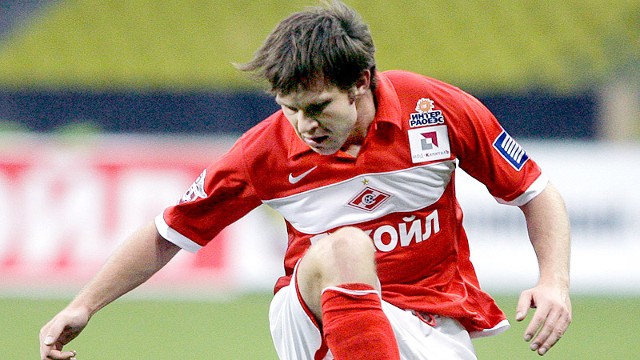 International football tournaments come around with such regularity that one often seems to just glide seamlessly into another. For some, during this extended countdown to Euro 2012, Euro 2008 can feel like yesterday.
But a lot can happen in four years in the life of a footballer, even those seemingly at the top of their profession. Sometimes personal tragedy can strike. Four years ago, Ruben de la Red was part of the Spain squad that won the last Euros in Austria and Switzerland. Now, aged 26, the midfielder had to give up on a promising playing career and settled for one in coaching at Real Madrid's Juvenil A side after being diagnosed with a heart condition.
At other times, the desire to perform, or to deal with the pressures of living in the public gaze, can wane. Swiss midfielder Johan Vonlanthen, another appearance-maker at Euro 2008 and a prodigious talent who remains the youngest-ever scorer at a European Championships, retired this week after spending the past six months without a club. Vonlanthen, 26, became a Seventh-day Adventist last summer, gave up playing football on Saturdays for his faith and, since an unsuccessful spell at Colombian club Itagui, has been unable to find employment.
But for an even more precipitous fall from stardom -- one that seems barely explicable -- few can beat former Russia international forward Ivan Saenko.
Saenko played a major part in Russia's run to the semifinals of Euro 2008, a campaign that made national heroes of coach Guus Hiddink and his squad. After stepping off the bench in two of Russia's group stage games against Greece and Sweden, Saenko was thrust into the starting lineup by Hiddink for the quarterfinal against Holland -- a 3-1 extra-time victory that has gone down in Russian footballing folklore -- and the subsequent 3-0 semifinal defeat to Spain.
"I don't play for any football club at the moment. I feel totally fine. In my career I was able to play a fair bit and I'm very happy with that. Actually I've had enough"

Ivan Saenko
These days, however, the 28-year-old Saenko prefers to shun the limelight. He has retired from football, moved back to the town of Voronezh where he grew up and by his own admission now "makes an honest living" outside the game -- though he doesn't elaborate further. Few in Russia, and still fewer beyond her borders, even remember his role in the country's greatest result of the past 20 years. "He's alive!" a commenter on a recent article in Russia about Saenko joked. "I'd actually forgotten he even existed," one Russian football journalist told me when his name came up on conversation.
Saenko's swift fall from grace is mirrored to a degree by his rapid rise to international honors. For a man who was so trusted by Hiddink -- the Dutchman dropped Diniyar Bilyaletdinov, at the time one of Russia's top players, to make room for him against Holland -- Saenko's career had been rather modest up to 2008.
His father coached a successful women's football team based in Voronezh and, as a youngster, Saenko would join in training sessions. At 16, on an overseas trip with the squad to Germany, Saenko was snapped up by Karlsruhe.
Unusually for a Russian player of his generation -- consider the fates of Yury Zhirkov at Chelsea or Roman Pavlyuchenko at Tottenham -- Saenko settled well abroad. He scored 22 goals in 90 appearances over three seasons at Karlsruhe before moving up a division and joining Nuremburg in 2005. He blossomed as Nuremburg had its most successful season in nearly two decades in 2006-07, and that same year he was called up by Guus Hiddink for the first time that year.
The player didn't appear to let it go to his head.
"Let's be realistic," he said after hearing of his inaugural squad selection in August 2006. "Hiddink has to see me first in training and then he'll decide if he needs me or not.
"For me that's nothing to get upset about."
But looking back those words ring hollow, for beneath the promise there were signs that not all was well.
"After he was called up to the national team he behaved badly," Hans Meyer, Saenko's manager at Nuremburg, recalled. "He decided that he didn't need to train any more, as he had played two minutes for the Russian national team."
There was also talk that, despite his apparently hardworking style of play, Saenko was often prone to laziness.
"You always had to keep an eye on him in training," Lorenz-Gunther Koestner, who oversaw Saenko's development at Karlsruhe, added.
During the 2007-08 season, as Nuremburg slid down the Bundesliga table, Saenko let it be known that he wasn't happy. He scored just three times that year as Nuremburg was relegated and when Spartak Moscow came calling, he needed no second invitation.
"Everyone understands that after more than 80 Bundesliga matches, victory in the Russian Cup, a UEFA Cup run and, finally, third place at Euro 2008, playing in the German second division is of no interest," Saenko said after signing a four-year deal at Spartak in August 2008. "I would even say it's impossible."
That confidence quickly evaporated, however, once he donned a Spartak shirt. The club was on a downward slide (it finished eighth out of 16 in the Russian Premier League the year Saenko joined), and as the club's most expensive signing that season he felt the brunt of the fans' anger. Thrust out on the right wing he was largely anonymous, scoring just one league goal in his first year in Moscow. By the autumn of 2008 he had been dropped by Guus Hiddink, too.
But the real hit to Saenko's confidence came the next spring, sparked by a seemingly innocuous incident in which Saenko swapped shirts with an opponent after a 3-0 Russian Cup defeat to Dinamo Moscow. The following game saw a banner unfurled by Spartak fans aimed at Saenko, which read: "You swapped your shirt -- now change club."
He was jeered by sections of the crowd at Spartak's Luzhniki for much of the rest of the season before a knee injury sidelined him until the following spring. There was to be no reprieve, and by the end of 2010 he had been released by the club, with whispers of ill discipline and drinking following him out the door.
"The news is full of headlines about a disagreement between Spartak and Saenko, so we won't pour oil on the fire by spreading these rumors," Saenko's lawyer, Aleksandr Zhbankov, said at the time. "We will just confirm that personal aspects of the relationship between the sportsman and, to put it legally, his employer's representatives, are the reason for this conflict."
Zhbankov then added with a flourish: "Let's finish by saying that Ivan Saenko is a free agent. Somebody is going to get very lucky!"
Unfortunately for Saenko that wasn't to be the case. Months passed by with Saenko still unemployed, and as the time passed most in Russia began to forget that a 26-year-old, 13-times-capped Russian international was still without a club. Eventually, he disappeared from view completely and the Russian media began asking what had happened to him.
"I saw him three months ago in a shopping centre," his former Spartak teammate Ibson told Sport Express in July 2011. "He doesn't want to play football any more."
He eventually turned up four months later in his hometown of Voronezh.
"Everything's fine," he told Championat.com. "I don't play for any football club at the moment. I feel totally fine. In my career I was able to play a fair bit and I'm very happy with that. Actually I've had enough."
After 244 senior appearances and 46 goals, Saenko had given up on a career in football and turned his back on the world, failing to respond to several telephone calls and text messages. "We've tried to get information about Saenko, but there is none," former Spartak teammate Roman Shishkin said last year.
Now, as Russia prepares for another European Championships, one wonders what Saenko must be thinking -- not least because, had he stayed on the straight and narrow, he would have had a decent shot at Dick Advocaat's squad. Striker Aleksandr Kokorin, one of Advocaat's chosen 23 for Euro 2012, has just 12 career goals despite having played more than 100 games for Dinamo Moscow. Saenko could quite conceivably have gone to Poland and Ukraine in Kokorin's place. At the end of the summer will Russia be left to rue what could have been if he had?
It's a cautionary tale. Of the 368 players who will travel to Poland and Ukraine this summer, plenty will make a name for themselves. Others, however, may find that an appearance at Euro 2012 is as bright as their star ever shines, before rapidly fading into obscurity -- and perhaps the odd ESPN column.