Group of Death
Germany aims to slay its dragon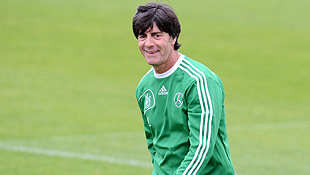 Few countries in international soccer have a record as formidable as Germany's. Die Mannschaft have won three World Cups, reached the final in four others and claimed three European Championships. Heading into Euro 2012, Germany boasts a new golden generation of players more than capable of adding to the country's trophy haul.
But looming in the recent past is a very un-German legacy. For all its success, it has been 16 years since the country that gave us Fritz Walter, Franz Beckenbauer and Lothar Matthäus won a major title. And as crazy as it sounds, the side managed by Joachim "Jogi" Loew is in danger of becoming a perennial bridesmaid.
Granted, most countries, including longtime rival and Group C opponent the Netherlands, would give anything to have such problems. But the last time Germany endured such a long trophy drought was in the years between 1954, when West Germany won its first World Cup, and 1972, when it claimed its first European title. The past three tournaments saw the team come agonizingly close to winning a championship, losing in the World Cup semifinals twice, as well as the Euro 2008 final. The pressure to make a breakthrough is beginning to mount.
"They have to step it up now, because the nation is demanding it. It's as simple as that. Anything but the title will be a disappointment."

Jurgen Klinsmann
"It's down to them," said Loew's predecessor and current U.S. boss Jurgen Klinsmann about the current German team. "Do they settle for second or third spot? Or do you become even more nasty and say they're going to beat the crap out of them? That's actually what I expect them to do. Jogi knows that better than I do, because he has them 24/7. They have to step it up now, because the nation is demanding it. It's as simple as that. Anything but the title will be a disappointment."
Past success aside, what's raising expectations even more is the current crop of players Germany has developed. The German Football Association's investment in youth development that started in the late 1990s has restocked a player pool that was in danger of becoming bare, producing more dynamic attacking players such as Mesut Ozil and Thomas Mueller. Given Germany's depth, talented newcomers such as Borussia Dortmund's Mario Goetze and Bayer Leverkusen's Andre Schurrle look set for fringe roles.
"There's a difference in these players," says former German international Arne Friedrich, now playing in MLS with the Chicago Fire. "They come up early in the Bundesliga, maybe at 19 or 20 years old. When I started we were a little bit older. They are very well educated from the youth in terms of tactics, and they know how to handle the pressure. It's a very smart generation."
And one that is technically gifted as well. This allowed Klinsmann to institute a stylistic change during the buildup to the 2006 World Cup, one that was later refined under Loew during the past two tournament cycles. Instead of depending on discipline and stamina as well as relying on a few stars, the team now has the ability and confidence to attack with breathtaking speed against any opponent.
Almost.
Germany's metamorphosis into a more sophisticated attacking team has coincided with the rise of Spain into a dominant force, and that is perhaps the biggest reason for the trophy-less spell. "Our dragon," as Friedrich calls it, eliminated Germany from the past two major tournaments, including the final of Euro 2008. There wasn't much separating the teams in those two instances. Both games ended 1-0, but in the end the margin mattered little. It was Spain that eventually ended the tournaments with winners' medals.
But with Spain losing to injury striker David Villa and captain Carles Puyol, there is a suspicion that La Furia Roja are more vulnerable this time around, while Germany appears to be stronger. That might be wishful thinking for Germany, but without question Loew's side is on the brink of a great opportunity.
"I think Germany need to have a really amazing hunger and desire to sacrifice everything they have to beat Spain, the team to beat, but also the other teams that step it up," Klinsmann said. "The question is: How hungry is Spain still? This is the moment."
A lot will have to happen for the two teams to meet up again. Germany has been drawn into a brutally difficult group with the Netherlands, Portugal and Denmark. While it could be argued that emerging from such a quartet will make Germany stronger, looked at another way, the effort required could sap the team of valuable energy for the later rounds. The greater emphasis in attack has come at a cost as well, even as Friedrich hailed it as "the soccer of the future."
"As a defender, sometimes it's kind of difficult when the team is so offensive on the pitch," Friedrich said. "You have to take care that you don't give up any goals. I guess for the crowd and for the people it's pretty exciting to see us play. But there is also concern that we should take care of our defensive line."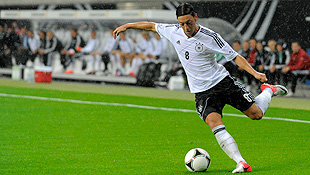 The worries about the defense go beyond mere tactics. While German captain Philipp Lahm remains one of the premier outside backs in the world, the rest of the back line seems far from settled. Defender Mats Hummels has been unable to replicate his stellar club form for Dortmund at international level. Per Mertesacker is coming off an injury-plagued season with Arsenal. The right back slot has seen a parade of converted central defenders try out for the position. Bayern Munich's Jerome Boateng looks to have secured the spot for the present, but it remains to be seen if he and the rest of his back line will develop the kind of cohesion needed to win the title.
The hangover from the club season looms large as well. Eight members of the squad were part of the Bayern Munich side that failed to win the UEFA Champions League in its home stadium. The concern is that the memory of that night could bleed into Germany's Euro 2012 campaign.
"Before the Champions League final, I said 'I see a year coming like 1996,' when Bayern won the semifinals of the UEFA Cup in Barcelona, then beat Bordeaux – with Zinedine Zidane and Christophe Dugarry – in the final," Klinsmann said. "And then we go to England [for the Euros] and we were not the best team, but we had the most hunger. This year I thought Bayern would win, and that confidence can really carry you into the European Championship. Now [Bayern] lost the final in their own stadium, and it eats them up. It depends now how this chemistry works. What is the chemistry between the Dortmund and Bayern players?"
Getting players from the two Bundesliga rivals to work together would make for an odd marriage. But perhaps that's what is needed – along with the talent and luck that always seems to accompany a champion – to shed the bridesmaid tag.
Additional reporting by Doug McIntyre
Jeff Carlisle covers MLS and the U.S. national team for ESPN.com. He is also the author of "Soccer's Most Wanted II: The Top 10 Book of More Glorious Goals, Superb Saves and Fantastic Free-Kicks." He can be reached at eljefe1@yahoo.com.