Euro 2012 List
Five international underachievers
Great for club but inconsistent for country: Will this quintet shine this summer?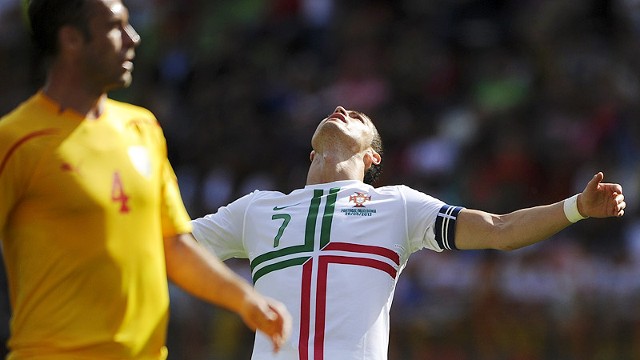 The world is filled with unexplainable phenomena, things like the Bermuda Triangle, Area 51 and Fergie Time (or perhaps now Mancini Time). With Euro 2012 set to begin, it's worth remembering another entry on that list: the inability of some of the world's top players to excel at major tournaments.
OK, perhaps it's not so mysterious. Unlike at club level, national teams are assembled for only a brief period, and establishing the kind of chemistry needed to excel on the field can be difficult. Then there's the square peg/round hole situation, where the ability of a particular standout player at club level just doesn't fit with the plans of a national team coach. There's also the reality that for all the focus on stars, soccer remains a team game; there have been plenty of occasions when a national team's best player has struggled to perform without the presence of more talented teammates at the club level.
That said, it is precisely a player's performances at club level that get him get called into the national team in the first place, which ought to be as good a predictor as any for replicating that form when the international stakes are highest. Alas for these five admittedly brilliant players, that hasn't been the case. Yet.
1. Cristiano Ronaldo, Portugal
Perhaps it was telling that Ronaldo's first game at a major international tournament -- the 2-1 group-stage loss to Greece at Euro 2004 -- saw him concede a penalty that was converted by Angelos Basinas, thus rendering CRon's goal in stoppage time as a consolation.
To be fair, Ronaldo recovered to make UEFA's Team of the Tournament, but meeting expectations as an up-and-coming 19-year-old is one thing. Doing the same as one of the world's premier players is another, and since 2004, the Real Madrid man has failed to display the form with Portugal that has seen him garner numerous trophies and personal awards at club level, including a UEFA Champions League medal as well as the 2008 FIFA World Player of the Year award. In each of the past three international tournaments he has managed just a solitary goal, with the past two competitions seeing Portugal bow out in the first knockout round.
There are myriad explanations for Ronaldo's struggles. The lack of a consistent forward threat has been one hindrance, as have the team's tactics at times, with Carlos Queiroz' cautious approach at the 2010 World Cup doing plenty to limit his star's influence. Could Euro 2012 be different? Perhaps, as Ronaldo did come up big in Portugal's playoff triumph over Bosnia & Herzegovina. But the team's placement in the Group of Death alongside Germany, the Netherlands, and Denmark augurs further times of struggle.
2. Zlatan Ibrahimovic, Sweden
When AC Milan failed to win this year's Scudetto, it marked the end of an incredible run for Ibrahimovic. For the first time in nine years, a team led by the long-haired Swede failed to finish atop the league standings. (This includes the two titles Juventus won that were later stripped because of to the Calciopoli scandal.) Ibrahimovic also became the first player in Serie A history to win the league's scoring title with two different clubs -- he's also won the league's player of the year award three times.
Reproducing that form at international level, however, has been much more difficult. "Ibra" once suffered through a scoring drought of more than two years at international level, and Sweden didn't even qualify for the 2010 World Cup.
One doesn't have to look far to figure out the reasons for Ibrahimovic's struggles. Sweden has long struggled to produce imaginative players, and after the international retirements of Henrik Larsson and Freddie Ljungberg, the key to beating Sweden has been to cut off the supply line to Ibrahimovic and dare one of his supporting cast to beat you.
In the past, that has proved to be effective enough, but there may be a glimmer of hope for the Swedish attacker. A recent friendly against Croatia saw Ibrahimovic move into more of a No. 10 role rather than a pure striker, and he recorded a goal and two assists in a 3-1 win. The irony here is that such a position sees him operate farther from goal, but if the results come, the talented Swede won't be complaining.
3. Franck Ribery, France
It doesn't seem that long ago that Ribery announced himself as one of the world's rising stars thanks to a series of impressive performances at the 2006 World Cup. To say his international career has gone downhill ever since doesn't quite do it justice. Rather, it's in danger of sinking into the abyss.
The winger hasn't scored for France in more than three years (his last tally: April 2009), and manager Laurent Blanc has indicated that unless things change, he may be forced to drop Ribery from his starting lineup. Meanwhile, the French international's 12 league goals this season with Bayern Munich are a career high, although his club side ended the season with an unenviable double: runners-up in both the Bundesliga and UEFA Champions League.
But unlike Ronaldo and Ibrahimovic, most (if not all) of Ribery's problems have been the result of off-the-field issues, and they've taken a considerable toll. In April 2010, Ribery was accused -- and ultimately cleared -- of soliciting an underage prostitute. Then he was perceived to be one of the ringleaders of the French team that went on a brief strike at the 2010 World Cup, a stunning act that earned him a three-match ban from the French Football Federation. French fans proceeded to turn on Ribery, even after Blanc handed him an international recall.
Will he recover? There's no doubting that Ribery has the talent to recapture the verve that characterized his play in 2006. Whether he'll be given the chance is the big question.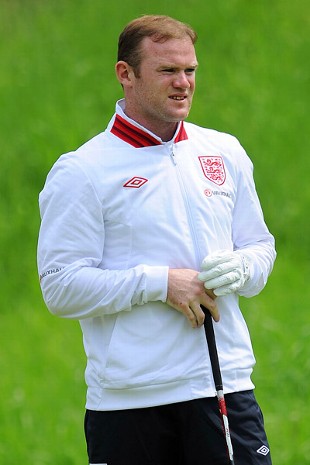 4. Wayne Rooney, England
Rooney is another player who has struggled to replicate the form he displayed in his first international competition. Back at Euro 2004, he became the tournament's youngest goal scorer and tallied four times in leading England to the quarterfinals. Yet Wazza hasn't scored in a major tournament since; although in some cases there have been extenuating circumstances, in others, Rooney's suspect temperament has been to blame.
A foot injury just before the 2006 World Cup saw Rooney race to get fit, and although he did end up taking the field, he was clearly short of his best. Even worse, he was ejected a little more than an hour into England's quarterfinal defeat to Portugal with the Three Lions eventually losing on penalties. England didn't even qualify for Euro 2008, while Rooney scored nine goals during qualifying for the 2010 World Cup but failed to find the net in South Africa as his team delivered a series of disjointed performances.
All that will have to change if Rooney is to make an impact at Euro 2012. The Manchester United attacker is fresh off another outstanding season for his club, having tallied 27 times. But his red card in the last Euro 2012 qualifier against Montenegro for a bad tackle on Miodrag Dzudovic will see him suspended for England's first two group encounters. He can only hope that by the time he takes the field, there is still something to play for.
5. Mario Gomez, Germany
The imposing, 6-foot-2 striker heads into Euro 2012 in imperious form having scored 41 goals in all competitions this season for Bayern Munich. Yet incredibly, it's not 100 percent certain that he'll take the field when Germany plays its first group match against Portugal on June 9. Manager Joachim Low has long favored a one-striker alignment and that one forward almost always has been Lazio striker Miroslav Klose.
Gomez has had his chances to shine at the international level, and his strike rate of 21 goals in 50 matches is laudable. But on the biggest stage, the Bayern Munich forward hasn't impressed. At Euro 2008, Gomez was partnered alongside Klose, but not only did he fail to score, he also suffered the miss of the tournament when he failed to finish into an open net from all of three yards out against Austria. Gomez was subsequently dropped and has yet to score in a major tournament.
Yet that could change this time around; Klose has been nursing a thigh injury but did make the final 23-man squad, though the door is open for Gomez to take his chance should his teammate struggle to stay fit.
Jeff Carlisle covers MLS and the U.S. national team for ESPN.com. He is also the author of "Soccer's Most Wanted II: The Top 10 Book of More Glorious Goals, Superb Saves and Fantastic Free-Kicks." He can be reached at eljefe1@yahoo.com.