La Furia Roja
Can Spain find inspiration?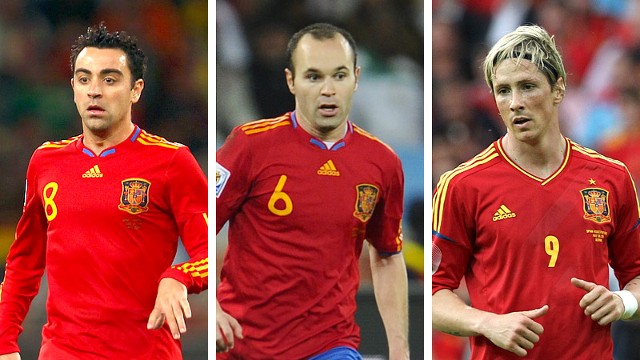 Marcos Senna once told me that the little break between the end of the 2008 La Liga season and the start of that summer's UEFA European Championships was a key factor in Spain going on to win its first title since 1964.
Coach Luis Aragones, intent on changing the Spain squad's mentality, had his players together briefly before sending them away for a little break to be with their families and friends. "Before you go away, I want you to know that you going to be easily the most talented group of footballers at this tournament," Aragones told them, according to Senna. Nicknamed the Wise Man of Hortaleza, he added, "I specifically want you to go away and think about that fact. There is no reason why, if we do our job well, why we shouldn't win the European Championships. Concentrate on that fact."
Senna, who plays his club football for Villarreal, says he did that; he focused on winning and entered the tournament, like others, buzzing with self-belief – something he used when he saw others around him wobbling mentally and physically against Italy in the quarterfinals.
Now four years on, as the chance for Spain to defend that tournament and make history by winning three straight titles beckons, there are interesting comparisons to be made.
I would contend that Spain, even without the injured Carles Puyol and David Villa, remains the most talented group of footballers in Poland and Ukraine. In all their club competitions this season, the Spain squad won 40 medals – any competitors for that claim around the European Championship contenders? Don't think so.
If you created a hypothetical transfer market in which every player selected for duty at the European Championship were for sale, Spain's squad would be the most expensive to buy.
But the differences from four years ago are clear.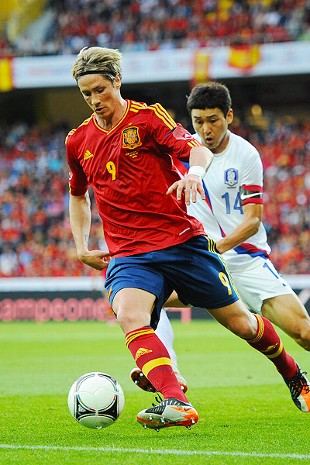 There has been no stage at which Vicente Del Bosque (who took over from Aragones after Euro 2008) could gather all his stars together, inspire them with his words and then send them off for a brief relaxation.
Juan Mata and Fernando Torres joined the squad late after short breaks in Ibiza and Asturias, respectively, because they were playing in the Champions League final for Chelsea while Spain had already gathered. By the time they were incorporated into the squad, Del Bosque was still missing Xavi, Sergio Busquets, Andres Iniesta, Victor Valdes, Pedro, Cesc Fabregas, Gerard Pique, Fernando Llorente and Javi Martinez – all of whom were competing for the Copa del Rey, which FC Barcelona eventually won 3-0 over Athletic Bilbao.
After that, Xavi and Valdes were in Gabon in Africa helping their friend Samuel Eto'o inaugurate another of his Education and Social Centers for kids there. It's a brilliant project, part of the striker's successful foundation, but it's not exactly relaxing at home with the loved ones while recharging batteries.
None of these circumstances represent ideal preparation for the coach and his squad.
However, it is a microcosm of the bigger problem which Spain and Del Bosque face.
The last four years have constituted one vast tranche of success for Spanish football. Two senior international tournament victories, two Champions League victories, two Club World Cup titles, scintillating competition between the top two clubs in La Liga, junior tournament victories and finals, the steady flow of top Spanish talent to and from the Premier League. You get the picture.
The cost has been a group of players who require a superb degree of fine-tuning and a major injection of adrenalin, not because they have lost their hunger but because the key members of the squad have been played into the ground.
"We are our own worst enemies and our own maximum rival," as Fernando Torres expressed it, and I like his logic.
If Spain can work hard enough and draw inspiration from reuniting all but four of the group which won the World Cup, then I think it'll achieve its goal of being the first national side in history to win three straight major international tournaments.
Just like the fact that no team has ever retained the Champions League, there is a reason that no country has ever won a run of its continental tournament (European Championship, Copa America) and the World Cup on back-to-back-to-back occasions.
The hard fact is that players age; the minds remain willing but the bodies become weak.
Puyol's absence because of his second knee operation in a year and Xavi's continuing battle against a chronic Achilles and calf problems are the best examples. But where Spain needs to get the biggest break is with sharpness.
I know, from experience, that what Vicente del Bosque will do seems counterintuitive. He inherits a group of players who are both physically and mentally drained. Most international managers would look to put a premium on rest and leisure time – try to magically turn the training camp into part boot camp, part sanatorium. Instead, Del Bosque is running a series of double training sessions – just like he did on this past Monday.
This is the magical process which will determine whether Spain is in shape to evade Italy, Ireland and Croatia in Group C and then go all the way (likely past England or France in the quarterfinals) … or not. The premium is put on zip, sparkle, sharpness, cutting edge – call it what you will. It's all about the ball – and team spirit.
The "rondos" I have spoken about before. Those exercises where one or two players go in the middle and a circle of six or seven players try to keep the ball away from them. I like using the expression "at the speed of an ice-hockey puck" to describe what the movement of the ball resembles because that's the best description I can muster.
When you see three of these magic circles at work and you see the players focused as if their lives depended on it, a blur of flashing boots, thighs, heads, chests and the ball simply fizzing from man to man. It's like an instant health check. If the exercise is working, if there are long silences where you hear nothing but the smack of ball on boot (that is, no cries of derision as a circle breaks down after only six or seven passes) then you know Spain is fine.
Del Bosque will have taken comfort, in this respect, from little things like David Silva being trained by the immense fitness coach Ivan Carminati at Manchester City. Silva's form dipped in late winter but he finished the season strongly. Comfort, too, from Santi Cazorla finishing in electric form at Malaga and reaching the Champions League; Iniesta's lovely goal-pass to Lionel Messi in the Copa Del Rey final and the fact that Pedro used the end of season to rattle in goals.
And then there is Torres. Back in February I argued, in this column, that he was a must for the European Championships, that his assist-giving and goal-scoring form was returning and that many of his critics had become sheep – bleating about him without actually charting his improvement.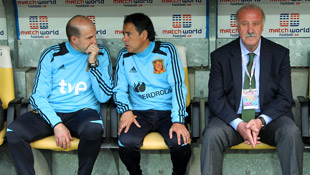 Now here he is, likely to start the first game against Italy on June 10 and someone who, instead of sitting at home as many suspected, carries a great deal of weight on his shoulders.
I thought the degree of anger and hurt Torres showed after winning the Champions League, complaining that he'd not been picked to start the game, was a healthy sign that his aggression and competitive instinct are restored. Perhaps Chelsea would have preferred that to be a private matter, but the theme remained positive for Spain.
"We are all here on our own merits," Torres explained. "I feel fresh. I didn't have as many games as some players this season and I'm on form. Finishing with an FA Cup medal and a Champions League medal isn't too bad. Spain won't change the style of play with which we won the last two tournaments, and I can assure you that we want to add another one … in fact more than that."
Spain will have to contend with the challenge of teams banking their defenses – in Group C that will come in the form of Italy, Croatia and Giovanni Trapattoni's Ireland. Del Bosque's men will be hard-pressed to break these opponents down.
Recent European champions have developed the knack of going out of the following tournament in the group stage – Greece last time, Denmark in 1996 and Germany in 2000. Spain will be very smart indeed if it treats Group C with utmost seriousness, avoids the nerve-shredding of its first group game defeat to Switzerland in the World Cup, and scores first whenever possible.
Given a fair wind and no further serious injuries, Spain is in a position to win this tournament. No better than that. Favorites, if not outstanding favorites. But good enough, talented enough, experienced enough and with a magic circle trick which, if successful, can still cast a spell on all the other competitors.
Graham Hunter is a Barcelona-based freelance writer for ESPN.com who specializes in La Liga and the Spanish national team.