Euro Preview
Who'll survive the Group of Death?
Every tournament has a group of death. At Euro 2012, Group B is most certainly it. All four teams, led by Germany, sit in the top 10 in the FIFA rankings. Three of the four have won the title, while the other, Portugal, has been a finalist. Here's a closer look at each team heading into the event.
GERMANY
German steel, German resilience or German mental toughness. Call it what you want, but when it comes to major tournaments, Germany usually finds a way to land in the latter stages.
Third at the 2006 World Cup on home soil, runner-up at Euro 2008 and third again at the World Cup two years ago, Germany is hoping to go all the way in Poland and Ukraine.
The talent is there, and in abundance. Manager Joachim Low has plenty of choices, particularly in midfield, which is led by Bayern Munich's Bastian Schweinsteiger. Schweinsteiger, who runs the show in the middle of the park, endured an injury-hit domestic campaign but put in a commanding performance in the Champions League final against Chelsea (apart from failing to convert in the penalty shootout). Mesut Ozil, Thomas Muller and Lukas Podolski could be the attacking three behind a lone striker. Ozil, a league winner with Real Madrid alongside holding midfielder Sami Khedira, led qualifying in assists. Then there are Toni Kroos and the exciting Mario Goetze.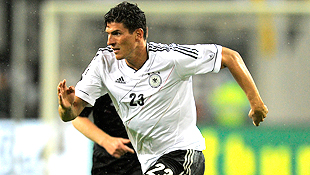 The evergreen Miroslav Klose, five goals shy of Gerd Mueller's national team record of 68, will probably be the first-choice striker ahead of Mario Gomez. Unlike Schweinsteiger, Gomez didn't excel against Chelsea, missing a flurry of chances. He had a tough time, too, at Euro 2008. Still, given his record in the Bundesliga last season, he's not a bad sub, is he?
No team is perfect, and questions surface at the back for Germany, particularly in the center. Dutch legend Marco van Basten was quick to point that out. Mainstay Per Mertesacker is short of matches, out of action since February, and his lack of mobility was exposed in the Premier League. A 5-3 loss to Switzerland – with Schweinsteiger absent due to a thigh injury – in a friendly last month raised eyebrows.
Captain Philipp Lahm, normally flawless, is expected to feature at left back, switching from the right back spot he occupies at Bayern.
And if Germany needs penalties to advance, it won't mind. No country is more intimidating from the spot.
NETHERLANDS
Big things are perennially expected from the Dutch, and they almost delivered in 2010. A game away from bagging a maiden World Cup title, they were beaten 1-0 by Spain in extra time. While most everyone will remember Andres Iniesta's winner, a fair few will also recall Arjen Robben not capitalizing when one-on-one with keeper Iker Casillas.
A great save, or could Robben have done better? More of the latter, as Robben seemed to telegraph his effort.
Robben had another difficult evening on a grand stage, unable to beat Petr Cech on a penalty in extra time and shooting wide more often than not in open play for Bayern in the Champions League final this past May.
But another left-footer, Robin van Persie, begins the European Championship in much better spirits. Van Persie finally played a full season for Arsenal, and the result was leading the Premier League in scoring. Already coveted by a number of big clubs, a continuation of his form would further boost his value.
Unless manager Bert van Marwijk tinkers with his formation, van Persie and Klaas-Jan Huntelaar – who scored the most goals in qualifying – won't play together. In a lone striker formation, van Persie will be preferred. He started and scored twice in the Netherlands' final pre-Euro friendly Saturday, a morale boosting 6-0 rout of Northern Ireland.
The support behind van Persie is impressive: Wesley Sneijder, Robben and workhorse Dirk Kuyt, among others. Sneijder proclaimed in April he was back to his best after a thigh injury, and Robben, despite the misses, remains one of the world's most feared wingers. The grit (assaults?) in midfield comes from veteran Mark van Bommel and Nigel de Jong, although rising star Kevin Strootman is pushing for de Jong's spot.
The Netherlands, though, is without starting left back Erik Pieters because of a foot injury, and keeper Maarten Stekelenburg's lingering shoulder injury is a worry. He was a standout performer in South Africa.
PORTUGAL
If Portugal triumphs at the European Championships and Cristiano Ronaldo plays a significant role, the suave Ronaldo would be doubly delighted. Portugal, habitually pleasing to the eye, has never won Europe's top international competition. Agonizingly for its supporters, Portugal lost the final at home in 2004.
Further, Ronaldo would stand a good chance of ending Lionel Messi's three-year reign as world player of the year.
But advancing past the group stage, no less ending the drought, will be difficult for Portugal. If not for the rescue act instigated by no-nonsense manager Paulo Bento, who cleaned up former head coach Carlos Queiroz's mess, Portugal wouldn't have qualified for the tournament at all.
As it developed, Portugal needed the playoffs to secure a spot after losing a crunch clash on the final day of qualifying against, er, Denmark.
For a side that often evokes memories of skill and flair (think Eusebio and Luis Figo), Portugal hasn't manufactured a top striker in years, placing more pressure on wingers Ronaldo and Nani. Ronaldo's fitness levels are worth keeping an eye on, given his grueling season with Real Madrid. And in a blow to Bento, a third attacking midfielder, Danny, didn't make the squad because of a serious knee injury.
So thin is Portugal at striker that Nuno Gomes, who turns 36 in July, was considered an option. Ultimately, he wasn't selected. Helder Postiga scored a respectable five times in qualifying, yet most of his goals in a Portugal shirt have come in Portugal.
Public enemy No. 1 for many, Pepe, starts in the center of defense, but Portugal won't benefit from the experience of his club teammate, Ricardo Carvalho, and Champions League winner Jose Bosingwa, a threat at full back going forward. Both were dropped by Bento for off-field reasons.
Bento is high on tactics, and he'll need to organize the team properly if Portugal is to reach the quarterfinals. Current form – Portugal's 3-1 loss at home to Turkey on Saturday made it one win in six – isn't good.
DENMARK
Even as the lowest-ranked nation in the group, Denmark shouldn't be discounted.
For starters, Denmark topped Portugal in qualifying, giving the Danes a psychological advantage when they meet. Denmark is solid and compact under venerable coach Morten Olsen. At the 2010 World Cup, Denmark hung on in the first half against the Netherlands, coming unstuck only following an own goal early in the second half. After South Africa, the Danes faced Germany, a match that ended 2-2. Germany didn't field a full-strength squad, but Denmark will only choose to remember the final result.
Whether it can survive this group is a tall order, but Denmark has the talent. In 20-year-old Christian Eriksen, it possesses one of the most prized young midfielders in the world. And in Nicklas Bendtner, Denmark has one of the most (shall we say) confident strikers in the world. There's a sizable disparity between how good he is and how good he thinks he is, but Bendtner has successfully led the line up front for Denmark in recent years. To end 2011, he scored five goals in five games. Without him, Denmark lacks firepower.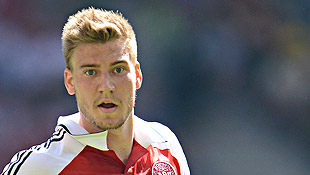 Dennis Rommedahl, 33, remains a useful – if not frustrating, at times – presence on the counterattack, with Christian Poulsen (he of the stints in England, Spain, Italy, Germany and France) and William Kvist protecting the back four.
Besides being the leader in defense, Daniel Agger owns a sweet left foot capable of sending rockets into the top corner.
Not a bad squad, but is it enough? When Denmark defied the odds to win Euro '92 in Sweden, a goalkeeper, Peter Schmeichel, was the hero. If Denmark lands in the quarterfinals in June, you'd suspect that keeper Stephan Andersen, who'll likely be the No. 1 in Thomas Sorensen's place, will have done his share.
London-based Ravi Ubha covers soccer and tennis for ESPN.com.