Looking Ahead
Group A too close to call
The only group bereft of a single team ranked in FIFA's top 10, Group A was instantly labeled the "Group of Life" by pundits. They should not dismiss it so quickly. While the group is undoubtedly the tournament's least glamorous, its balanced matchmaking and unpredictability may make it the most tenaciously competed bracket in Euro 2012.
All four teams felt blessed by the draw. All four believe they have a real chance of emerging victorious. Two will discover they are deluded, but until the first round has been played, the competitors appear too close to call. This is a group in which Warren Buffet's wise words may register: "If you've been playing poker for half an hour and you still don't know who the patsy is, you're the patsy."
POLAND
Core Story: The Poles qualified by virtue of being the tournament's host. This is only their second appearance in this tournament, and they have yet to win a game. Will they be able to change that record? They enter as the lowest FIFA-ranked team in the tournament by far, currently placing 65th, below Sierra Leone and Libya. The squad has not played a competitive match since October 2009, so it remains to be seen if it can shake off the rust. They will draw strength from some of their friendly results in that period, including a surprise 2-1 victory against an experimental Argentina side in Warsaw and a 2-2 draw with historic rival Germany. They hope their meek 2-0 surrender to lowly Lithuania will be expunged from memory.
Old NASL fans may remember the Polish coach, 63-year-old Franciszek Smuda, from his days with Hartford, Oakland, Los Angeles and San Jose in the 1970s. Smuda knows the limitations of his squad and has attempted to build an organized collective, emphasizing endeavor over skill.
Although the team is set up to play a counterattacking game, goal scoring has been a problem. Even when results have gone Poland's way, its cautious style of football has won the coach few plaudits.
English Premier League fans will enjoy... Wojciech Szczesny, Arsenal's cocky keeper, will try to maintain his cocky swagger behind his national team's inconsistent back four.
Player to savor: Bundesliga champion Borussia Dortmund supplies three of Poland's most talented outfield players. Jakub Blaszczykowski, known as "Kuba," shapes play from the flanks and right back Lukasz Piszczek has been linked to Real Madrid. Marksman Robert Lewandowski carries the nation's hopes after striking 30 goals in 46 games this season. Said to be on Manchester United's radar, Lewandowski will have a double motivation. The dreams of a nation rest on his shoulders, and every goal he scores could tag several million dollars onto a blockbuster transfer at tournament's end.
Intangibles: The collective cohesion of the team has been challenged after winger Slawomir Peszko was controversially kicked off the squad in the wake of a drunken quarrel with a German taxi driver in Cologne. Although many of his teammates publicly lobbied for Peszko's inclusion, Coach Smuda dropped him, furiously telling the press, "I can't close my eyes to this incident. The image of Poles in Germany has received another injection of negativity. Once again they are mentioned only in connection with fighting and boozing."
Glass half-full scenario: Patriotic fervor sweeps the White and Reds onto opening day glory against Greece. Two low-scoring draws help them sneak into the quarterfinals.
Glass half-empty scenario: Lewandowski cannot do it all on his own, Szczesny is left vulnerable as the defense is outgunned and Poland fails to emerge from the group. Cue national breast-beating and shame.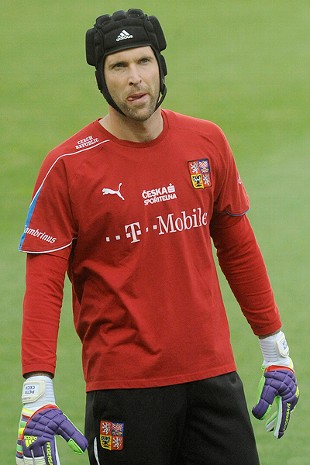 CZECH REPUBLIC
Core Story: The only team in the group to emerge via the playoffs, the Czechs, who qualified after a tough 3-0 aggregate victory against Montenegro, face two main problems: the inability to score, and a defense that can be charitably disorganized.
Although their qualifying group included Liechtenstein, the punching bag of international football, the Czech's netted only 12 times in eight games. A heavy creative burden will fall on Tomas Rosicky, whose form was rejuvenated at Arsenal in the second half of the season. The Prague native led all players in qualifying with 269 passes in the final third. He will be supported by Jaroslav Plasil, who will seek crevices of space to attack from the wing. Veteran striker Milan Baros, still living off the memories of his Golden Boot-winning performance in 2004, keeps his place at center forward despite scoring only once in qualifying.
English Premier League fans will enjoy ... Helmeted Chelsea goalkeeping legend Petr Cech appeared to single-handedly keep Montenegro at bay for long spells of the playoffs, in which he posted two shutouts.
Player to savor: Tomas Necid, the 22-year-old CSKA Moscow striker, has just returned from a savage knee injury and will be well-scouted.
Intangibles: This is a team that knows how to celebrate. After qualifying for the tournament, the players were caught on camera marking their achievement by drunkenly, and publicly, doubting the masculinity of their critics, shredding their team suits on the flight home and then walking semi-naked through Prague's airport upon arrival.
Glass half-full scenario: Shorn of pressure and expectations, Rosicky's orchestration provides the Czechs with a footballing intelligence which separates them from the rest of their group.
Glass half-empty scenario: An aging squad fails to compete, they become winners – but only of the tournament's booby prize by virtue of being the worst team in the tournament's worst group.
RUSSIA
Core Story: Talented, experienced, yet mentally inconsistent, the Russians will hope for a repeat of Euro 2008 when they arrived with low expectations only to commence on a darling run into the semifinals.
Many of the team's stars have something to prove. Playmaker Andrei Arshavin limped back to Zenit St. Petersburg in February after experiencing a humiliating loss of form at Arsenal. He will be joined in attack by fellow Premier League discard Roman Pavlyuchenko, a talented striker who lost his way at Tottenham Hostpsur, and Yuri Zhirkov, a Chelsea reject reborn at Anzhi Makhachkala.
The president of Russia's Football Union, Sergey Fursenko, excused their failures by professing, "Football in England is more athletic and fast, while we have a more intelligent and, well… more spiritual game."
His team was certainly intelligent in qualifying. Only Italy allowed fewer goals. While the loss of central defensive anchor Vasili Berezutski to a thigh injury is a lingering concern, 24 of their 26-man provisional squad play domestically in Russia -- the majority from twin powers CSKA and Zenit -- so this Russian team should play with familiarity and organization.
English Premier League Fans will enjoy...Pavel Pogrebnyak, Fulham's end-of-season striking phenomenon, known as "The Cellar."
Player to Savor: 21-year-old attacking midfielder Alan Dzagoev is a young star whose mesmerizing skills have been sharpened by Champions League experience. Playing behind the striker, Dzagoev slapped home four goals in qualifying.
Intangibles: Under less-than-subtle encouragement from Vladimir Putin, Russian airlines have agreed to fly fans to games for free, but details remain fuzzy. Russia's second largest air carrier, Transaero, extended their offer, whilst adding it will only happen if fuel giant Gazpromneft-Aero chips in with free petrol.
Glass half-full scenario: Superior talent and fresh legs, benefiting from the three-month break the Russian League enjoys between December and February, ensure that the team cruises into the quarterfinals.
Glass-half empty: One of the tiniest squads in the tournament fails to cope with the physical punishment doled out by defensive-minded opponents.
GREECE
Core Story: Few teams place such value on the set piece as the Greeks. A pragmatic, resilient -- some would say cynical -- team that mitigates risk by keeping as many men as possible behind the ball at all times, hoping to nick a goal from a free kick or corner. This team doesn't just park the bus, it turns the bus on its side and sets it on fire. This approach may appear to lack ambition, but one has only to look back to Greece's surprise triumph in 2004 to realize just how successful it can be.
Goals are a rare experience to be savored. No team won its group by scoring less – just 14 goals in 10 games. Coveted young defender Kyriakos Papadopoulos was joint top scorer, netting twice.
This is Greece's first tournament without legendary coach Otto Rehhagel. Portuguese tactician Fernando Santos has employed a "don't-fix-what-ain't-broke" approach since inheriting the team, though it remains to be seen if he can guide Greece through the rigors of an international tournament with Rehhagel's inimitable style.
English Premier League fans may enjoy... Giorgios Samaras, a striker and Ashton Kutcher doppelganger, now of Celtic, who was dubbed "Tragedy" (as in Greek tragedy) by fans during a dismal spell at Manchester City.
Player to Savor: Ioannis Fetfatzidis, a tiny speedster known as "Greek Messi." The vision and skill of "Fetfa" should add some brain amongst the brawn.
Intangibles: With their home nation suffering through the trauma of prolonged financial crisis and a domestic football league embarrassed by match-fixing allegations, the Greeks know their nation needs some good news. After qualifying, the players handed out meals at an Athens soup kitchen. ''We see people next to us struggling to make it,'' said goalkeeper Costas Halkias said. ''We know they need our help.''
Glass half-full scenario: A commitment to physicality permits them to bludgeon opponents and ensure their player's multi-syllable names torment commentators deep into the tournament.
Glass half-empty scenario: Lack of imagination is an inhibitor as the Greeks leak early goals and are unable conjure a Plan B and drag themselves back into contention.
PREDICTION
Russia and Poland summon the extra motivation to separate themselves from the pack in this tightly contested group.
Final Group Placement
1. Russia
2. Poland
3. Greece
4. Czech Republic
Roger Bennett is a contributing writer for ESPN The Magazine and ESPN.com. Follow him on Twitter: @rogbennett.