Tactical preview
Euro 2012 Tactics - Italy
ESPN's look at the plans of Italy this summer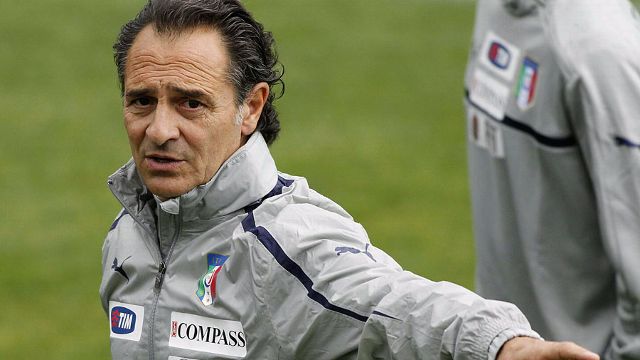 The Manager – Cesare Prandelli
Italy's national team has long been a blend of defensive solidity, with the occasional flashes of brilliance in the attacking third fuelling success, but Prandelli has done his bit to shift the mindset of his Azzurri line-up.
Italy have become a little more offensive minded under Prandelli and can be expected to promote a neat passing style designed to create a team that can win matches and catch the eye in tandem at Euro 2012. However, that may need to be tempered a little as they look to hold off Spain in their opening game of the tournament, with the coach accepting his troops need a few strings to their bow this summer.
"The feeling was that we needed to evolve our style, to try and play a little more on the front foot," says Prandelli. "The strength we have with the midfield players means we had to look to make the best use of them. We have to try and find the perfect balance at Euro 2012."
The Captain – Gianluigi Buffon
Many question whether a goalkeeper can be a successful captain, but when your name is Gianluigi Buffon, the answer has got to be in the affirmative. This talismanic figure is the natural pick to lead any team thanks to his powerful presence and immaculate standards on and off the pitch.
A hero of Italy's 2006 World Cup triumph, Buffon skippered Italy at Euro 2008 when Fabio Cannavaro was ruled out due to injury and Prandelli handed him the captain's armband permanently for the Euro 2012 qualifying campaign.
Now 34, Buffon will back up an experienced defence that may need to produce a few miracles to keep Italy afloat at Euro 2012. Their formidable five-man unit conceded just two goals in qualifying for this tournament and they are more than capable of defying the odds and turning Italy into contenders to go deep into the competition this summer.
The Formation
It was interesting to note that Italy finished second place in the possession count during the Euro 2012 qualifying campaign, with only Group C rivals Spain holding on to the ball longer than the Azzurri. That statistic was a tribute to the gameplan laid out by the progressive Prandelli.
The story goes that Italy changed their philosophy after Prandelli canvassed the opinion of his players, with the success enjoyed by Spain's pass masters in recent years pointing the way forward for a new era in international football. Spain have done their bit to follow that ethos, but now comes the biggest test of their remodelled mindset as they try their luck in a major tournament setting.
Prandelli's 4-3-1-2 line-up gives license to Brazilian-born midfielder Thiago Motta, and Juventus's Claudio Marchisio, the evergreen Andrea Pirlo and Roma's Danielle Di Rossi, safe in the knowledge that Buffon and his defensive troops should have enough quality to keep out the goals at the other end.
The identity of his strikers has been the subject of so much debate in the run-up to this tournament, with the chaos Manchester City's Mario Balotelli guarantees leading many Italian observers to suggest the moments of magic he can inject into a game come with too high a risk tarrif.
The Weak Spot
Pretty passing is all well and good so long as there is an end product, but Italy have been accused of lacking that vital commodity during Prandelli's time in charge.
After scoring 20 times in their ten Euro 2012 qualifiers (albeit three of those being awarded by UEFA following the abandoned game in Serbia), it seemed as if the new-look Azzurri were finding a neat balance between their attacking intent and their cutting edge, but indifferent displays in recent friendlies has raised some concerns.
The absence of Villarreal striker Giuseppe Rossi is a blow and the fitness concerns surrounding Antonio Cassano did not help Prandelli's pre-tournament planning. It means they head into Euro 2012 with plenty of question marks hanging over their attacking line. As Manchester City manager Roberto Mancini will confirm, relying on Balotelli to keep his head and score goals at the right time is a gamble that could easily back-fire.
Injury Nightmare
Andrea Pirlo has been pulling strings in the Italy midfield for as long as anyone can remember and after a sparkling season in Juventus colours ended with another Italian title for this majestic 32-year-old, he heads into Euro 2012 ready to sparkle all over again.
As ever, the floppy-haired star will be employed in the heart of the Italian midfield, with their steady passing style dictated by the vision and ability of this maestro to hold onto the ball when put under pressure. In many ways, the free-flowing approach now being used by Italy was readymade for Pirlo, so he should shine this summer.
Buffon is another stalwart Italy cannot do without, proving that for all the new ideas Prandelli has brought to the table, their old guard remain as important as ever to their hopes.
Young Gun – Mario Balotelli
Why always him? Well, because this 21-year-old striker is simply impossible to ignore.
'Super Mario' is capable of banishing his bad boy image and emerging as Italy's star man at Euro 2012, but he is liable to explode at a moment's notice on or off the pitch. Despite his unreliable temperament, Azzurri coach Prandelli apparently has as much faith in him as his club boss Roberto Mancini and it's easy to see why managers are seduced by this mysterious character.
"I never considered going into this tournament without Mario," insists Prandelli, even though he left the maverick out of his side on disciplinary grounds for the game against USA back in February. Time will tell whether his faith in an unpredictable magician will be rewarded.
What they Say
"Prandelli was my player and I am proud to see him leading the Italy team. I like what he has brought to the team, something new. He has looked at fresh ideas, different players. This is what Italy needed to do and he deserves credit."

Ireland manager Giovanni Trapattoni
The Verdict
Find a cutting edge to their pretty passing and Italy should navigate a route to the latter stages of Euro 2012. However, if they draw blanks early on, their fate may be less appealing.