Azzurri 2012 campaign
Italy's future full of promise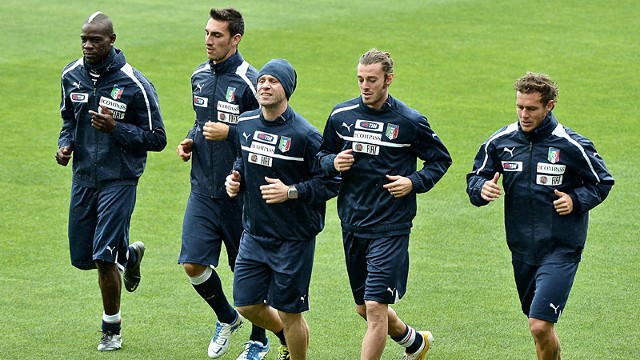 Facing an overanxious bunch of journalists huddled in the pressroom at the Luigi Ferraris after Italy's historic first loss to the U.S. in a friendly in late February, Cesare Prandelli exuded calm. "I am not worried," the head coach said.
Reassurances were offered. Even though Italy had not managed to find an equalizer after Clint Dempsey prodded home the only goal of the game in the 55th minute, Prandelli still found the reaction his players had given to falling behind worthy of praise. "With this spirit, we will have a great European Championship," he insisted. Not everyone was convinced.
There were mitigating circumstances, of course.
Much of Prandelli's squad had been involved in a heated polemic-filled top-of-the-table clash between AC Milan and Juventus three days earlier. They were physically and mentally tired. Injuries had also left him short of options, as did the Italian Football Federation's rigorously enforced ethical code, which dictates that anyone banned for their club can't be selected for their country. Experiments with players who hadn't featured regularly if at all in qualifying meant some were still finding their feet.
All told, the result was taken for what it was by Prandelli: a friendly lost to a proud and deserving opponent. It was unrepresentative of his body of work as a whole.
He could point to how Italy has yet to be beaten in a competitive match under his tenure; how it booked its place in Poland and Ukraine nice and early, winning its group in relative comfort with the best defense across all of qualifying for Euro 2012; how it has performed above expectations in recording a draw away against Germany in Dortmund and a victory at home versus Spain in tests organized and designed to gauge his team's progress.
On reflection, there was a lot to be proud of considering the soul-searching that had followed Italy's relinquishment of the World Cup in 2010, when it finished at the bottom of a group comprised of Paraguay, Slovakia and New Zealand.
Prandelli has overseen a complete transformation of a national team. He has renounced tradition. His Italy would not be defensive and counterattacking. Instead, it would impose itself on opponents through control of possession, seeking to entertain the supporters with imaginative, not opportunistic, football.
His Italy would be inclusive. Twenty-two players have been given debuts. The door was opened to promising youngsters, tormented geniuses who might have once been dismissed as disruptive influences and so-called New Italians, too, players born elsewhere but with the ancestry and citizenship to make them eligible for selection.
His Italy would be respected. An ethical code was introduced to make players accountable for their actions and understand that representing their country comes with responsibility. His Italy would stand for something, too. It would be a force for good.
His Italy made a point of holding a practice session on a pitch in Rizziconi that locals were too afraid of playing on in case they disrespected the local mafia from whom it had been confiscated by the authorities. It was a show of strength and solidarity.
His Italy invited Simone Farina, the Gubbio defender who had refused money offered by match-fixers and reported them to the police, to come and train with the squad. It was a reward for his courage.
So much has been admirable about Prandelli's brief time in charge. It's a shame, then, that as Euro 2012 approaches, his best-laid plans have gone awry.
The defeat to the U.S. was Italy's second in a row. The Azzurri had also come up short in another friendly, losing 1-0 to Copa America winner Uruguay in mid-November. There was no shame in that. While the result was bad, the performance was actually quite good.
As against the U.S., when it enjoyed 68 percent possession, Italy dominated proceedings once more, holding on to the ball for 64 percent of the time it was in play, as well as outshooting and out-creating its opponents. But Italy ended the game goal-less … again. Italy hasn't found the net in slightly more than three and a half hours. The fear is that Italy resembles a post-Pauleta Portugal, a team that produces a lot, is easy on the eye, but has little to show for it in the finishing department.
This is a relatively new problem for Prandelli, for throughout qualifying his Italy had a settled and successful attack based around Villarreal's Giuseppe Rossi playing alongside another interchangeable, bigger, taller center forward, with AC Milan's Antonio Cassano in the hole. Then in October, great misfortune struck. Rossi tore the ACL in his right knee and Cassano, Italy's top scorer with six goals, suffered a stroke caused by a congenital heart defect that had lain undetected for years. It posed a threat not only to his playing career but his life.
Prandelli tried to set each of their minds at rest, insisting that he would wait as long as possible for them. Cassano, quite miraculously, made his comeback with a substitute's appearance against Fiorentina on April 7, after he received the green light to resume playing from a distinguished group of specialists. Rossi had penciled in his return for April 22 against Real Sociedad. Everything looked right on track. Only then came the shocking news that Rossi had relapsed and would require another surgery. He was out of the Euros and for another nine months.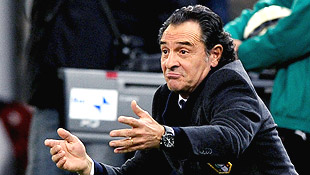 Obviously, it's a devastating setback for Rossi, who was desperately unlucky to miss the final cut for Italy's 2010 World Cup squad. But it's a big blow for Prandelli and what he had in mind for this summer, too. Whereas he has certainties practically everywhere else on the pitch, perhaps with the exception of the fullback position, the composition of Italy's forward line is the subject of great debate.
When Prandelli named his provisional 32-man squad on the final day of the season in Serie A, many were left aghast by how many household names were absent from his list. The most used striker in qualifying other than Rossi, Inter's Giampaolo Pazzini, a player with whom Cassano had great chemistry at Sampdoria, wasn't picked after he'd had an indifferent campaign, lacking in form. Neither were Genoa's once-prolific Alberto Gilardino, Juventus' Alessandro Matri, Fabio Quagliarella and Marco Borriello, and Roma's Pablo Daniel Osvaldo.
Not swayed by reputation, Prandelli showed courage in his selection. "My decisions are exclusively meritocratic," he insisted. After long resisting the temptation to call up Udinese's Antonio Di Natale on the basis that at 34 his time might have past, he couldn't justifiably overlook a player who was Serie A's Capocannoniere in 2010 and 2011. "I challenge anyone to say that Toto doesn't deserve the national team," Prandelli said. "He has scored almost 100 goals in three years and can help us."
Di Natale is the only attacking player over 30 on Italy's squad. Remarkably, four of the six strikers Prandelli has chosen are 25 or under, and this will be their first major tournament. As with Di Natale, few would dispute that, despite his lack of size, Sebastian Giovinco does warrant a place on the plane to Poland and Ukraine after a 15-goal season at Parma. The uncapped forward Mattia Destro was hard to ignore, too, after breaking into double figures at Siena. No Italian striker aged 21 or under has scored as many as the 12 goals he got in Serie A this season since Roberto Bettega in 1971. Then there's Fabio Borini, the Roma whippet, whose predatory instincts, demonstrated in a run of seven goals in eight games between February and March, caught Prandelli's imagination.
The exception to the rule of meritocracy -- although it must be said he did score 17 goals this season and became the first Italian ever to win the Premier League – is none other than Manchester City striker Mario Balotelli. Father-like in his handling of the former Inter star, Prandelli appeared to lose his patience with him before the friendly with the U.S., excluding him on the basis that he disregarded Italy's ethical code by receiving a ban for stamping on Tottenham midfielder Scott Parker. Moreover, Balotelli hadn't gotten in touch to explain his actions.
"Call him, Mario," wrote La Gazzetta dello Sport. "Call for the love of God. Telephone Prandelli and swear that you'll be good." Prandelli got an apology, which he appreciated, and his protégé appears to have learned his lesson. When he was sent off against Arsenal for a second bookable offence in early April, he apologized almost immediately. Balotelli was lucky only to receive a three-match ban considering his horror tackle on Alexandre Song went unpunished retrospectively. Usually Prandelli would have taken exception and put his ethical code in effect, but this time he chose to forgive and forget.
"We have to give talented players [like Balotelli] another chance and he certainly doesn't lack talent."

Cesare Prandelli
Realpolitik has guided his thinking. Given the circumstances, he can't afford to make another example of Balotelli and omit him from the squad, not when he has the ability to become a world-class player. The hope is that this will be a breakout tournament for Balotelli, much like Euro 2004 was for Cassano, though with the caveat that unlike on that occasion, Italy will also get out of the group stage this time around. "We have to give talented players another chance and he certainly doesn't lack talent," Prandelli said.
While Italy's attack perhaps doesn't induce the same fear as it once did in other European Championships, such as in 2000, when Dino Zoff could call upon the likes of Alessandro Del Piero, Francesco Totti, Filippo Inzaghi and Vincenzo Montella, it has promise and potential. "I won't waste time dreaming small," Prandelli claims. If his team clicks up front in the weeks ahead, then Italy can maybe afford to think big and go further than anticipated this summer.
James Horncastle is a freelance soccer writer