Euro 2012 focus
The key questions
We tackle some of the decisive talking points ahead of the tournament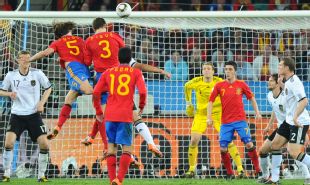 With Euro 2012 fast approaching, there are some standout talking points ahead of the tournament in Poland and Ukraine:
1. Will congestion affect the highest-quality teams?
At this point, there can be little argument Spain and Germany are the current barometers in international football. Over the past two decades, both have implemented deep changes in infrastructure that have ensured they are the only countries that truly play as cohesively as club teams. Their fluidity is unmatched. And, even though Netherlands are again starting to see the benefits of a similar system, their current team remains much more disjointed than either of the favorites. In other words, when it comes down to it -- as in the 2010 World Cup final -- the Dutch are still more dependent on one of those two slipping rather than imposing their own game, even if they remain by far the third-best team in the tournament.
The only problem, however, is those three heavyweights are all situated on the more difficult side of a lopsided tournament.
The Germans and the Dutch, after all, are in a hugely difficult group, one where the congestion ensures every team has an almost equal chance of qualifying despite the differences in quality. One eminently possible shock result could completely disrupt things. For historical examples, you only have to look at Groups A and C in Euro 2004. In the first case, a Spain side that is better than remembered lost its way after conceding a late equalizer to Greece in its second game. And in Group C that year, a proactive Italian side got squeezed out because of an unfortunate arrangement of the fixtures (Sweden and Denmark meeting last) despite not losing any games.
Spain's group now is slightly more forgiving than Germany's -- if still very difficult -- but that is offset by another problem. La Furia Roja may suffer from congestion of a different kind: far too many games across all fronts in too short a time. Spain's squad will have played far more games over the past four years -- and over the last season -- than any other side in the tournament. And all of that is compounded by the mental pressure of making history as it goes for a third successive major trophy. Look what happened to a badly fatigued France in the 2002 World Cup.
There's also the lesson of France 2004. Having made it through its group after a considerable amount of tension -- as is likely to be the case this summer -- France found itself too flat against Greece.
Coincidentally, all that might leave the way open for France in 2012. With less expectation and pressure after the chaos of 2010, head coach Laurent Blanc has been allowed to quietly build a much brighter squad. With a easier group (on paper, anyway), that may fortify France's confidence to the extent it feels more than ready to go toe to toe with the heavier-tipped teams again.
Exactly that, after all, happened to Brazil in 2002.
In spite of all that, Spain and Germany remain favorites because of all that is going on within their set-ups instead of any outside factors. But, if either goes on to win the title, it won't have done it the easy way.
2. Will the decade's great duel change dynamics?
Of course, should Spain and Germany do as expected and top their groups, the path will be cleared for another final between the two. It would be the third successive time they have met in a tournament-deciding showdown and it would also represent a possible fault-line in European football history, either perpetuating the realities of the recent past or creating a new future.
Should a Spanish nucleus who are now all in or around their late 20s win, they will become the first side to win three major international trophies in a row. Should a much younger German side succeed, however, the fine details suggest one period of domination will end only for another to begin.
And, already, there are signs that the dynamics are beginning to shift. In the first match of this particular duel, in 2008, a growing Spanish side finally graduated against a German team that was somewhat in flux. Two years later at the World Cup, a fully-formed Spain dominated nascent Germany. Indeed, the match was presented as a clash between two philosophies: proactive football against reactive, Spain's control against Germany's counter-attacks.
Now, as Spain suffer from fatigue and a much fresher Germany have developed only more confidence in their approach, the gap has been closed in terms of both quality and play. Can Vicente Del Bosque's side stretch it again, or will Joachim Low bridge it? Either way, football history will likely be made this summer.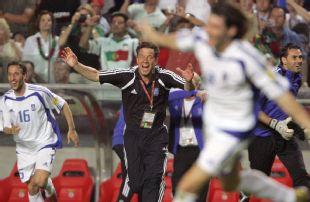 3. Can the Euros throw up another surprise winner?
There's a paradox at the heart of most perceptions of the European Championships. In the build-up to the tournament, we often hear that it is a better-quality, more exacting tournament than the World Cup.
Yet, in 19 editions, the global tournament has never thrown up a truly surprise champion. Even a small country like Uruguay had significant pedigree in repeatedly winning South American competitions and gold in the Olympics around its two victories. All world champions, then, have been of the highest quality.
By contrast, a mere 13 European Championships have seen as many as three outsiders lift the trophy -- Greece 2004, Denmark 1996 and Czechoslovakia 1976. Tellingly, none of them qualified for the World Cups which immediately followed their victories.
And the reason for these surprises may, fittingly, be as simple as size. For a lesser team to defy the odds in such a way, it needs to play fewer matches. The longer competitions go on, the more likely it is that reality -- or overall quality -- will assert itself. In other words, things will even out. This is why cup competitions, in general, "lie" much more than league tables. The more games a limited team play, the more difficult it is to sustain momentum or a specific gameplan to maximum level. And, given the tight margins involved, the seven games of a World Cup may prove more telling than the six of a European Championships.
Look, for example, at how the upset-filled 2002 World Cup suddenly reverted to old realities as the tournament hit the semifinals. Two years later, by contrast, the more immediate opportunity of immortality no doubt energized Greece to implement its pragmatic approach against Portugal.
This summer, the same may apply. Greece's current group, after all, involves four relatively evenly matched teams that all have an equal chance of reaching the quarterfinals. From there, should the occasional nuances of knock-out competition apply -- a freak goal, an unfairly disallowed strike, a penalty shoot-out -- along with one surprise result, any of Greece, Poland, Russia or the Czech Republic may have a one-off game to actually go and win the tournament.
Likewise, a minimalist Irish side may frustrate all of Croatia, Spain and Germany while it takes points off each other, suddenly seeing itself in the quarters. As the dimensions of this tournament have repeatedly illustrated, stranger things have happened.
4. Will the 'Milan Baros factor' take effect?
The modern European Championships have offered some odd stars.
In 2008, Russia's Andrey Arshavin lit the tournament up only to fade badly for the next four years. In 2004, Theo Zagorakis rose to a level way beyond his Leicester days for Greece, while Milan Baros scored freely in a way he never did for Lyon or Liverpool.
Portugal's Nuno Gomes did much the same as the Czech in 2004, temporarily looking in the same class as Luis Figo and Zinedine Zidane. Modest Sylvain Wiltord, meanwhile, scored the final's key equalizer for France. Finally, Karel Poborsky played a large part in driving the Czechs to the final of Euro 96.
Can another perceived outsider influence the course of the tournament in the same way?
The answer may well come down to the answer of our first question. With so many Spanish players likely to suffer from fatigue, for example, a relatively revitalized Fernando Torres may help solve its sudden striker problem. Along similar lines, Karim Benzema has a renewed belief after a period as a bit-part player for club and country and may well push France very far.
Alternatively, and more in line with recent stars, Poland's Robert Lewandowski has had a brilliant season with Borussia Dortmund, but not the benefit of extended Champions League games.