Euro 2012 news
Russia snub stuns Bilyaletdinov
Spartak Moscow midfielder shocked at being omitted from Euro 2012 squad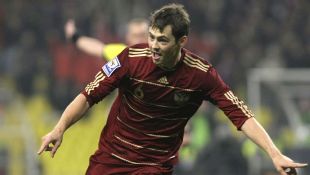 Diniyar Bilyaletdinov has described being left out of Russia's Euro 2012 squad as "an unpleasant blow" after manager Dick Advocaat overlooked him when selecting his short list of players for next month's tournament.
The Spartak Moscow midfielder left Everton to return to his homeland in January in a bid to secure his place on the plane to Ukraine and Poland, joining fellow Euro 2008 stars Roman Pavlyuchenko and Andrei Arshavin in going back to Russia.
But while Pavlyuchenko and Arshavin have been given the nod with inclusion in Advocaat's 26-man provisional squad, Bilyaletdinov has failed to convince the Dutchman he deserves to be involved, despite playing in seven of his club's 10 games since his return to Moscow.
"For me it's come out of the blue, to be honest. It's a really unpleasant blow. I don't what the way through this is. I can't imagine," Bilyaletdinov told RIA Novosti. "My head is now swelling up, I can't think."
Bilyaletdinov, 27, played all five matches for Russia as they reached the semifinals of Euro 2008 and has won 46 caps for his country since making his international debut in 2005.