Talking Point
The kings of diving
Simulation, thou hast a name -- many, actually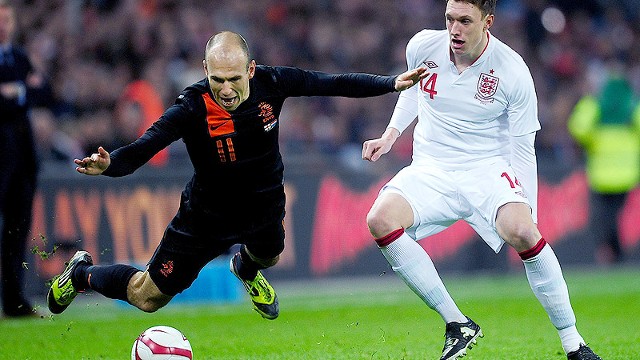 Every major football tournament should be remembered for great goals, great saves and pulsating matches. However, the beautiful game isn't always so beautiful.
Diving and simulation continue to be an issue, making life difficult for referees, who don't have the benefit of instant replay.
Which players at Euro 2012 are most likely to con the officials? Here are an unlucky six to start with.
Arjen Robben, Netherlands: Some players curb their diving as they mature. Not the talented Robben.
After the then-Chelsea winger went down clutching his neck when tapped by Liverpool keeper Pepe Reina in 2006, Rafael Benitez, the Liverpool manager at the time, famously uttered: "I am in a hurry because I must go to the hospital because the injury was so serious that maybe he will be there for one week."
Defender Neven Subotic blasted Robben after he missed a penalty in Bayern Munich's 1-0 loss to Dortmund last month in scenes reminiscent of Martin Keown's taunt of Ruud van Nistelrooy (another Dutchman) at Old Trafford in 2003.
"I think I said something like I don't like diving," Subotic quipped.
Robben appeared to be fouled to earn the penalty, but his tendency to exaggerate has left him with a mixed reputation.
Netherlands manager Bert van Marwijk defended Robben at the World Cup two years ago, but of course, he was simply trying to protect his player.
Pepe, Portugal: Is there a dirtier player in world football than Pepe? Nigel de Jong? Mark van Bommel? Giorgio Chiellini? Those are but a few nominees.
Let's give the nod to Real Madrid's Pepe, who kicks his own teammates and has single-handedly tried to batter Lionel Messi.
Apart from being dirty, Pepe can be termed, to put it bluntly, a big baby. Not ashamed of clattering into opponents with no intent to win the ball, a faint touch sends the defender down. The latest example of his childish behavior came in the Champions League semifinals against Bayern Munich, when Pepe writhed on the ground after Franck Ribery made mild contact with his arm.
We don't see Pepe changing anytime soon.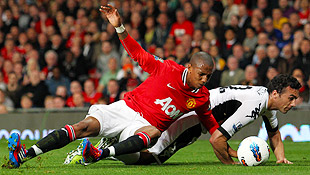 Ashley Young, England: For years with Aston Villa, Young dove. No one really paid much attention to it, though, since Villa isn't considered – now, anyways – a big club.
But the spotlight is on anyone who suits up for Manchester United, and Young's theatrics to win penalties against QPR and Villa in back-to-back home games in April were shameful.
"He's the biggest cheat in the league," Newcastle defender Ryan Taylor wrote in a tweet that was later deleted.
Red Devils manager Alex Ferguson even admitted, unusually, that Young "overdid" things.
Young has company on the England team. Steven Gerrard isn't a saint, either.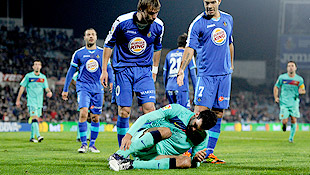 Sergio Busquets, Spain: Barcelona has deservedly earned plaudits for its attractive, suffocating style. But Javier Mascherano, Dani Alves and Busquets take the shine off a tad with their antics.
Busquets will forever be remembered for getting Inter's Thiago Motta sent off in the Champions League semifinals two years ago after Motta – formerly of Barca – fended off the holding midfielder with an arm. Motta missed the final. That was Part 1.
Part 2 came when Busquets, still on the ground, offered a cheeky glance at the referee.
Then there was Busquets' fall when he tangled with Real Madrid's Marcelo (who goes down with the best of them, too) in the Champions League last year.
Mark van Bommel, Netherlands: Van Bommel is a highly skilled, valuable midfielder. His career boasts stops at Barcelona, Milan, Bayern Munich and PSV.
But van Bommel likes to offer up a little extra mustard on challenges, shall we say (and he's been doing it for a while). He was fortunate, for instance, to get away with a stamp on Spain's Andres Iniesta in the World Cup final two years ago.
Like Pepe, van Bommel amplifies contact – when he's on the receiving end. Who could forget his embarrassing tumble when he clashed with Luis Figo at the 2006 World Cup?
At 35, this could be van Bommel's swansong at a major tournament.
Ronaldo, Portugal: Ronaldo and Messi are often compared. They're supremely skilled – scoring for fun – and are targeted by opposition sides. For the latter, they deserve sympathy. And Ronaldo has toned down his simulation since his younger days at Manchester United.
But not enough.
Ronaldo need only look at Messi to see how he should conduct himself. When Messi is on the ground, you know he's not faking. The same can't be said of Ronaldo – yet.
Notice how many Dutch and Portuguese internationals are featured here? The Netherlands faces Portugal in Group B on June 17, so the ref might be working overtime.
When they battled at the 2006 World Cup, Russian Valentin Ivanov handed out 16 bookings and four red cards.
London-based Ravi Ubha covers soccer and tennis for ESPN.com.