Euro 2012
Face/Off
How the Dutch and German national teams switched footballing identities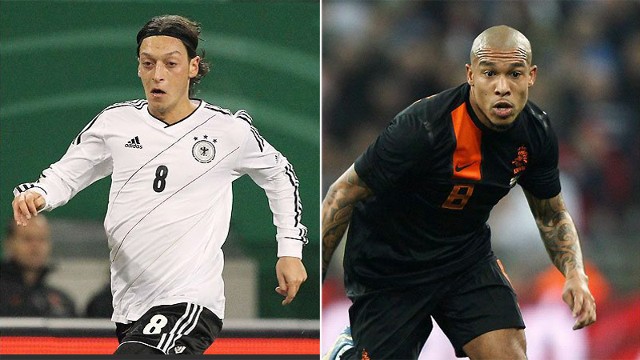 When Nigel de Jong emerged from the illustrious Ajax academy as an 18-year old in 2002, he was a multifunctional midfielder like many before him, his technique sharpened to a fine point, his mind squarely on possession and attacking football.
In 2005, Mark van Bommel joined Barcelona by way of PSV and Fortuna Sittard, where he'd been mentored by up-and-coming manager Bert van Marwijk, whose daughter he'd eventually marry. He, too, was a midfielder with many weapons, a splendid passer over medium distances out of the midfield, capable of springing attackers free of any defense. Like de Jong, he was a prototypical Dutch midfielder with a keen eye for spacing and a primary concern for furthering attacks.
Meanwhile, Germany had forever fielded a national team that specialized in squeezing out results. While the Dutch historically prided themselves on playing good, aesthetically pleasing soccer, maximizing space and movement, the Germans were brawny and cynical, merely concerned with doing whatever it took to win.
These ideas first clashed during the 1974 World Cup, when the "Total Football" Dutch were hell bent on not merely beating West Germany, but embarrassing it. In so doing they gave away a 1-0 lead and ultimately lost 2-1 in a game they dominated. If the Netherlands was skilled at playing football, Germany was skilled at extricating good results from problematic situations and difficult games. With this cynical mindset, which mostly produced boring, defensive matches, Die Mannschaft nevertheless crafted an extraordinary record at major international tournaments. Germany has entered the Euros 10 times and reached the final six times. In 17 World Cup appearances, the Germans have made the final four a dozen times. Both are records.
The ever-underperforming Dutch, which won nothing but Euro '88, had a saying about their super-successful German archrival, winners of three World Cups and three Euros. "Bet on Germany. You'll win a lot of money but you'll get over it."
But in 2006, a funny thing happened.
After former Germany star Jurgen Klinsmann had led his country to an unexpected third-place finish at the World Cup on home soil as manager, he left the team. That same summer, de Jong and van Bommel, still very much attacking midfielders, joined German clubs Hamburger SV and Bayern Munich, respectively. In December of that year, van Marwijk resigned as head coach of Borussia Dortmund, also of the Bundesliga, and returned home to the Netherlands.
These moves, seemingly unrelated yet inextricably linked, would cause the most curious of national identity switches, with two football countries eventually trading ideological places.
Upon arriving in Germany, de Jong and van Bommel reinvented themselves as a breed of midfielder not typically bred in the Netherlands. They became holding midfielders, bruisers undaunted by meting out corporal punishment to opponents who dared tread on their halves. Van Bommel found ways to help make the play while tending to his defensive duties. De Jong went through a wholesale makeover, abandoning his attacking upbringing altogether and focusing instead on chopping legs out from under others. Both won appreciation for their hard-line toil in a league renowned for uncompromising defense.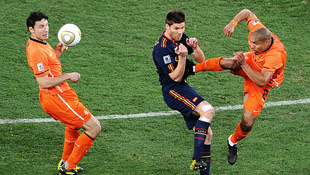 Yet Klinsmann, in his spell as Germany coach from 2004 to the 2006 World Cup, had set his country's wheels in motion -- only traveling in the opposite direction. The rare whimsical Germany striker in his playing days, he had embarked on a youth movement throughout the national team program and indoctrinated his charges in an alien concept: fluid, possession-based, attacking soccer. Under Klinsmann's successor Joachim Loew, that process picked up momentum.
In the summer of 2008, after a second successful stint in charge of Feyenoord, van Marwijk took over the Dutch national team. After four tumultuous, highly inconsistent years under Marco van Basten, whose experimenting and chaotic methods hadn't endeared him to his team -- van Bommel boycotted the national team until van Basten's departure; and the team allegedly settled on tactics on its own -- van Marwijk, a noted man-manager, was brought in to bring stability to a gifted generation. Schooled in the merits of tough, workmanlike soccer at Feyenoord and his time in Germany, Van Marwijk rebuilt the team around his Bundesliga hard men van Bommel and de Jong.
For the first time in years, qualification for the World Cup was straightforward, Oranje winning all eight of their qualifiers. And the better they performed, the more van Marwijk was strengthened and justified in his resolve to bring a novel business-like attitude and bite to a national team that had once seemingly existed only to espouse Dutch football virtues.
Germany was still charging headlong in the opposite direction. By 2010, its league had become something it had never been before -- exciting. Germany had begun turning out players whose technique and flair that made physicality and negativity obsolete.
From their long-held places on the extreme ends of the tactical spectrum, Germany and the Netherlands collided in the middle at the 2010 World Cup even if they never faced off on the field. Germany, suddenly, surprisingly, dazzled as young gunslingers such as Mesut Ozil and Thomas Mueller tore through the tournament, winning their nation unexpected accolades as its Most Entertaining Team. Germany loss to Spain in the semifinals. But they were a changed team.
On the other side of the bracket, the Dutch hopped over their own hurdles, eliminating Brazil in the quarterfinals and reaching the final, where they too fell to Spain. But they, suddenly, surprisingly, were a stodgy team whose unsightly wins were even criticized back home, where much of the populace would have to think hard about losing pretty or winning ugly. Most of all, van Bommel and de Jong drew the ire of the land -- and the world -- with their unbridled hacking and chopping. The image of de Jong karate kicking Xabi Alonso in the chest during the final, an infraction for which he was given an astonishingly lenient yellow card, remains iconic for a scrappy final. The Dutch were a changed team -- cynical, boorish, brutish and the antithesis of their aesthete predecessors who had made the team an international favorite.
Yet the Netherlands reached further at the World Cup than Germany did. Perhaps by virtue of having faced Spain later, perhaps because the shift in ideology left them holding the more practical approach.
At the 2012 Euros in Poland and the Ukraine this summer, the grand identity swap will offer a more conclusive outcome. Who got it right? The Germany of yore and Holland of the present? Or the old-school Dutch and latter-day Germans?
The Dutch will bump and smash. The Germans will glide and combine. Who do you put your money on?
Leander Schaerlaeckens is a freelance soccer writer for ESPN.com.