Euro 2012
Give Hodgson a chance
Though many believed it would be Harry Redknapp, don't down "Woy" yet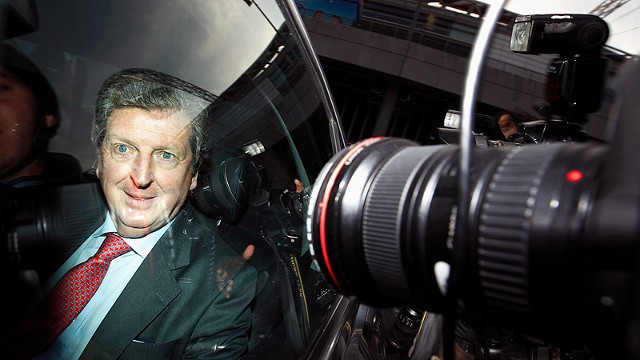 We all knew it was coming. With little over a month until England kicks off its Euro 2012 campaign against France, the FA needed to do something about the yawning void in the national team's dugout. After all, the longer Stuart Pearce remained in his caretaker-by-default role, the harder it was going to be to crank the hype machine up to eleventy billion. Fortunately, we all knew who the 'Eir 'Apparent was; Harry Redknapp was seemingly destined to ascend to the throne ever since that strange one-two of a day that saw him acquitted of tax evasion in the morning and Fabio Capello resign in the afternoon.
But we were wrong. The FA announced on Sunday evening that they had made a formal approach to West Bromwich Albion for permission to speak to Roy Hodgson; in turn, the Baggies boss had asked to be allowed to "explore this opportunity." Four hours of interviews followed on Monday -- "And do you have any weaknesses, Roy?" "Well, I did rub my face once..." -- and the contract was signed Tuesday afternoon. Swift decisive action from the FA? Truly, we are living in the end times.
The appointment would make several kinds of sense, too, including on that most fundamental of levels: economic. Hodgson is out of contract this June, and so would cost the FA nothing in compensation; by contrast, Tottenham owner Daniel Levy would demand a substantial fee in exchange for his manager. Redknapp has also let it be known that he would expect wages similar to those enjoyed by Capello, whereas Hodgson, coming from a smaller club, might well be cheaper. It's worth remembering that the FA took a lot of stick over the eye-watering remuneration of Capello ($7.4m/year, rising to an average of $9.5m/year) and, prior to him, Sven-Goran Eriksson ($8m/year).
More generally, Hodgson has two major advantages over Redknapp. The first is his experience of international management. While it's not the cavalcade of high-profile glory or trophies that would present an inarguable case for appointment, his time in charge of Finland, the United Arab Emirates and most notably Switzerland, who he took to the World Cup in 1994, give him knowledge of the slow, slow, quick-quick, slow rhythms of international football.
England has never appointed a manager with such experience before; given that Hodgson's first task in charge will be this summer's European Championships, his nous will be welcome. Looking beyond this summer, too, he might provide some protection against the organisational and logistical snafus that always seem to accompany England's adventures. At one point, Hodgson's Switzerland was the third best team in the world by FIFA rankings, and while that perhaps tells you as much about FIFA's curious metrics as it does the actual prowess of the Swiss, it is nevertheless indicative of a largely successful international career.
"If Roy Hodgson is considered a gamble, then it's a gamble with a point."

Andi Thomas
The second advantage is less immediately obvious and relates to the FA's long-awaited, long-delayed National Football Centre (NFC), which will "transform the future of football and sport in England". Speaking prior to Sunday's announcement, former England manager Graham Taylor told the BBC that the FA was looking for a manager that would work at the NFC every day and oversee England sides at all age levels. He went on to say that, in his suspiciously-prophetic-in-hindsight view, the FA did not think Redknapp was that man; Hodgson, on the other hand, certainly was. Subsequent reports have indicated that Hodgson would not object to slotting into the pre-existing coaching structure and working with in-post personnel, most notably Stuart Pearce.
Of course, Hodgson comes with several sizable question marks hanging over him. While few people dispute that he is an effective manager in modest circumstances -- Fulham's run to the UEFA Cup final is, arguably, the outstanding achievement of any English manager of the last ten years -- the memory of his disastrous 191 days in charge of Liverpool is still far too fresh in the minds of many. His brief and unhappy tenure at Anfield raised doubts over both his ability to handle egotistical/high-profile players (as you like) and his tactical flexibility. Watching Liverpool launch long balls toward a confused Fernando Torres was not a happy sight for anybody wanting the team to do well, and neither was his failure to grasp that a kind of baffled, bemused self-effacement wasn't quite what Liverpool was looking for. Some would perhaps argue that England, technically inferior at international level, is more of a West Brom or a Fulham than a Liverpool; some might respond that the gap between expectation and ability makes Liverpool the perfect analogy. Either way, a penny for Steven Gerrard's thoughts.
The other problem will be with the media. The British press is less of a homogeneous beast than it is often given credit for, but the chorus of "Harry for St. George!" that followed Capello's resignation was as remarkable as in its unanimity it was alarming in its implications. The Telegraph praised his patriotism, the Guardian gushed over his "cuddly, amusing, utterly human" persona, and a number of the press pack sang him Happy Birthday on the occasion of his 65th, a moment that could only have been more fist-gnawingly embarrassing had they appended a breathy, Marilyn Monroe-esque "Mr Manager..."
Furthermore, it's a well-known fact that England managers are inevitably mocked, abused and denigrated by the press, a rite of passage that never ends. Even Bobby Robson, subsequently hailed as a national treasure, was subjected to what the Guardian's Dave Hill called "the most sustained campaign of press humiliation the national game has ever seen"; prior to the 1990 World Cup, the Sun labelled him a 'Plonker', while the Mirror implored 'In The Name Of God, Go!'. Since then, Graham Taylor became a turnip, and Eriksson, obviously, had to be a swede. Steve McClaren, fatally, tried to keep the rain off his head with an object that rhymed with "Wally," and the Sun decided that Fabio Capello, one of the finest coaches in European football, deserved a pair of donkey ears.
Managing England is, at heart, an attempt to stave off the root vegetable for as long as possible, and making the prophets of the press look like they're guessing isn't the best start. Sure enough, Monday's papers were laden with barely concealed disdain for "the Hod choice": "a bombshell"; "an amazing snub"; an "astonishing decision" made in spite of "widespread calls for Harry" that led to "immediate outcry". (That last is only true if "outcry" means "flood of Paul Konchesky jokes".)
And it's clear that Hodgson is not, and will never be, the perfect England manager. He may well turn out to be tactically retrograde and poison the wellspring of another generation of English colts. Perhaps he will choke on the England dressing room's special cocktail of talent, ego and delusion, and we'll have to watch him suffer through more of those end-of-Liverpool-days press conferences, wincing as he dispenses irrational brickbats towards his own players, and inappropriate compliments to opponents. One day, he knows (and we know), he'll end up depicted as a radish.
But if it's a gamble, then it's a gamble with a point. Redknapp would happily reflect the tabloid coverage of the England team: they'd be going to win; it'd be name on the trophy; the three lions would roar; and so forth. The same old cycle would continue: a miracle-worker, praised to the heavens, his bloody crucifixion looming just around the corner.
By contrast, appointing Hodgson, and appointing him not just for his work with the senior team, but also to slot into the wider picture -- to actually do some of the building for the future that England's fans have been promised so often before -- suggests a different, more modest, more humble approach. There are many reasons why it might not work, but think about it this way. The FA might be about to appoint a manager that when asked "so, are we going to win?" has not only the common sense but more importantly the institutional backing to say "probably not, but of course we'll give it a go".
And that, at least for the moment, might be exactly what the country needs.