Euro 2012 teams
Team Profile: Poland
A look back at the key points in the Polish team's history in the Euros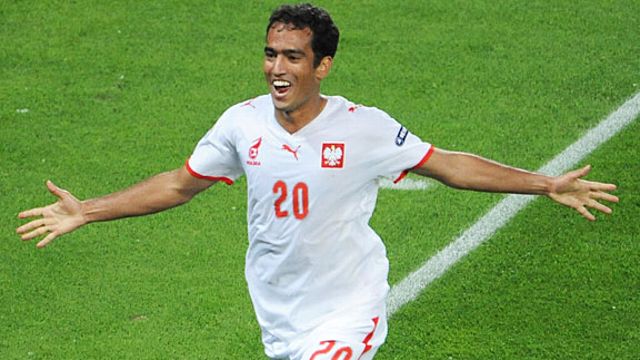 Overall record at finals: Played 3, Won 0, Drawn 1, Lost 2

Best performance: Group stage in 2008

Most appearances at finals: Artur Boruc, Dariusz Dudka, Marcin Wasilewski, Michal Zewlakow, Euzebiusz Smolarek, Jacek Krzynowek, Wojciech Lobodzinski, Mariusz Lewandowski, Roger Guerreiro, Marek Saganowski (2008) - 3

Most goals at finals: Roger Guerreiro (2008) - 1

European Championship high: Roger Guerreiro's goal against co-hosts Austria, which was Poland's first goal in the history of the tournament and led to the nation's first-ever point.

European Championship low: Conceding a 93rd-minute penalty equalizer against Austria in that same game, which was converted by Ivica Vastic and led to a 1-1 draw, seriously damaging Poland's hopes of emerging from Group B.

European Championship legend: Roger Guerreiro, a naturalised Pole who was born in Sao Paulo, Brazil. Guerreiro made his debut for Poland on May 27, 2008, after his application for citizenship was rushed through in time for the tournament. The goal against Austria was his first for the country, and he was named Man of the Match by UEFA.

The story so far: Despite being World Cup semifinalists in both 1974 and 1982, Poland failed to qualify for any of the first 12 European Championships. The Poles came close in both 1976 and 1980 but were edged out by Netherlands both times -- first on goal difference and then by a solitary point. Euro 2008 marked Poland's only finals appearance to date, but it finished bottom of its group and struggled to impress.

Qualification: Qualifying as co-hosts, Poland has been playing friendlies for the past two years, with some positive results: beating Argentina and Ivory Coast while holding Germany, Mexico, Portugal and South Korea to draws. Coach Franciszek Smuda has put together a young squad with a view to building for the future, but that has led to a struggle for consistency.