Euro 2012 teams
Team Profile: Greece
A look back at the key points in the Greek team's history in the Euros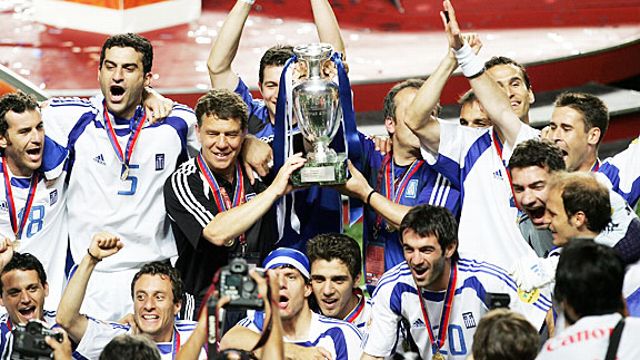 Overall record at finals: Played 12, Won 4, Drawn 2, Lost 6

Best performance: Winners in 2004

Most appearances at finals: Antonis Nikopolidis, Traianos Dellas, Kostas Katsouranis, Angelos Charisteas (2004, 2008) - 9

Most goals at finals: Angelos Charisteas (2004, 2008) - 4

European Championship high: Beating Portugal in the 2004 final to become the most unexpected champions in the history of the competition.

European Championship low: Losing every single game at the 2008 finals as holders, scoring a solitary goal en route to a group stage exit.

European Championship legend: Angelos Charisteas sealed his place in Greek footballing history by heading in the only goal of the game in the Euro 2004 final victory over Portugal. "Even in 50 years' time, my goal will be talked about. It has changed my life forever," Charisteas said. Now 32, his goalscoring record is not what it was but his three goals at that tournament - he also scored against Spain and the quarter-final winner against France - will never be forgotten.

The story so far: Before emerging as surprise winners of the tournament in 2004, Greece had qualified for the European Championship only once. That was in 1980 in Italy, when it finished bottom of its group. The Greek side lost its first two games to Netherlands and Czechoslovakia in a difficult group before picking up its first point in a 0-0 draw with West Germany in the final match. Nikos Anastopoulos scored the first, and only, goal against the Czechs. In 2004, Greece was handed another difficult draw but raised eyebrows with a victory over host Portugal in the opening game. Regardless, it went through in second, at the expense of Spain and Russia, then beat holders France and went on to win the final, again against the host nation. But in 2008 the Greeks were the only team not to pick up a single point, tumbling out at the group stage.

Qualification: Greece was handed one of the weaker groups, with Croatia the seeded team in Group F, but any hopes of making it to the finals were hit by a 1-1 draw in their opener at home to Georgia. A draw in its next game, away to Croatia, was more positive but Greece almost suffered a damaging goalless draw away at Malta until Vasilis Torosidis' 94th-minute winner. A 1-1 draw in Latvia -- with an 84th-minute leveller toward the end of qualifying -- looked fatal, but they followed that up with a crucial 2-0 win at home against Croatia with both goals coming in the final 20 minutes. That left the Greeks needing only a point away at Georgia to top the group, and they were heading into the playoffs with 11 minutes to go before goals from Georgios Fotakis and Angelos Charisteas booked their place. Greece scored only three of its 14 goals in the first half of games and scored the fewest goals of any of the group winners.

Qualifying record: P10, W7, D3, L0, F14, A5, Pts 24

Most appearances: Giorgos Karagounis, Dimitris Salpingidis (10)

Top goalscorer: Giannis Fetfatzidis, Kyriakos Papadopoulos, Vassilis Torossidis (2)