Euro 2012 teams
Team Profile: Denmark
A look back at the key points in the Denmark team's history in the Euros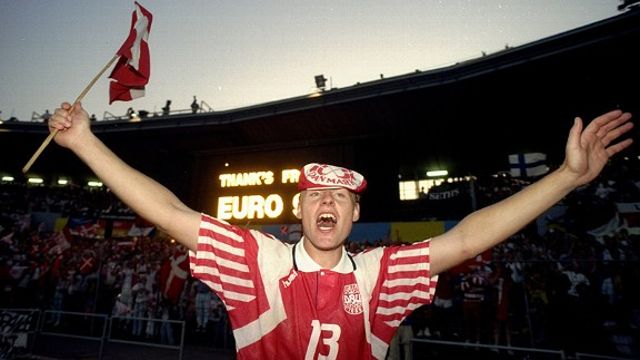 Overall record at finals: Played 25, Won 7, Drawn 6, Lost 12

Best performance: Champions in 1992

Most appearances at finals: Peter Schmeichel (1988, 1992, 1996, 2000) - 13

Most goals at finals: Frank Arnesen, Henrik Larsen, Brian Laudrup, Jon Dahl Tomasson - 3

European Championship high: Having failed to qualify for Euro 1992, Denmark was given a second chance after the suspension of Yugoslavia, and the unfancied Danes went on to win the whole tournament, beating Germany 2-0 in the final.

European Championship low: Denmark went into Euro '96 as defending champions and with hopes high after star Michael Laudrup ended his ongoing dispute with manager Richard Moller Nielsen. However, the Danes failed to make it out of the group and were beaten 3-0 by Croatia, which was making its first appearance at the tournament.

European Championship legend: Goalkeeper Peter Schmeichel has represented Denmark at four separate European Championship finals, but his match-winning performance in the 1992 final was truly the stuff of legend. After saving a penalty from Netherlands striker Marco van Basten in the semifinal shootout, the then-Manchester United 'keeper made three world-class saves in the final itself, including two from Jurgen Klinsmann, to help his team to a shocking 2-0 victory against Germany.

The story so far: After finishing fourth at the European Championship in 1964, Denmark had to wait 20 years to return to the tournament in 1984. Sepp Piontek's 'Danish Dynamite' team lit up the tournament but was beaten 5-4 in a semifinal penalty shootout by Spain. Despite qualifying again in 1988, the Danes went out in the group stage, and it appeared the 'Dynamite' team would remain the pinnacle of Danish achievement, especially when the nation failed to make it to Euro '92. However, the Danes were handed a lifeline when Yugoslavia was kicked out before the finals in Sweden. With no expectations, Richard Moller Nielsen's team went on to win the tournament, eliminating England and France in the group stage, holders Netherlands in the semifinals and Germany in the final. Despite being regular participants since, the Danes have never come close to repeating that triumph.

Qualification: Denmark's qualification campaign was based on its solid home form, and Morten Olsen's side made it four wins out of four in front of their own fans with a 2-1 triumph against Portugal in Copenhagen in their final match to win Group H. The Danes rely on the creativity of Christian Eriksen and the goals of Nicklas Bendtner but in the 'Group of Death' along with Germany, Netherlands and Portugal, Olsen's team will do well to make it to the knockout stage.

Qualifying record: P8, W6, D1, L1, F15, A6, Pts 19

Most appearances: Lars Jacobsen, Christian Eriksen, Dennis Rommedahl (8)

Top goalscorer: Nicklas Bendtner, Dennis Rommedahl (3)