Euro 2012 teams
Team Profile: Spain
A look back at the key points of Spain's history in the Euros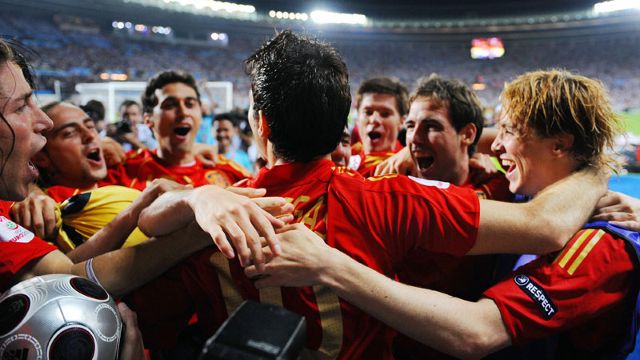 Overall record at finals: Played 30, Won 13, Drawn 9, Lost 8

Best performance: Winners in 1964 and 2008

Most appearances at finals: Rafael Gordillo - 10

Most goals at finals: David Villa - 4

European Championship high: Spain claimed its second European Championships title in 2008, having won its first in 1964 with a 2-1 final victory over the Soviet Union in Madrid. In 2008, after cruising through their group at Austria and Switzerland, the Spaniards edged out Italy on penalties before disposing of Russia with ease. In the final, a Fernando Torres goal proved the difference against Germany.

European Championship low: The years in between their aforementioned glories, during which time the Spaniards were dubbed perennial underachievers. They threatened to break that run in 1984, only to lose to France in the final. Now the Spaniards are undoubtedly the team to beat.

European Championship legend: Xavi. Arguably the best central midfielder of his generation, Xavi's masterful displays propelled Spain to success in 2008 and earned the Barcelona star the Player of the Tournament award. Xavi boasts the ability to dictate a match and is again expected to be a vital player for La Roja this summer.

The story so far: Spain competed at the first European Championships, reaching the quarterfinals. Four years later it recorded continental success, defeating the Soviet Union on their home turf. Disappointment then followed as the Spaniards struggled for years --failing even to qualify in 1972 -- before impressing in 1984, when they were runners-up to France. Further misery followed as they lost on penalties to England at Euro 96. In 2008, Spain's brand of tika-taka football won over neutrals and fired them to silverware.

Qualification: Spain cruised to Euro 2012 qualification, enjoying a perfect record in Group I and topping the standings. An opening 4-0 scalp of Liechtenstein set the tone for its campaign, seeing off the majority of opponents with ease. Scotland threatened to dent the Spaniards' run, but was ultimately beaten 3-2. The Czechs led against Spain before Vicente Del Bosque tweaked his side, who rallied to come from behind and earn victory.

Qualifying record: P8, W8, D0, L0, F26, A6, Pts 24

Most appearances: David Villa, Sergio Ramos (8)

Top goalscorer: David Villa (7)