Euro 2012 teams
Team Profile: Portugal
A look back at the key points of Portugal's history in the Euros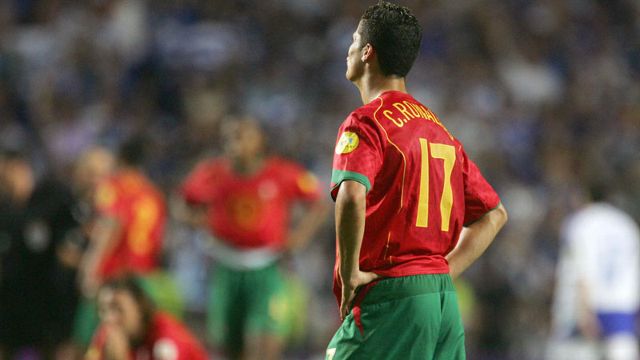 Overall record at finals: Played 24, Won 12, Drawn 4, Lost 8

Best performance: Runner-up in 2004

Most appearances at finals: Luis Figo (1996, 2000, 2004) - 14

Most goals at finals: Nuno Gomes (2000, 2004, 2008) - 6

European Championship high: At Euro 2004, when Portugal hosted the tournament, then-manager Luiz Felipe Scolari led the home nation to the final at Estadio da Luz.

European Championship low: The high proved to be bittersweet when, after managing to reach the final, Portugal was stunned by 150-1 tournament outsiders Greece, slumping to a 1-0 loss.

European Championship legend: Luis Figo. The brilliant midfielder took part in three European Championships and was named in the UEFA team of the tournament at both Euro 2000 and Euro 2004, captaining his nation to the final in the latter.

The story so far: The Portuguese featured at the first European Championships in 1960, when they reached the quarterfinals only to be knocked out 6-3 over two legs by Yugoslavia. Then came a succession of qualification failures before 1984, when Portugal progressed to the semifinals, suffering a 3-2 loss to France in extra-time. In Euro 2000 the Portuguese again reached the last eight, yet France was once more a thorn in their side as Zinedine Zidane dispatched a penalty in extra time.

Qualification: Portugal finished as runner-up in Group H, level on points with third-placed Norway but benefiting from a stronger goal difference. It was a group campaign marred by poor defending, with 12 conceded in eight games. Going forward, though, Portugal was prolific, scoring 21 times, Cristiano Ronaldo netting seven of those goals. After a slow start, six straight wins were enough to secure second place in the group. The playoff draw paired Portugal against Bosnia-Herzegovina, and it booked a place at Euro 2012 with an emphatic 6-2 second leg victory.

Qualifying record: P8, W5, D1, L2, F21, A12, Pts 16

Most appearances: Raul Meireles, Nani (10)

Top goalscorer: Cristiano Ronaldo (7)