Euro 2012 teams
Team Profile: Czech Republic
A look back at the key points of Czech Republic's history in the Euros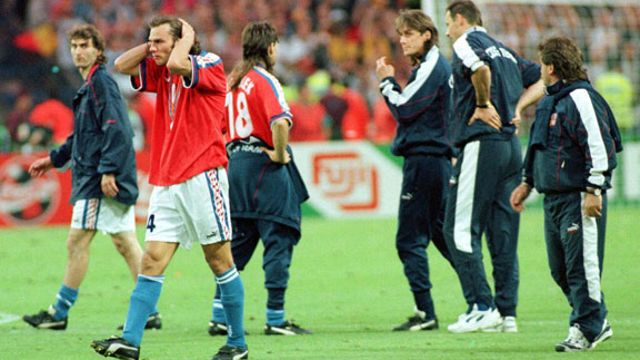 Overall record at finals: Played 17, Won 8, Drawn 2, Lost 7

Best performance: Finalists in 1996

Most appearances at finals: Karel Poborsky (1996-2004) - 14

Most goals at finals: Milan Baros (2004) - 5

European Championship high: After finishing second in their group behind Germany at Euro '96, the Czechs qualified based on a better head-to-head record than Italy (having won their game 2-1). On the back of some fine performances by midfielder Karel Poborsky, the Czech Republic beat Portugal 1-0 and then overcame France 6-5 on penalties to reach the final, where it lost to Germany in extra-time after Oliver Bierhoff's shot slipped through the hands of goalkeeper Petr Kouba.

European Championship low: Two very late goals by Turkey striker Nihat saw the Czechs lose 3-2 in their final group game and fail to qualify for the Euro 2008 knockouts in the midst of a storm in Geneva.

European Championship legend: Pavel Nedved, the driving force behind the Czechs' run to the final in 1996, is the second-highest appearance maker at the final tournament (12). The Juventus midfielder made a name for himself in Italy and is seen as one of the best players ever to have emerged from his country; he has scored 18 times in 91 appearances.

The story so far: As Czechoslovakia, the side reached Third Place in the first competition in 1960. Antonin Panenka made himself an instant legend with a memorable spot-kick in the 5-3 penalty shootout victory over West Germany that clinched the title for the Czechs in 1976. Defending the title four years later, the Czechs were third once more and didn't qualify again until after the breakup of the country in 1993. As the Czech Republic, its first outing drew praise and it finished runner-up to Germany thanks to Oliver Bierhoff's golden goal. From there, the Czechs became only the second side to negotiate qualifying with a 100% record en route to Euro 2000, before crashing out in the Group Stages; more extra-time disappointment came in the semifinals against eventual winners Greece in 2004 after a goal from Traianos Dellas. Late drama occurred once more in 2008, suggesting that with a bit more concentration in the knockout stages, the Czechs could be a force to be reckoned with again.

Qualification: The Czechs struggled through the Group Stages, and their tally of 12 goals was the lowest of all finalists. They needed a 3-0 aggregate victory over Montenegro in the playoffs to get them to the final tournament. Never going to pip the undefeated Spain in a five-man group, Michal Bilek's men lost their first game to Lithuania, but made sure to beat their closest rivals on the way to second place. Vaclav Kadlec's only strike made him the youngest player to score in qualifying (18 years, 145 days). Bilek said: "We were under pressure from the home defeat by Lithuania right until the end. I am proud of the players and how they coped with it. I am glad to be part of it."

Qualifying record: P10, W7, D2, L1, F17, A4, Pts 23

Most appearances: Michal Kadlec (10)

Top goalscorer: Michal Kadlec (4)