Interview: Antonio Cassano
'I have the idea destiny is on my side'
Months after suffering a stroke, Antonio Cassano stands on the brink of glory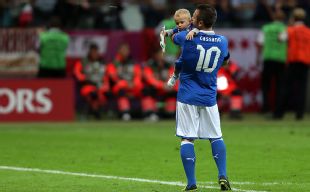 Antonio Cassano's remarkable journey from a hospital bed to Euro 2012 glory could be completed on Sunday night, and he believes destiny is on his side as he targets the greatest moment of an eventful career.
The one-time bad boy of Italian football has transformed his image after 12 months that saw him suffer a stroke, battle back against the odds to make the Azzurri's Euro 2012 squad and then shine in Cesare Prandelli's side on their journey to the final against Spain in Kiev.
Now the AC Milan striker is targeting a triumph that would define his career for all the right reasons, with the prospect of becoming a European Championship 2012 winner offering to give his career a gloss that for so long seemed destined to elude him.
Many seasoned observers of Italian football are struggling to identify with Cassano's new role as a respected elder statesman of the Italy team after a career that has been as notorious as it has been brilliant, but he views his presence in the most significant game of his career as a gift from the heavens.
"I'm enjoying the strongest emotions of my life at the moment," the 29-year-old said. "When I had my heart problems last autumn, I had some dark thoughts and wondered if I could ever play again - but the doctors worked a miracle and, thanks to the staff at Milan and my single-mindedness, I've been able to make an incredible recovery.
"I'm still not 100% physically - this is obvious. An hour or so in any game is my limit, but I'd like to think I've done my bit to make us a good attacking force. I love the role I have right now.
"I'm there to knit things together up front, to make runs, exploit my technique and bring others into play. It doesn't bother me I've only scored once in this tournament [versus Ireland], as the goal I set up for Mario [Balotelli] against Germany was better than scoring ten goals myself. I'm on cloud nine, feel calm, confident and have the idea that destiny is on my side.
"This is a wild and unbelievable story for me. One minute I'm battling for my life, the next I'm with the national team in the final of the European Championships. I'm here by the grace of god and I really believe this is the way it was meant to be. My wife and son are here with me and I aim to make them proud."
Cassano has emerged as an improbable role model for his strike partner Balotelli at Euro 2012, with the maturing former wild child of Italian football apparently taking the Manchester City maverick under his wing in a combination that has been described as "the odd couple" by those inside the Azzurri camp.
Italy coach Cesare Prandelli took a calculated gamble when he put his faith in two strikers with a reputation for making or breaking teams depending on their own unpredictable moods, and Cassano full of praise for Balotelli.
"Mario has so much talent, and what he did in the semi-final against Germany was just fantastic," Cassano - who demonstrated that he can still make headlines for the wrong reasons when he said he hoped there were no gay players in Italy's squad - said.
"The pressure on him is similar to what I experienced, as the media are always going to be interested in a guy who is a little different from the rest. That is the way this world works, but Mario is strong enough to deal with it. He also has the talent, which is the key.
"I believe we are working pretty well together. I have the ability to spring him into the open and, with his pace and power, the end product can be frightening. Ask those German defenders. They didn't know how to handle him."
Cassano's motivation to beat Spain in Kiev could not be more acute - he is still smarting from his disastrous stint at Real Madrid, which ended in acrimony and negative headlines galore in the days when the striker delighted in his image as a playboy. His womanising antics made news during his ill-fated spell in the Spanish capital, and the criticism he received from the Madrid media pack still seems to rile him.
"It would be great to put one over the Spanish," he said. "It didn't exactly work out for me at Real Madrid. They called me fat and didn't appreciate me, so I'm keen to set the record straight on Sunday.
"Pique and Ramos are superb central defenders, but I've a few tricks of my own. As world and European champions, Spain are going to be regarded as the favourites for this final. They have a lot more friends in the media than us, but we've got nothing to fear at all. We more than held our own against them when we drew 1-1 with them in the first round. We took the game to them and carved out some good chances.

"They can be put under pressure, and you've just got to believe in yourself and go for it. Like the Germans, the Spanish never relish facing us. We make them sweat a little and there's good reason. We're tough to break down, make a strong unit and can play a bit. We will not be overawed."
Cassano also hit back at the suggestions in the Spanish media that Italy's extravagant celebrations at the end of their semi-final against Germany were a sign that they had exceeded their own expectations by claiming a place in the final.
"I've heard that the Spanish are saying we are happy just to get to the final because I brought my son onto the pitch [at the end of the Germany game] and we looked so happy," he added. "Maybe they are jumping to the conclusion that we think our mission is over, but they couldn't be more wrong.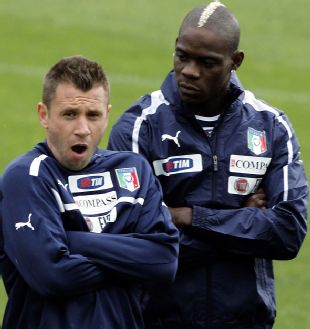 "The Italian national team does not lie down for anyone, and the last chapter of this beautiful adventure has yet to be written. We are all desperate for a blue happy ending. No one thought we could go all the way, but you can't keep Italy down for long. Coach Prandelli has everyone fighting for the cause. If we win this tournament, we will owe it all to him.
"We find ourselves one game away from joining some of the most famous names in Italian football who have won major tournaments. To fail now would be the biggest disappointment in our careers, and we have to give everything to produce the perfect ending."
If Italy are crowned as Euro 2012 champions in Kiev on Sunday evening, Cassano's glory will provide living proof that fairytales really can come true.