Germany 1-2 Italy
Groundhog Day for Germany
After once again failing to exorcise their demons, Uli Hesse wonders how German football lost the ability to deliver in the big games
On Wednesday evening, I sat around a rickety wooden table with two professional footballers. They are almost the same age, they are friends, they play for the same club, both in midfield, and they even have the same initials. One of them said they were mistaken for each other all the time, so let's call them FB I and FB II.
When I asked them for predictions for the final days of the European Championship, FB II said: "We're going to have a great final between Spain and Germany on Sunday, which we'll be watching in our pre-season training camp. Then, after extra time..."
Whereupon FB I interrupted him. "Personally, I have a bad feeling about the semifinal," he said. "The Italians can play a bit of carefree football, as nobody expected anything of them. And the Germans all go: 'Oh, oh, Italy... we would've preferred England.'"
Now the club's press officer joined the discussion and said that playing Italy was better than playing England because it provided a chance to redress the balance and get even with the team that knocked Germany out in 2006.
"Yes, playing Italy again is super," FB II agreed. "And if it goes wrong, well, then you have to accept that it's not enough, that you're not ready yet."
The press officer visibly shuddered at the mere thought of it and said he'd taken the defeat six years ago so hard that he wondered if he could accept another one. "It can't happen again," he said.
I imagine that FB I will have given FB II and the press officer a "told you so" kind of look prior to Friday morning's training session. And I reckon the press officer will have said something along the lines of it always being the same story.
Because that's the first feeling you had when the final whistle went in Warsaw: that Germany, the football team, was caught in a loop, or maybe doomed to star in their own version of Groundhog Day.
The so-called Italy curse is only one aspect of this déjà-vu phenomenon, though it's the most obvious one. "It's always the same against Italy," the president of the German FA, Wolfgang Niersbach, said with something that has to be called despair a few minutes after the final. "Either we always do something wrong against them, or they always do something right."
Naturally, it's both. Ten days ago, I wrote that "one day, Germany coach Joachim Low will make a wrong decision. However, as yet it's entirely unclear when that day may come". Well, it came half a week too early. After the semifinal, an unusually defensive Low said that his decision to start Toni Kroos, Mario Gomez and Lukas Podolski was well-founded and that it wasn't the reason the team fell behind 2-0, as both goals were given away by defensive mistakes.
Yes. And no.
Because the decisions Low had to make not only concerned the players he should or should not bring on, they also concerned the players he should or should not take off. Put simply, many fans felt that it was time to bench Bastian Schweinsteiger and the coach's decision to give him another chance wasn't rewarded.
The same went for the decision to start Podolski and Gomez, as both had a very quiet night to say the least. In my opinion – which is not widely shared, it seems – Kroos had a decent game, considering he was asked to have an eye on Andrea Pirlo, which is not a role he is comfortable with.
Yes, none of the names mentioned so far played a role in the crucial first goal, ironically given away by one of the two best German players at this tournament, Mats Hummels. But it's not like this goal happened in the first few minutes.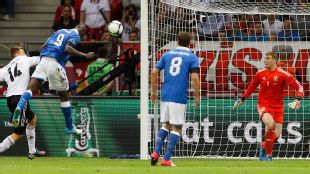 By the time Italy went ahead, they were already the better team, in no small part because Germany had so many players who were not performing -- the team never looked like a cohesive unit. It was the Azzurri's game to win or lose long before Hummels was duped by Antonio Cassano. "The Italians were more mature, more clever," Lothar Matthaus said. "By and large, they had the game under control after about ten minutes." It doesn't happen often, but I agree with Matthaus.
All of this can happen. It is a potential pitfall of tournament football that just one single off-day in the knockout rounds will send you packing. The interesting thing, of course, is that it hasn't happened for the first time. Because another aspect of the déjà-vu phenomenon is that losing crucial matches has become almost second nature to German fans over the past few years.
Mehmet Scholl, for one, didn't think playing Italy was the problem but the occasion, the big game with a capital "b". He drew attention to the fact that German sides have lost a lot of them of late, including Bayern Munich's two recent Champions League final defeats in his list, and said: "It's the little things. The big picture is perfect – we have so many good players – but we have to work on the little things." He then mentioned that Matthias Sammer, the German FA's director of football, "is always booed when he goes on about how you shouldn't celebrate second or third places" but had obviously been proved right.
Thursday's defeat was the ninth time a German club or national team lost a semifinal in the past 10 years, and in the seven instances German teams surpassed this hurdle, they proceeded to lose the final.
As goes without saying, you can't really compare Borussia Dortmund, Bayer Leverkusen and Rudi Voller's Germany, which started this uncanny close-but-no-cigar cycle in 2002. Bayern Munich and Low's Germany have continued it. The storylines, the expectations and explanations, were different from case to case.
Which makes it even more worrying that the outcome is, by and large, always the same.
Somehow, somewhere Germany lost what it takes to win, on both club and national level, and have to come up with a way of recapturing it. However, before we can do that, we have to find out what exactly "it" is. This is the truly tricky part.