Glenn Hoddle column
England must keep Pirlo at bay
Glenn Hoddle reminisces about leading England in their last competitive game against Italy and warns of the threat of Andrea Pirlo this time around
Who'd have thought it before the tournament? A draw and two wins and England are into the European Championship quarter-finals as group winners. Roy Hodgson has won four of his five games as coach - an impressive return for a job that is as results-driven as any in football - and he will be absolutely delighted at the moment. I've said before that you don't need to be the best team in the tournament in order to win it - history tells us as much - and if the luck goes your way that can be half of the battle won.
England certainly got the rub of the green in Tuesday's 1-0 victory over Ukraine. There were a couple of deflections for Wayne Rooney's goal, though he showed excellent instincts in anticipating the mistake, which is what any good striker should do. Then, of course, there was the Ukraine goal that never was. It did feel like some form of redemption for Frank Lampard's disallowed effort at the 2010 World Cup but you had to feel a bit sorry for the co-hosts nonetheless. We don't have goal-line technology yet, though the extra official's inability to make such a big call will surely speed up its introduction.
To be fair, you also have to say well done to John Terry for following it in and getting there to clear it away, that's what brought doubt into the official's mind. If they had scored at that point the momentum of the match may have changed completely, the crowd would have been even more up for it and who knows what might have happened; it was a massive shot in the arm for us.
Although it was another win, there was again not an awful lot for us to get excited about against Ukraine; I think everyone was expecting a far better performance. It was always going to be a tough game, but I would say the first half was particularly disappointing and I imagine Roy would have given them a bit of a ticking off or a gee-up to start performing a bit better. Ukraine were a better side than us in the first 45 minutes, without a shadow of a doubt - they looked technically sharper and their movement was better. However, in the second half Steven Gerrard really stepped up and put in an inspirational performance. I really felt he was back to his best and helped to turn the game around with another assist. It was a great captain's performance, leading by example.
We'd all love England to be playing fantasy football but it's difficult to see how they can play another way. I think the supporters understand the team's limitations; we're not Spain or Germany and we don't have the same options. The best teams always seem to have players available, but we often only have a single avenue when we have possession. However, England are very gritty, have shown a lot of character and are defending resolutely. It's not pretty to watch and it's not good on the eye, but at this moment it is the best way for the team to play if we want to be successful.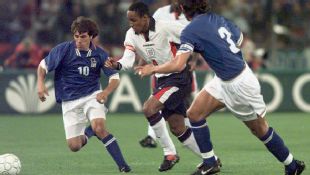 Italy are up next in the quarter-finals and it should be a terrific game. I have fond personal memories of taking on the Azzurri from my time as England manager. In 1997, we came away from Rome with a 0-0 draw which saw us qualify for the World Cup and consign Italy to the play-offs. It was a very proud night, not only because we got the result but also the way we played. We could have won that game, had great chances and I think we shocked them. We had beaten Italy convincingly when we won Le Tournoi - a mini-tournament we played in with Brazil and France as well - earlier that year, using a canny system with Paul Scholes and Paul Merson both playing behind Ian Wright. In the qualifier, we knew a referee's decision or a little bit of magic from Gianfranco Zola could have sent us into the play-offs, but we stayed focus and it was a magnificent performance from the players. I think Italy had won 18 successive matches at the Stadio Olimpico at the time so it was one hell of an effort and one of the proudest moments of my managerial career – taking my country to the World Cup was a magical feeling.
That was England's last competitive match against Italy and I'm really looking forward to this latest encounter on Sunday. Cesare Prandelli has built a very good side and I must say they've surprised me. They seemed in disarray going into the tournament, with the match-fixing scandal hanging over them but, similarly to England really, they've snuck in under the radar, and done so playing a different system to the other teams at the tournament - playing three at the back, two up front and been flooding the midfield.
Italy are tactically disciplined but they also have cutting edge to their team with Antonio Di Natale, Antonio Cassano and Mario Balotelli. I think the main thing England will have to consider, though, is how to stop Andrea Pirlo. Although he's 33 now, he is still the composer and conductor of the Italian orchestra. He can hurt you with passes in behind the defence from all over the park, dropping balls in and producing the killer pass. When we're attacking, looking to create and then lose the ball, that's when we are going to be at our most vulnerable. Roy will be looking at that and thinking he needs to get someone to put him under pressure - that may have to be Rooney. I don't think Gerrard and Scott Parker will be able to push up on him as they will be occupied with Claudio Marchisio and Thiago Motta, so Rooney might be required to drop in.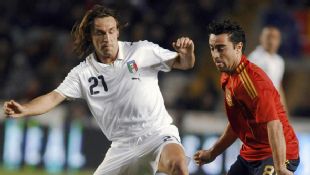 Wayne will definitely be better for having those 70 minutes against Ukraine under his belt, even if he did look very rusty. He's scored his first tournament goal for eight years – there's no question that would have been playing on his mind and it would have been a massive relief. He had the pressure of being out and straight back into the team, and then that drought too; he had to deliver and though his all-round game wasn't there, he scored the winning goal – which is what he is there to do. That goal, simple as it was, will give him the belief that he can go out and do it again. If England can start passing the ball better, and start getting Rooney on the ball more, there will be massive elevation in the levels we can play at. There are definitely some hidden positives to take forward into the Italy game.
I think we can expect a tight match in the quarter-final and I can certainly see extra-time. England will probably need to dig deep again and Joleon Lescott, John Terry and Ashley Cole will probably be required to repeat their resolute defensive efforts. The likes of Ashley Young and Scott Parker need to up their levels a bit, closer to their club form, while we might see Andy Carroll come back in for Danny Welbeck for this game, particularly with first-choice Italy centre-back Giorgio Chiellini out injured. Will this be the game England get found out or will we continue to ride our luck? I can't wait to find out.