England 1-0 Ukraine
England dig deep to progress
Without coal, there would be no Donetsk. Perhaps it was fitting, therefore that England dug deep in a mining town. More surprisingly, when looking for black hulks of carbon, they struck gold. A 1-0 victory over Ukraine, coupled with France's surprise defeat to Sweden, means they top the group, avoid Spain and face Italy.
Probably the least gifted – and certainly the least hyped – England team to travel to a major tournament in 20 years now stand a realistic chance of reaching a first semifinal since 1996. Their Euro 2012 is already a qualified success, forged by diligent organisation and caked in sweat.
The parallels with working men can be overplayed, but this was a win that required industrial levels of application. Graft, not craft, is the defining theme. There was something symbolic about James Milner's first-half statistics: 3.9 miles run, seven passes completed. Surely no other outfield player runs an average of 896 metres per successful pass, but it is something Milner does willingly.
The abiding image of the match, meanwhile, was not provided by Wayne Rooney's goal – welcome as his first strike in a major tournament for eight years was – but by Scott Parker, crawling around on his knees, trying to execute a tackle with his head. He finds new forms of desperate defiance by the game.
Sunday's battle of holding midfielders is Parker against Andrea Pirlo, dogged destructiveness against delightful delicacy, epitomising contrasting philosophies. England have plotted their own course to the quarterfinals, and it has been resolutely English. Few things on a football field are cherished quite like a rearguard action. Blanket defence is less dramatic but a goal-line clearance – albeit one that would have been a goal had FIFA and UEFA not been too arrogant to bother entering the technological era – can be interpreted as a sign of English spirit. A first clean sheet of the tournament was a reward; England have built from the back.
"It was a really good defensive and disciplined performance," said Roy Hodgson. "It was an away game with a capital A." It was the second match England approached as if their opponents were at home, providing reminders of the draw with France, although on this occasion they actually were on enemy territory. In effect, England have played as underdogs. Indeed, that is how they, as well as many outsiders, have seen themselves. "Yes, absolutely," Hodgson replied when asked if he was surprised they topped their group.
Even in their moment of victory, the supporters were self-deprecating, chorusing: "We're not going home." It had inadvertent echoes of Del Amitri's anthem for Scotland's 1998 World Cup campaign, "Don't Come Home Too Soon." Fatalism was ingrained north of the border; south of it, underachievement has been.
"We've been criticised in the past for underperforming and we can take that," said Steven Gerrard, a rarity among footballers in accepting some condemnation has been justified. By the same token, however, praise is due, especially to the skipper himself. He has supplied goals in all three games with right-wing crosses, but he has assumed a centrality: No longer caretaker captain or in the ranks, allowed to be the dominant figure in the midfield, he has risen to the responsibility.
Most of the tournament's outstanding midfielders are passers or playmakers. Lining up for England requires Gerrard to be much more than that, however. They were out-passed by Ukraine, the need to retreat outweighing the importance of keeping the ball. Once hooliganism was the English disease, now it is giving the ball to the opposition, and Ukraine enjoyed 57 percent of possession.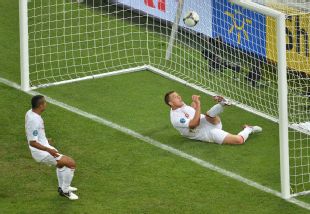 And yet, apart from a crazy few minutes against Sweden, they have been resolute at the back. English optimism used to stem from a star-studded cast list. Now it comes from a collective commitment to organisation. "I don't think any team will fancy playing us, because we are difficult to break down," said Rooney.
Mentioned in the same sentence as Pele by Hodgson before the game, his goal was more reminiscent of Gerd Muller or Gary Lineker – or, indeed, anyone capable of scoring "a tap-in," as Gerrard termed it. Yet it had an importance, if only because Rooney's two World Cups have been singularly miserable and momentum has been of such significance in his career.
Rooney was dismissed in England's last quarterfinal, six years ago. If redemption is on his personal agenda, opportunity beckons for colleagues. The teams of 1990 and 1996 remain admired for smashing through the national glass ceiling that the past eight represent. While improvement is required, the class of 2012 have the chance to join them.
The pleasing element is that, in the new era of realism, England, in the shape of Hodgson, Gerrard and Milner, accepted a need to be better. Their performance level dictates that Italy must start as favourites and, sooner or later, their failings on the ball will cost them. But those warnings have been issued before, without technical failings halting England. After another hard shift at the coal face, this lesser group may yet go where their golden generation couldn't: into the semifinals.
Follow Richard Jolly on Twitter @RichJolly