Why Spain will lose to Portugal
Before you start reading this Spain v Portugal preview, please make sure that you click here in order to be able to interpret this article in its whole context.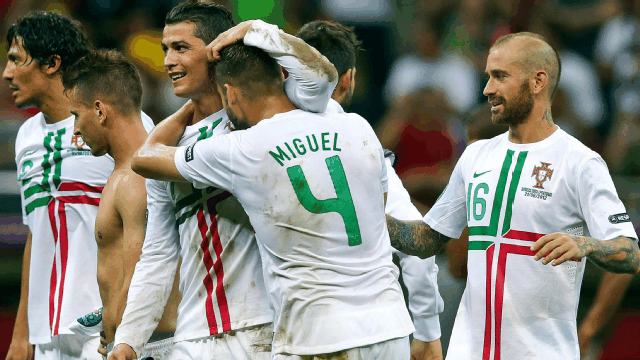 Well, have you clicked yet? Can we start?
If you're interested in this extremely challenging match-up for Spain, it's very likely that you've already read my colleague Tom's blog, listing a set of relevant motives as to why Portugal will defeat Spain on Wednesday. Not only do I agree with him, but I also want to elaborate on a few additional reasons that, from a Spain/Real Madrid supporter perspective, lead me to strongly believe that result of this match can't be anything other than a Portuguese victory.
1) CR7 has finally embraced his inner, evil self, with devastating consequences for his rivals.
During his final season with Manchester United and his first two years with Real Madrid, Ronaldo presented a confusing public persona. Well aware of the importance of political correctness and public relations, he struggled to balance his obvious natural tendency to behave like the evil character of a suspense movie – remember his trick to send Rooney off during the 2006 World Cup? – and the fact that he wanted to become an international icon. We all know that evil is not the most usual route to global stardom.
But something has changed this season. Ever since Ronaldo made those outrageous statements back in September 2011 – "People boo me because I'm good-looking, rich, and a great footballer. That's why they envy me" – we've seen a more authentic version of the Portuguese star. He's given up on political correctness, and he now screams at his team-mates shamelessly on the pitch; his goal celebrations display more arrogance than ever; he allows himself to make derogatory and inaccurate comments about arch-rival Leo Messi; and in general he seems totally content with being hated by 99.9% of his rivals' fan bases.
The problem for Spain? This change in attitude brought Cristiano his most accomplished season so far, both at the club level – he won La Liga, defeating Messi in the process – and with his national team. Portugal have never seen Ronaldo play at the level he showed against Netherlands and Czech Republic. Now that he's decided to accept himself the way he really is, he looks unstoppable.
2) The overhyped prevalence of Possession Football over Defence + Counter has shifted this season.
After four years in which first Spain and then Barcelona – yes, Aragones' Spain started this trend, for those with a weak memory – became the reference for how to win consistently through the monopoly of ball possession, this season the paradigm has changed. The previously unbeatable Barcelona have lost ground to their aggressive, more direct rivals both in Spain – where Jose Mourinho's Real Madrid won the title defeating the Catalans at their own pitch – and in Europe, with a similar victory for the determined Chelskis led by Didier Drogba.
It only makes sense that this noticeable modification of the footballing trends has its reflection on international football. Portugal, who have three Real Madrid players in their starting XI including the aforementioned CR7, look like the perfect candidates to put an end to Spain's four-year world domination. Their defensive discipline, midfield combativeness and lightning quick counter-attack sound like the perfect recipe to defeat Spain. If they had Drogba as their left back, this would be a no contest.
3) Spain have reached their 'over' phase, and it all should be downhill from here.
Every civilisation and cultural movement has a moment of splendour, its apex, in which everything seems to work perfectly. It happened with the Greeks, the Romans, Gothic architecture, rap music and even the financial markets. But, at some point, its main decision-makers get lost in their own arrogance and begin to betray the principles that took them there.
This is exactly what has happened with Spain and Vicente del Bosque. The Spaniards have been giving clear signs of this Rococo phase – if you allow me to use the Gothic architecture parallel – since 2012 started and David Villa got injured. Now ball possession is all that matters, as they at times forget about the opposition's goal, totally absorbed by three-metre passes that don't get them anywhere.
If we had already seen signs of this clear decline during the Euro 2012 classification phase, this final stage in Poland and the Ukraine has been paradigmatic, starting with the shocking 4-6-0 formation for which scoring seems like an annoying formality that shouldn't even be a part of the rules. Iniesta and Alba keep passing the ball to each other without moving one centimetre, as though they would get points for each correct pass completion, regardless of their position on the pitch.
These worrying symptoms clearly precede a terminal disease. Like many civilisations, the Spanish approach to football is decomposing fast, victim of the very skills that took it to the top of the world. On Wednesday evening, Del Bosque will become Spain's own Nero.
PS. Your views on this are highly valued. Use the comments section to share your opinion.

Conversations