Lingering problems in Ukraine?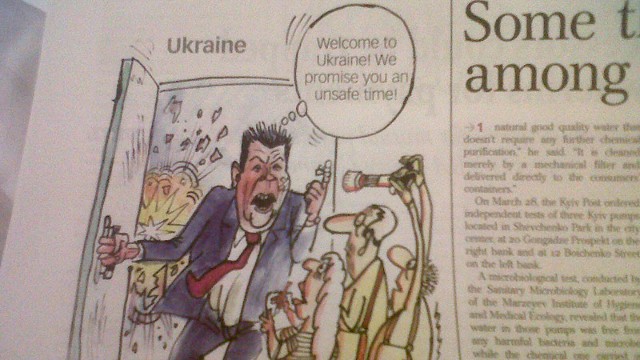 KHARKIV, Ukraine -- Bad news continues to dog Ukraine with the tournament about to get underway.
Along with allegations of racism, the case of former Prime Minister Yulia Tymoshenko and a protest in Kiev stemming from the ruling party's attempt to give more power to the Russian language, the English language Kyiv Post ran with the headline "Euro 2012 Construction Worker Blues" on the front page of its June 1 edition.
What next?
According to a city prosecutor cited by the newspaper, at least six people have been killed in accidents as they completed renovations on the Olympic Stadium venue for the final on July 1. However, the paper added that workers say the number is actually 10 and that there are tales of hundreds of laborers not being paid for already completed jobs.
The issue of racism, inevitably, also featured on the front page. This time the headline read, "Racism real, but Euro 2012 danger exaggerated."
On its opinion page, Ukrainian President Viktor Yanukovych was targeted. "A book could be made about Yanukovych's malaprops and mangling of the Ukrainian language." A cartoon of Yanukovych with the caption, "Welcome to Ukraine! We promise you an unsafe time!" could only make one laugh.
Here's something Brits can do (the ones coming to Kiev) to ease any homesickness -- visit the Kiev Cricket Club. Yes, such a club exists, as an ad in the newspaper demonstrated. The club has its own Web site. Founded in 1999, and in its attempt to lure Ukrainians to the sport, the KCC says, "The best Ukrainian Cricketer could be combination of Volley Ball & Ice Hockey Player."
The expensive seats
Are you a soccer fan with a little cash to spare? Why not treat yourself to one of the corporate hospitality packages on offer? Well, you'd have to have a heck of a lot of cash to spare.
Dubbed 'Club Prestige,' you and any of your guests, as the leaflet goes, will get more than the "best seats in the stadium." Each package additionally features -- and this is all from the leaflet (my cheaper alternatives in parentheses) -- Access to corporate hospitality lounges or villages at each of the stadiums (ok, so they're nice); a wide range of food and bar options to choose from (grab a hot dog or the local equivalent); hostess service (is that really necessary?); premium wines (have a glass before the game elsewhere); welcome drinks (you won't need that with the pre-match glass of wine); live entertainment (the game is the entertainment); an exclusive gift (keep your ticket as a memento); parking passes (take the metro); and an official match program (you can buy that, and it's inexpensive).
A whole bunch of options are on offer, but for three group games, a quarterfinal and the final, all in Kiev, prepare to dish out 10,950 euros (over $13,700) per person. If you're feeling especially generous, why not purchase your own private skybox? For a dozen guests for five matches, the cost can soar to (depending on the city) 160,800 euros (over $200,000).
Almost there
Fan zones in each of the host cities should be pretty lively starting on Friday when the tournament kicks off. (The designated area in Kiev was 'lively,' if that's the word for it, when protesters clashed with police on Tuesday.)
Preparations continued in Kharkiv and at least some were in festive mood. More than once on Thursday, I saw musicians standing in the back of old, green pick-up trucks and blasting out songs as they drove near Freedom Square, which featured gigantic versions of traditional Ukrainian dolls.
They were thinking of the U.S.: the Jay-Z/Alicia Keys track "Empire State of Mind" to be more precise.
Where in the world doesn't have an Irish pub? Kharkiv isn't an exception, and the Guinness is sure to be flowing.

Conversations