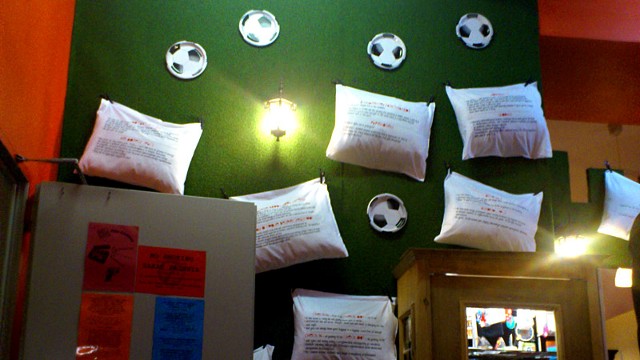 I made it. I'm here, sitting in my hostel in downtown Warsaw, two blocks from the central train station and right across the street from the fan zone. The new National Stadium is a half-hour walk from here. I'm in the middle of it all.
The location may be perfect for a commute to Warsaw's central business district, but this hostel wasn't built for businessmen. It wasn't built for old folks either; for example, a Paul Simon song just came over the sound system. It was promptly skipped. It's here for the youth, and this week, the youth are soccer-mad. The walls are literally papered with AstroTurf and crude soccer murals (as you can tell from the picture above). Guests roam the halls in soccer shirts and scarfs while the delicious Polish beer costs seven Zloty (about $1.98) for two pints.
Life is good.
It almost didn't work out though. I almost screwed this up. This morning, I hopped the 11:35 train from Mannheim to Frankfurt's airport station, and as the train pulled in I realized I couldn't remember the name of my hostel. I hadn't written it down either. No problem, I thought. I pulled out my phone and began searching my e-mail for Euro Cup correspondence, but then I remembered I'd made my reservation over the phone—in April. I had a vision of myself in Warsaw sleeping under the eve of a soviet-era housing block, rain pouring down around me, unable to find a proper room in this fully-booked city. I was so freaked out I almost forgot to get off. If I'd waited another minute I'd have ridden all the way to Cologne. It ended up not being a big deal, of course, thanks to Google and online credit card statements. In the end, it was one of those moments where I wondered what people did before contemporary technology. Not forget important stuff, I guess.
After arriving in Warsaw, my impression is that it probably would have all worked out even if I didn't have a place to stay. Someone would have taken me in. The Polish people seem immensely hospitable. As I walked to the hostel from the train station enough people stopped me to ask if I needed directions that I started to wonder if I wore some kind of tell that identified me as a foreigner, a forgotten American flag sewed to my backpack or something.
The Polish people are clearly proud, too. As I rode the brand-new airport-to-central-station train line, I saw workmen applying Spackling to walls and painting over graffiti at nearly every platform we passed. Over the next month, this country gets to show itself off. It gets to shine.
It might be cold and dreary outside, but Poland doesn't care. Poland is a kid on the eve of a party. Tomorrow morning the guests arrive. This is going to be fun.

Conversations