What went wrong for the Oranje?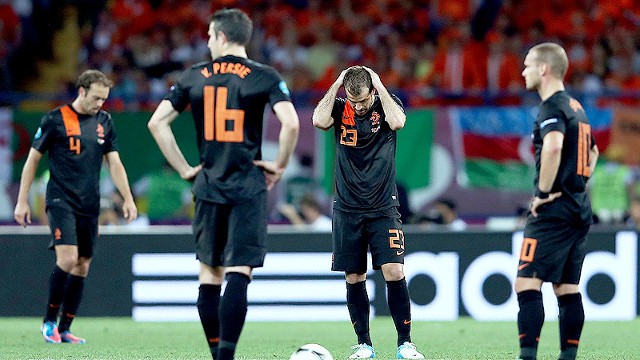 KHARKIV, Ukraine – It's goodbye to Kharkiv.
When Portugal's game with the Netherlands at the European Championships ended Sunday, so did Kharkiv's involvement as host city. From now until the end of the tournament, the lone Ukrainian cities to stage matches will be Kiev and Donetsk. No complaints about the Metalist Stadium or, more importantly, how to get there. It's located in the city center, and several metro stops are a short walk away. But perhaps the consistency in security needed improving: While bags were checked in Donetsk and Kiev, not so in Kharkiv.
The Dutch are saying goodbye to Kharkiv, too, which was predicted after the group stage in terms of moving on to a quarterfinal host city. But the Oranje are heading home at the first hurdle, and as such, they deserve to be dissected a little more because the fall from grace is so staggering -- from finalists at the 2010 World Cup to the biggest flops in Poland and Ukraine.
Four things let the Netherlands down: missed opportunities, a leaky defense, no unity and a lack of mental toughness – and the latter included the coach. The order is up for debate.
All last week, Dutch manager Bert van Marwijk was harping on about the first game against Denmark and how his team should have won – and comfortably – instead of losing 1-0. He did it again after the 2-1 reverse to Portugal. "There were times we had chances to turn it in our favor, but due to the loss against Denmark, that's where the uncertainty started," he said. "Had we won the first game where we had so many chances, then we would have had a different team."
Rafael van der Vaart, one of those unhappy players for most of the Netherlands' tournament, added, "We lost all confidence after losing the game against Denmark."
Van Marwijk didn't galvanize the squad the way he needed to after the loss to Denmark, although dealing with as many egos as he has to must give him one massive headache. Furthermore, the Netherlands still had it all to play for against Germany, yet the hangover remained. No wonder Van Marwijk's future was brought up in Sunday's postmatch news conference. "I've just lost a third game here," said Van Marwijk, who was quick to point out he has a contract until 2016. "You can ask me all types of questions, but you shouldn't ask questions about my future now."
On defense, left back Jetro Willems went from good to poor to poorer in his three matches as he deputized for Erik Pieters. At 18, he's hardly the person to blame, even if Wesley Sneijder was annoyed with him several times for not overlapping against Portugal. Right back Gregory van der Wiel couldn't cope with Ronaldo, and John Heitinga was a disaster in the central defense against Denmark and Germany. In all three games, the back four changed. Judging by his performances, holding midfielder Mark van Bommel has seen his last bit of action at a major international event.
If keeping clean sheets was an issue, the goals then had to flow. They didn't. Robin van Persie misfired (except for one strike), Arjen Robben underwhelmed and Ibrahim Afellay was close to invisible.
With the average age of the outfield starters against Portugal at 28, not including Willems, the outlook heading into the 2014 World Cup won't be as rosy. "It's basically the same team as two years ago except for a few positions," Van Marwijk said. "We did try to make the team faster and also younger, and also to make it better in depth. I knew it wasn't going to be easy to do what we did in 2010. Everything had to fall into place, and it didn't. The players who usually make the difference for us for one reason or another didn't really reach the level of fitness as before."
Away from the pitch, the Netherlands' elimination is unfortunate. Its colorful, plentiful fans brought energy. Sadly, the masses of Swedish fans won't be around in the quarterfinals, either.
"I think we all need to take a good look at ourselves to see what went wrong, to at least realize that his cannot happen again," defender Ron Vlaar said. "But it did happen, so let this be a hard lesson. What can I say to the fans? Sorry it didn't work out the way you expected, but it wasn't the way we expected."

Conversations