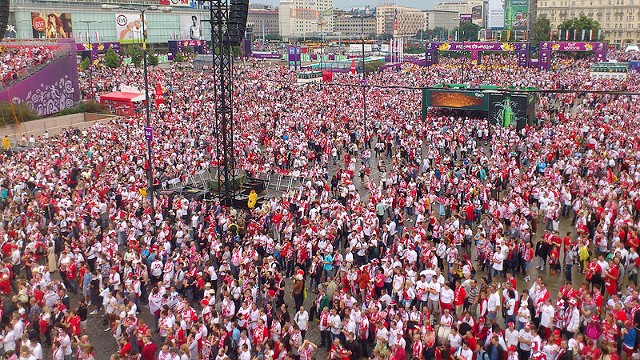 The first week of my Poland trip is in the books. I've visited two host cities, so far (I leave for Wroclaw later this week). Which did I like better? It's a tough call.
Here are some subjective comparisons:
The fan zone experience:
The fan zones in Gdansk and Warsaw have different vibes. One is mellow, while the other is frenetic. In Gdansk, the big screen faces a small hill, which allows viewers to watch games while relaxing on the grass. The Warsaw fan zone is set up in a giant plaza and is probably three times the size of Gdansk's. In Warsaw, you're pretty much guaranteed a crowd of 50,000 (on Poland's match days that figure nearly triples) and with that amount of people comes a great deal of commotion -- worth point out that the place isn't exactly conducive to relaxing. In Gdansk, you're lucky if 10,000 people turn up. While I'm a big fan of watching games in a comfortable, seated position, fan zones aren't about relaxing. They're about going a little crazy. You can relax at home.
Winner: Warsaw
City preparedness:
Warsaw and Gdansk were both well prepared to move fans to and from the stadium. In both cities you can get just about anywhere quickly and at low cost (one trip on Gdansk's tram costs about $1). In Gdansk, the dedicated trams took fans from the city center to the stadium for free, both before and after the match. It was a very well-organized operation. The stadium in Warsaw is right across the river from the city center, and on Tuesday most fans walked. Those that went by tram, bus or train experienced no delays.
While it's hard to say which city was more prepared from a transportation standpoint, public safety is a different story. Gdansk is the only Polish city that hasn't had an incident of crowd violence.
Winner: Gdansk
Tiebreaker – the tourist's perspective:
Choosing between Gdansk and Warsaw is tough. These places are about as different as two cities in one country can get. One's on the coast, the other's landlocked. One's part of a small metro area of about 800,000 people, the other is a booming capital city with a metro population of more than 3 million.
So which is better? It's a tough call. They both have nice qualities, and I encourage the readers of this blog to visit both. That said, if I had to choose one for a weekend getaway, I'd choose Gdansk every time. Warsaw just doesn't have anything like Gdansk's Old Town.
Champion: Gdansk
More assorted winners and losers:
Winner: Italian and Spanish fans. In Gdansk, I saw the two sets of supporters mix together in a completely amicable way. Everyone just wanted to have fun. And judging by the number of partiers still out when I caught my train to Warsaw at 6 a.m., they succeeded.
Winner: The Spanish guy with the drum. I didn't know it at the time, but the guy with the drum at the Italy-Spain match was Manuel Cáceres Artesero, aka "Manuelo, el del bombo" (Manuelo of the Drum). Mr. del Bombo has gone to almost every Spain match since 1982 and is something of a national treasure. He even has his own Wikipedia entry. No wonder the Spanish fans cheered when he emerged midmatch, walked to his seat, beat his drum and bowed.
Loser: The PKP. The PKP (short for Polskie Koleje Państwowe) is a state-owned train operator in Poland. It's notorious for running behind schedule. On my trip back to Warsaw on Tuesday morning, I arrived about 30 minutes late and almost missed the daily safety and security press conference with the mayor.
Loser: Hooligans. You may have read my report on the street violence that preceded the Poland-Russia match on Tuesday. I witnessed a series of unfortunate incidents between different groups of supporters, and I think just about everybody in Poland was disappointed the next day.

Conversations