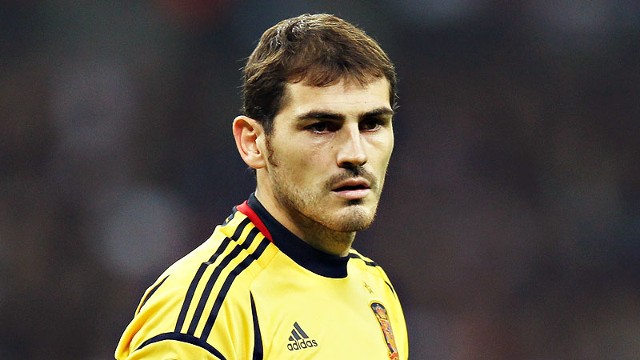 If goalkeepers are supposed to be crazy, how is that the best among them is the antithesis of that? San Iker , as his nickname suggests, is a saint for his otherworldly saves and consistency and his unassuming, even-keeled demeanor.
Casillas joined Real Madrid when he was 9, made his senior team debut at 16 and became its starter when he was 18, in 1999, and in 13 invariably tumultuous seasons since, he has only tightened his grip on the job, save for a brief blip in 2002. He made his Spain debut in 2000, became its No. 1 in 2002 and captained it to EURO 2008 and World Cup 2010 titles.
At just 30, he is already the most-capped Spaniard ever with 128 appearances. What makes that even more impressive is that he's done it while holding off Liverpool and Barcelona's excellent goalies Pepe Reina and Victor Valdes, who have had no choice but to watch Casillas go years on end without committing a major mistake.
---
Expert's take: Quite simply the best that there is. Spain's most capped international is also its insurance policy, with his temperament and wide range of reflexes ready to save the day on the rare occasions when his side cedes possession. -- Andy Brassell
---
Stats That Matter:
• Spain's all-time leader with 128 caps
• Spain's all-time leader with 72 clean sheets, tied with Edwin van der Sar for most in international soccer history
• Captained Spain's winning sides at Euro 2008 and 2010 World Cup. Also won Under-20 World Cup with Spain in 1999
• Has won 93 matches with Spain, one away from tying Lilian Thuram's record with France for most wins in international soccer history
• Became the youngest goalkeeper to start a Champions League Final (age 19) in 2000

Conversations