#14: Wesley Sneijder, NED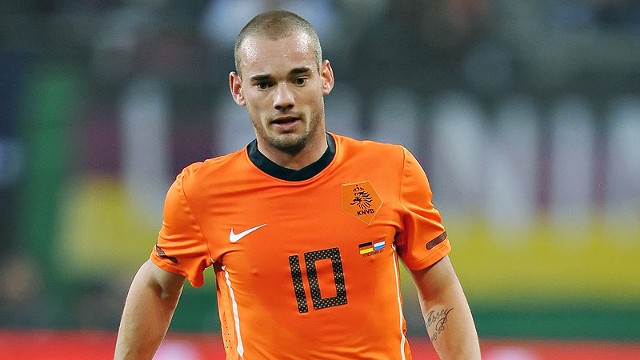 He may be a small by Dutch standards at 5-foot-7 but Sneijder is a giant among playmakers. One of a dying breed, a traditional "10" playing in the shadow of the strikers, Sneijder dictates the tempo of a game and can switch the point of attack in the blink of an eye.
His through balls, long balls and set pieces are uncannily precise and for a midfielder he scores a huge amount of goals -- he was joint top scorer at World Cup 2010 with five. That said, he goes through extended phases of being either very good or ineffectual -- like his 2011-12 season for Inter Milan -- and recedes markedly in a system that isn't designed specifically for him. He's also been known to be trouble behind the scenes, reportedly almost costing him his spot on the Dutch team that reached the final in South Africa.
---
Expert's take: If it weren't for his inconsistency this season, the Dutch playmaker would undoubtedly be one of the top five players in the world. He won a treble with Inter Milan (Serie A, Coppa Italia and UEFA Champions League), later on adding the World Club Championship to his collection of titles. His creativity and vision make him a game winner, but more than that, when on form he can decide championships, so influential is his play in midfield. -- Federico Manfredo
---
Stats That Matter:
• Second most right-footed chances created (62) in the 2010-11 Champions League
• 6 assists were tied for the third most in Euro 2012 qualifying
• Scored two goals in Netherlands' comeback win over Brazil in the quarterfinals of the 2010 FIFA World Cup
• Won league title in three different European top-flight competitions (Eredivisie, La Liga, Serie A)
• Won all three Italian trophies with Inter Milan in 2010-11 (Serie A, Coppa Italia, Italian Super Cup)

Conversations