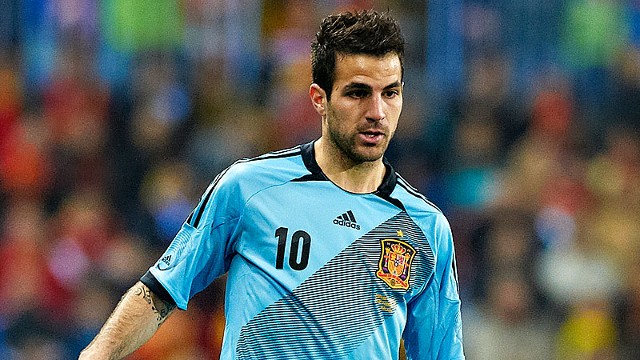 The boy with 'Barca DNA' made a triumphant homecoming last summer, after eight years away from the Camp Nou with Arsenal. The 24-year-old has so far returned to his childhood club in fine style, quickly reaching double figures for both goals and assists in the colors of the Blaugrana.
As with Euro 2008 and the 2010 World Cup, Fabregas is likely to be restricted to a substitute role this summer, although there is still a chance that he will be utilized in the much-discussed 'false-nine' position, if Vicente Del Bosque so chooses. The problem for Fabregas is that club colleagues Xavi, Iniesta and Sergio Busquets are also in direct competition for midfield places. But every time Fabregas has been called upon from the bench he has made an impact -- most notably to supply the assist for Iniesta's World Cup-winning effort in 2010.
Playing regular first-team football since the age of 16, Fabregas' vision and talent were clear for all to see from an early age. Injury dampened the end of his Arsenal career, but the Spaniard developed at the Emirates into one of Europe's elite midfielders under the tutelage of Arsene Wenger. Now back at Barcelona, alongside his idols Xavi and Iniesta, he is showing signs of moving up a level once more and looks set to eventually displace his older colleagues both for Barcelona and Spain.
---
Expert's take: "Complete" is the word that best suits Cesc, who can defend, attack, score and assist with the same efficiency and class. It is difficult to dub him midfielder, playmaker or forward, since all tags fall short with him, a perfect interpreter of total football. -- Vito De Palma
---
Stats That Matter:
• Became youngest player to appear for Spain at the World Cup when he faced Ukraine in 2006, aged 19 years and 41 days
• Has scored 8 goals for the national team, including one against Russia at Euro 2008
• Was youngest ever to play and score for Arsenal when he debuted, though both marks have since been broken by Jack Wilshere
• Second on Barcelona with 15 goals and third with 11 assists in 2011-12
• Ninth in passes completed in the 2011-12 Champions League with 519

Conversations