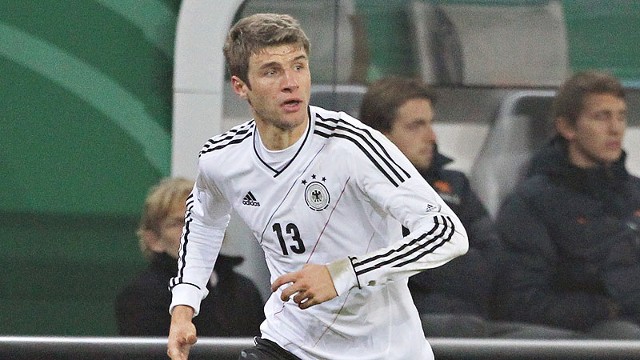 The 22-year-old attacker introduced himself to many at the 2010 World Cup, winning the Best Young Player and Golden Boot awards, though soccer experts saw his five goals and three assists in South Africa as his natural next step.
Blessed with the speed and instinct of many great German strikers, what sets Muller apart is his versatility: used all over the attacking third as false nine, second striker or wide midfielder, he featured in all of Bayern Munich's 54 games in 2010, scoring 18 and setting up 15 more in an incredible season.
Another element: his unfailing humility. His career to date? "I just enjoyed all the big moments," he said. His success in the 2010 World Cup? "I basically got lucky," he said. Muller's cool, down-to-earth approach to the game betrays his predatory nature on the field: three goals and seven assists in Euro 2012 qualification augur what should be a great summer for Muller and Die Mannschaft.
---
Expert's take: The best young German footballer today was recognized as such in World Cup 2010. The Bayern Munich forward is a very complete player, who has deadly finishing but also deft footwork and is able to play outside of the box and also on the wing. His tactical intelligence also makes him very dangerous. -- Federico Manfredo
---
Stats That Matter:
• Named "Best Young Player" at the 2010 FIFA World Cup and also won the Golden Boot (overall leading scorer) with five goals and three assists
• Three goals and five assists during Euro 2012 qualifying
• He has scored 10 goals in 26 appearances for Germany since his debut in 2010. (through May 18)
• Germany's record with Müller in the lineup is 19-4-3. (through May 18)
• Scored his first two Bundesliga goals in a 5-1 win at Borussia Dortmund in September 2009

Conversations