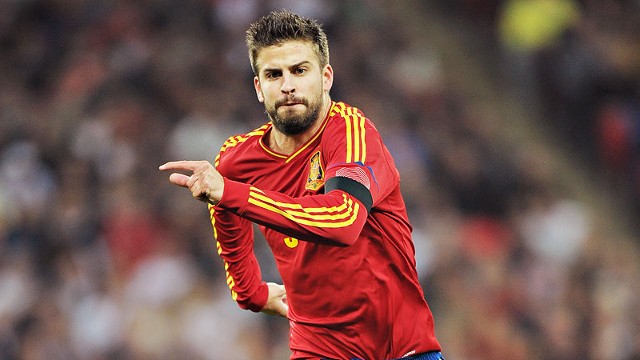 Another of Spain's strong Barcelona contingent, Pique perhaps has the most to prove this summer after a disappointing domestic season by his standards. The 25-year-old has already been a regular starter for club and country for some time but, after a rocky patch of form, has found that status questioned.
Still, the rise of Pique at Barcelona has been astronomic. Within a year of his arrival from being a reserve at Manchester United, the defender was playing an instrumental role in a historic treble for Barcelona that eventually saw the side end the year with an unprecedented six trophies. A year later, a first World Cup was claimed and Pique's status at the top of the world game was assured.
At his best, it is easy to see why Pique has made such an impact. Tall, strong and powerful, he has led the way for an entire generation of ball-playing center backs now emerging. Barcelona may have started to try midfielders like Javier Mascherano in central defense but from early on, Pique played with the touch and composure of a more advanced player. It will be interesting to see how he reacts to the attention now that the spotlight is starting to focus on some of his weak points this season.
---
Expert's take: Together with Carles Puyol, is the heart and soul of the rearguard for Barcelona, the most offensive team in the world. Hence, his defensive skills are put to the test regularly, and he gets excellent marks due to speed, intelligence, strong aerial play and good feet. The last two qualities make him one of the best in one-on-one situations and also allow him to become a threat when he ventures into the opposing box. -- Damian Didonato
---
Stats That Matter:
• Has 38 caps with the senior national team (also represented Spain in the Under-20 FIFA World Cup)
• Has scored four goals with the national team, but none since Oct. 14, 2009
• Third on Barcelona with 40 aerial challenges in 2011-12
• Has won 16 trophies at the club level: three with Manchester United and 13 with Barcelona
• One of three players to have represented two different clubs that have won the Champions League in successive years. The others are Marcel Desailly (Marseille and AC Milan) and Paulo Sousa (Juventus and Borussia Dortmund)

Conversations