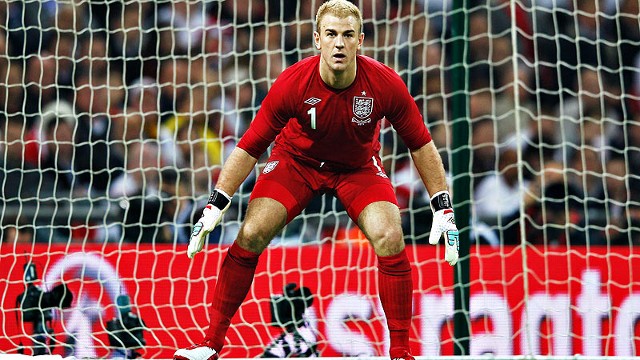 Manchester City goalkeeper Joe Hart has been firmly established as England's No. 1 ever since England returned from the 2010 World Cup. Hart's return from a loan spell at Birmingham, which had shot him into international contention, also saw the young stopper propelled into the first team at title-chasing Manchester City, and the 24-year-old has not looked back since.
Physically, Hart is a giant between the sticks, and his massive frame means that he is amongst the best one-on-one stoppers in the European game. But it is his utter command of the penalty area and security from crosses that truly belie his age that, in international goalkeeping terms, is still remarkably young.
With just 11 goals conceded in his first 17 international games, Hart has adapted to the biggest stage with relative ease, while his first taste of the Champions League at club level should mean that he is fully prepared for the pressure of his first major tournament as England's first choice keeper. He will just be hopeful he can avoid the issues that some of his predecessors have faced in the jersey.
---
Expert's take: Hart's emergence from lower-league shot-stopper to leader of Man City's title-winning side and marshal of the England defense is no accident. His athleticism is world class while his reflexes and reactions never fail to make up for any perceived weakness. --James Tyler
---
Stats That Matter:
• England has lost one of his 17 international appearances, a 3-2 defeat to Netherlands on Feb. 29
• One of two English players to appear in all eight Euro 2012 qualifiers (the other: Ashley Cole)
• Only Manchester City player to start every Premier League game in 2011-12
• Led Premier League with 17 clean sheets in 2011-12
• Set Manchester City record with 18 Premier League shutouts and 29 total shutouts in 2010-11

Conversations