#24: Sergio Busquets, SPA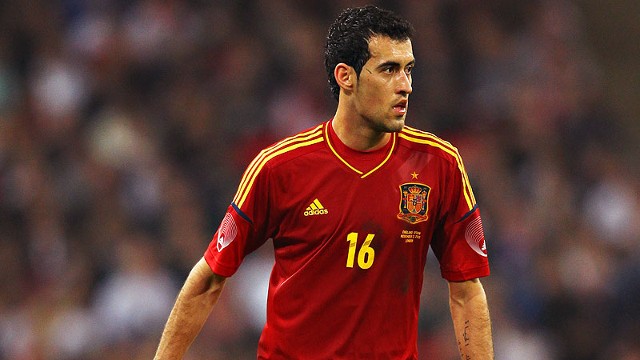 Few players in football's upper echelons generate quite so much contention as Busquets, holding midfielder and do-all workhorse in the Barcelona midfield. Oft criticized for his occasional foul play and tendency to dive or simulate, those darker elements of his career are footnotes to his functional, composed play for club and country.
Breaking into the Barca squad in 2008, Busquets' purpose in midfield is unsavory to some but essential for his team. Acting as both shield for his defenders and catalyst for any forward moves, it is Busquets' aggressive, tenacious presence that frees up creators such as Xavi, Andres Iniesta and Lionel Messi to bomb forward in search of goals.
With Spain, Busquets is impressive in a similar role; alongside the more expansive Xabi Alonso in the heart of midfield, he was instrumental in his nation's first winning World Cup campaign, playing all but 30 minutes. But the highest praise for Busquets comes not from Catalans, teammates or his former Barca coach Pep Guardiola, but from Spain's national team boss, Vicente Del Bosque: "If I was a footballer, I would like to be like Busquets." High praise from the man trusting the 23-year-old Catalonian to anchor La Furia Roja's search for a third consecutive international title dating back to the 2008 Euros.
---
Expert's take: A much-improved defensive midfield player. Developed by Guardiola, Busquets is extremely important for Spain. He might not be the fastest player in the world but he reads the game well. --Robbie Mustoe
---
Stats That Matter:
• Yet to score in his 37 caps with Spain
• Debuted for Spain against Turkey in a 2010 World Cup qualifier on April 1, 2009
• Started every match for Spain in the 2010 World Cup
• Broke through into top-flight football in 2008-09 with Barcelona and has won 13 titles since
• Fifth in La Liga with 2,055 passes completed in 2011-12

Conversations